Snapshot
1 out every 3 tractors produced globally are manufactured in India, making the industry in India, the largest in the world
India's Wheat and other cereals export grew by 727%, from $ 505 mn to $ 799 mn between FY20 and FY21
The agriculture sector in India has experienced buoyant growth in the past two years. The sector, which is the largest employer of workforce within the country, accounted for a sizeable 18.8% (2021- 22) in Gross Value Added (GVA) of the country registering a growth of 3.6% in 2020-21 and 3.9% in 2021-22. India's agri exports crossed $50 billion for the year 2021-22
As per Fourth Advance Estimates for 2020-21, total food grain production in the country is estimated at a record 308.65 MT. The production of rice, wheat and coarse cereals has increased at compound annual growth rates (CAGR) of 2.7, 2.9 and 4.8% respectively during last six years i.e. 2015-16 to 2020-21. The CAGR for pulses, oilseeds and cotton has been 7.9, 6.1 and 2.8%, respectively during the same period. Cereals accounted for over 49% of the total products with $10,000 mn while fresh fruit and vegetables account for 6% with $1342 mn 2020-21.
India is one of the major oilseeds growing country. The oilseed production in India has steadily increased since 2016-17 onward. The oilseed production in India has grown by almost 43% from 2015-16 to 2020-21. India is projected to maintain a high per capita vegetable oil consumption growth of 2.6% per annum reaching 14 kg/capita by 2030 necessitating a high import growth of 3.4% per annum.
Sugar and sugarcane industry in India is the second largest Agro-based industry, in the country only next to cotton. About 70 LMT of sugar has been exported in sugar season 2020- 21 in comparison to 59.60 LMT of sugar export in sugar season 2019-20. Further, contracts of about 30 LMT for export of sugar have already been signed in the sugar season 2021-22.
Indian tractor industry is the largest in the world accounting for one-third of the total global production. The farm equipment market in India is estimated at $8.8 bn in 2017 and it is expected to reach $12.5 bn by 2022. The tractor market is expected to grow at a CAGR of 7% by 2022.
%

Share of world's area under bamboo cultivation

%

Production of total coconut production in the world

%

Horticulture contribution of agricultural GDP

%

Non-Timber forest produce contribution to total employment in the forestry sector
India is the largest producer of spices, pulses, milk, and jute (raw just and jute goods)
India is the world's second-largest producer of rice, cashew tea, wheat, cotton, groundnuts and fruits & vegetables
India ranks 3rd in terms of Agritech funding and is likely to witness investments worth $ 30-35 bn by 2025.
Industry Scenario

FOREIGN INVESTMENT

INDUSTRY TRENDS

POLICIES & SCHEMES
Industry Scenario
In 2020-21, total foodgrain production in the country is estimated at a record 308.65 mn tonnes which is 11.15 mn tonnes higher than that during 2019-20. 
The agriculture sector in India is the primary source of livelihood for about 58% of India's population.
The Indian Agriculture Export Policy, 2018 was approved by the Government of India in December 2018. The new policy aimed to increase India's agricultural export to $60 bn by 2022 and $100 bn in the next few years with a stable trade policy regime.
In 2019, India was the 9th largest exporter of agricultural products and the total value of exported agricultural products stood at $37.4 bn. India exported agri-machinery worth $1,024 mn during 2019-20. Of this, 76.4% was exported to the UK, North America, Eastern Europe, EU, Africa, ASEAN, and SAARC.
The export of rice increased from $1.9 bn in April-June 2020 to $2.3 bn in April-June 2021.
The export of Agri and allied commodities during April 2020 - February 2021 were INR 2.74 lakh crore as compared to INR 2.31 crore in the same period last year indicating an increase of 18.49%. During April-December 2020, the export of Basmati Rice was $2,947 mn against $2,936 mn reported during same period in the previous year. Major destination for the Basmati rice exports from India is to the countries including Iran, Saudi Arabia, Iraq, United Arab Emirates, Kuwait, European Countries etc.
The volume of tea exported during April - January 2021 amounted to 172.46 million kg, with CIS being the top exported Indian tea at 42.64 mkg. UAE was the top importer of India tea during the same period at 10.92 mkg of imports.
Large population and rising urban and rural income have added to growth in demand for agriculture products. As per the Union Budget of India 2020-21, allocation of $40.06 bn was made to the Ministry of Agriculture.
India ranks first in the number of organic farmers and ninth in terms of area under organic farming.
India's agriculture technology can grow to $24.1 bn in 5 years. The current market size of agri tech, including AI-based agri innovation start-ups in India, is nearly worth $204 mn.
The Bamboo Industry has the potential to be worth $4.29bn.
India is the world's second-largest consumer and number one importer of vegetable oil
Export of Rice was valued at $715.24 bn in August 2021 with a positive growth of 6.58% over exports of $671.08 bn in August 2020. India's rice exports rose by over 33% to 11.79 MT in first seven months of current FY, likely to surpass last FY's record over 17MT.
National Mission on Edible Oils - 22 States have been identified with 27.99 lakh ha as having a potential area for Oil Palm cultivation in India.
GROWTH DRIVERS
Demand-side drivers

Population and income growth, Increasing exports & Favourable demographics

Supply-side drivers

Hybrid and genetically modified seeds, Favourable climate for agriculture and wide variety of crops, Mechanisation Irrigational facilities and Green revolution in Eastern India

Policy support

Growing institutional credit, Increasing MSP, Introduction of new schemes like Paramparagat Krishi Vikas Yojana, Pradhanmantri Gram, Sinchai Yojana, and Sansad Adarsh Gram Yojana and Opening exports of wheat and rice

Logistics support

Initiatives like Kisan Rath (mobile app for farmers, FPOs and traders), 200+ Kisan Rails and Krishi Udaan Scheme for produce transportation, and Perishable Cargo Centres, cold storage facilities at Airports and Inland Container Depot as well as cargo terminals and warehouses.
Industrial Land Bank Portal
GIS - based map displaying available infrastructure for setting up business operations in the state.
Gallery
Feb 01, 2022
Finance Minister Nirmala Sitharaman presents Union Budget 2022
Feb 01, 2022
Finance Minister Nirmala Sitharaman presents…
Finance Minister Nirmala Sitharaman presents Union Budget 2022
Dec 20, 2021
PM Modi's speech at National Conclave on Nat…
PM Modi's speech at National Conclave on Natural Farming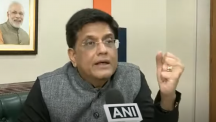 Nov 24, 2021
Interacting with ANI on Cabinet decision on …
Interacting with ANI on Cabinet decision on PMGKAY
Latest In Agriculture & Forestry
Press Release
India achieves $400 bn merchandise exports…
Report
Economic Survey 2021-22
India emerges as largest exporters of…
Report
The Wonder Berry: LADAKH'S SEABUCKTHORN