Snapshot
Fostering innovation for improved health
The medical devices industry in India consists of large multinationals as well as small and medium enterprises (SMEs) growing at an unprecedented scale.
The current market size of the medical devices industry in India is estimated to be nearly $11 bn.
The Medical device sector has been growing steadily at a CAGR of 15% over the last 3 years
The medical devices industry in India is poised for significant growth in the next five years, with the market size expected to reach $50 bn by 2025. Hence, the future of the medical device industry in India is quite promising.
100% FDI is allowed under the automatic route for both brownfield and greenfield setups. Strong FDI inflows reflect the confidence of global players in the Indian market
Since April 2000, ~$2.2 bn in FDI

Of this, $600 mn was received in the last 5 years
Singapore, United States, Europe, and Japan are key investors

Equipment & Instruments, Consumables and Implants have attracted most FDI
For further details, please refer FDI Policy
Imports: $5.6 bn, Exports: $2.51 bn (2019-20) India's expected export of medical devices will reach ~ $10 bn by 2025.
The Government of India has taken several steps to ensure the growth of a vibrant ecosystem of medical devices manufacturing in India over the past 5 years:
Designated as a sunrise sector under the Make in India campaign, 2014

India is among the top 20 markets for medical devices worldwide

The Medical Devices Rule of 2017

The Ministry of Health & Family Welfare in line with global best practices adopted a risk-based classification system for medical devices based on the Global Harmonisation Task Force (GHTF)
Increased number of regulated medical devices in India to ensure quality
Introduction of post-market surveillance for imported and manufactured devices
Manufacturing licenses made perpetual to promote ease of doing business in the sector
Increased notified devices, clinical investigations, quality certifications, and post-market surveillance

Under the Medical Devices Amendment Rules 2020, all medical devices intended for use in human beings or animals are regulated as drugs w.e.f April 1st, 2020
A Productions Linked Incentives Scheme for Medical Devices, 2020

Incentive on 5% on incremental sales over the base year of good manufactured in India covered under target segments
Production Linked incentives of up to INR 3,420 Cr (~$456 Mn) will be awarded during the scheme tenure
Tenure of the scheme is from FY 2020-21 to FY 2027-28, with Base Year as FY 2019-20
The Department of Pharmaceuticals is reinviting applications under the Production Linked Incentive Scheme for Promoting Domestic Manufacturing of Medical Devices. The last date of receipt of applications is July 28th, 2021. For more details, please visit this link
Production Linked Incentive Scheme (PLI 2.0) is inviting applications to enhance India's manufacturing capabilities in the in-vitro diagnostic sector (IVDs). The scheme shall be open for applications till July 31st, 2021. Applications to be made online here

Funding for Medical Devices Parks in the country, 2020

Medical Device Parks with financial implications of INR 400 crores
A maximum grant-in-aid of Rs.100 crore per park will be provided to the States
Expected to reduce the manufacturing cost of medical devices in the country
The Schemes (Parks & PLI) will lead to a generation of additional employment of 33,750 jobs over a period of 5 years
%

Pvt. sector's share in hospitals

%

Market growth rate (2019-20)

Number of pvt. players in India

+

Number of health-tech startups in India
2nd largest PPE Kits manufacturer with production capacity 10 lakh+ PPE coveralls per day
Market size expected to reach $ 50 bn by 2025
India is the 4th largest market for medical devices in Asia
Industry Scenario

FOREIGN INVESTMENT

INDUSTRY TRENDS

POLICIES & SCHEMES
Industry Scenario
The medical devices market in India has the potential to increase at a 37% CAGR and reach $50 bn by 2025
Medical devices are segregated into five major segments:
Consumables & Disposables include needles and syringes, etc
Diagnostic Imaging includes MRI, X-Ray, Ultrasounds, etc
Dental Products includes dentures, braces, etc
Orthopaedics & Prosthetics include knee implants, artificial joints
Patient Aids include hearing aids and pacemakers, etc
Around 65% of the manufacturers in India are mostly domestic players operating in the consumables segment and catering to local consumption with limited exports. Large Multinational Corporations lead the high technology end of the Medical Devices market in India with extensive service networks.
There are 750–800 domestic Medical Devices manufacturers in India, with an average investment of $2.3–2.7 mn and an average turnover of $6.2-6.9 mn.
The manufacturing is developing in its scale and geography: there are six Medical devices manufacturing "clusters" in the country (Refer to 'Data on Map' section below).
Clusters have "Medical Device Parks" developing around them: states have committed to set-up dedicated industrial parks where efficient domestic manufacturing at lower costs. The State Government of Himachal Pradesh, Tamil Nadu, Madhya Pradesh and Uttar Pradesh have been given "in-principle" approval to develop Medical Devices Parks & create a robust ecosystem for medical device manufacturing in the country.
GROWTH DRIVERS
Growing Population

India's population is set to touch 1.45 billion by 2028, making it the world's most populous nation

Life Expectancy

From the current 67.5 years, life expectancy in India is expected to increase to 70 years by 2025

Shifting Disease Burden

Non-Communicable Diseases (NCDs) account for 50% of the disease burden and 60% of all deaths in India

Changing Preferences

Growing health awareness, changing attitude towards preventive healthcare, increasing lifestyle diseases

Growing Middle Class

A rapidly growing middle class has contributed to the growth of private players in healthcare

Increasing disposable income

8% Indians will earn more than $ 12,000 p.a. by 2026

Health Insurance

Approx. 20% of Indians have health insurance cover. This number is expected to increase with rising incomes and growing urbanization

Rise in Medical Tourism

Due to the relatively low cost of medical care in India, it is experiencing a 22-25% growth. It contributes over $2Bn to the healthcare market in India. Increased demand for healthcare and medical devices from rise in medical tourism.

Nascent industry

Importing more than 90% of sophisticated devices, the domestic industry has a huge scope for R&D capacity

Infrastructural Development

4 medical devices parks in India are in pipeline

Policy Support & Incentives

100% FDI allowed in Greenfield & Brownfield projects, measures to correct unfavorable duty structure are being undertaken, single-window clearance e-portal to improve EoDB
Production Linked Incentive (PLI) Scheme
The Indian Government has identified medical devices as a priority sector for the flagship 'Make in India' program and is committed to strengthening the manufacturing ecosystem. The Production Linked Incentive Scheme (PLI) Promoting Domestic Manufacturing of Medical Devices and Production Linked Incentive Scheme for Pharmaceuticals (PLI 2.0) have been introduced to provide an impetus to India's vision of becoming a global manufacturing hub for medical devices.
Products
Industrial Land Bank Portal
GIS - based map displaying available infrastructure for setting up business operations in the state.
Gallery
Nov 08, 2021
JalJeevan Mission in Water Pavilion at United Nations Climate Change Conference- #COP26
Nov 08, 2021
JalJeevan Mission in Water Pavilion at Unit…
JalJeevan Mission in Water Pavilion at United Nations Climate Change Conference- #COP26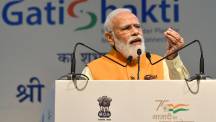 Oct 18, 2021
PM Modi's address at the launch of PM GatiSh…
PM Modi's address at the launch of PM GatiShakti, National Master Plan for Multi-Modal Connectivity
Sep 25, 2021
PM's video address at 'Global Citizen Live'
PM's video address at 'Global Citizen Live'