Snapshot
Defending the World
India accounts for 3.7% of the global military spending, making it the third highest military spender in the world. The defence expenditure constituted 2.9% of India's total GDP with approximately $72.9 billion spent on defence in 2020. Under the Field Artillery Rationalization Plan - 1,580 towed guns, 100 tracked guns, 814 Mounted Gun System will be required in India.
With the growing demand in the defence sector the government has identified it as one of the core areas to boost 'Atma Nirbhar Bharat or Self-Reliant India. The Government has also spelt out its vision of achieving a turnover of $25 bn including export of $5 bn in Aerospace and Defence goods and services by 2025.
To support defence modernisation, in the budget 2021-22 the defence capital outlay has been increased by 18.75% from the preceding year. This is the highest ever increment in the last 15 years.
The government of India has called for increased participation of defence manufacturing companies from the private sector to cater to the growing demand. The opening up of the Indian defence industry also paves the way for foreign original equipment manufacturers to enter strategic partnerships with defence equipment manufacturers in India.
The government aims to ensure transparency, predictability, and ease of doing business by creating a robust eco-system and supportive government policies. Towards this end the government has taken steps to bring about de-licensing, de-regulation, export promotion and foreign investment liberalisation. To meet export requirements, a draft Production and Export Promotion Policy (DPEPP) 2020 has also been formulated.
The Government of India has enhanced FDI in Defence Sector up to 74% through the Automatic Route for companies seeking new defence industrial license and up to 100% by Government Route.
For further details, please refer FDI Policy
%

GDP spent on defence (2021-22)

%

Share in global arms import

$ bn

Union budget 2021-22

%

Increase in Defence Capital Expenditure (FY21-22)
Second largest armed forces in the world
Ongoing DRDO projects in India of worth $ 7.3 bn
SRIJAN portal is used as a platform to promote indigenisation. 1,776 components & spares have been indigenised.
Industry Scenario

FOREIGN INVESTMENT

INDUSTRY TRENDS

POLICIES & SCHEMES
Industry Scenario
To provide impetus to self-reliance in defence manufacturing it is necessary to develop a robust eco-system and supportive government policies.
DPEPP 2020
Ministry of Defence formulated a draft Defence Production and Export Promotion Policy 2020 (DPEPP) to position India amongst the leading countries of the world in defence and aerospace sectors
The 8 Pillars DPEPP 2020 are:
Reform procurement ecosystem
Indigenize and support MSME and start-ups
Optimize resource allocation
Promote investments, FDI and ease of doing business.
Promote innovation and R&D
Encourage and reform DPSUs and OFB
Provide quality assurance and testing infrastructure
Promote exports
DAP 2020
The government released Defence Acquisition Procedure 2020 (DAP) to transform India into a global manufacturing hub with a focus on indigenously designed, developed, and manufactured weapon systems.
Under the DAP'20 offset guidelines have been revised to incentivize discharge of offsets. Preference would be given to Indian defence equipment manufacturing companies to manufacture complete defence products over components or sub-parts.
The offset guidelines have also been revised, wherein preference will be given to manufacture of complete defence products over components and various multipliers have been added to give incentivisation in discharge of offsets
To engage better with foreign OEMs and enhance indigenous content, the following categories have been provided for procurement:
Buy (Indian-IDDM)
Buy (Indian)
Buy & Make (Indian)
Buy (Global-Manufacture in India)
Buy (Global)
POSITIVE INDIGENISATION LIST
Under the 'Atmanirbhar Bharat' campaign of Govt of India, Ministry of Defence (MoD) has prepared a list of 209 items, Positive Indigenization List, for which there would be an embargo on the import beyond the timeline indicated against them. This would offer a great opportunity to the Indian defence industry to manufacture these items.
STRATEGIC PARTNERSHIP MODEL
In the defence sector, the 'Strategic Partnership (SP)' Model envisages the establishment of long-term strategic partnerships with defence manufacturing companies in India through a transparent and competitive process, wherein they would tie up with global Original Equipment Manufacturers (OEMs) to seek technology transfers to set up domestic manufacturing infrastructure and supply chains.
GROWTH DRIVERS
Defence Industrial Corridors

Government has established two Defence Industrial Corridors in Uttar Pradesh and Tamil Nadu. Investments of $2.85 Bn have been planned in Defence corridors by year 2024.

Innovations for Defence Excellence (iDEX)

iDEX aims at creating an ecosystem to foster innovation and technology development in Defence and Aerospace by engaging Industries including MSMEs, Start-ups, Individual Innovators, R&D institutes, and Academia.

Technology Development Fund (TDF)

TDF has been created under DRDO to promote self-reliance in Defence Technology through participation of Public/Private industries especially MSMEs and start-ups.
Industrial Land Bank Portal
GIS - based map displaying available infrastructure for setting up business operations in the state.
Gallery
Nov 20, 2021
PM Modi addresses 'Rashtra Raksha Samparpan Parv' in Jhansi, Uttar Pradesh | PMO
Nov 20, 2021
PM Modi addresses 'Rashtra Raksha Samparpan …
PM Modi addresses 'Rashtra Raksha Samparpan Parv' in Jhansi, Uttar Pradesh | PMO
Nov 08, 2021
JalJeevan Mission in Water Pavilion at Unit…
JalJeevan Mission in Water Pavilion at United Nations Climate Change Conference- #COP26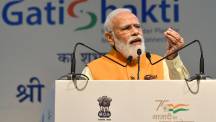 Oct 18, 2021
PM Modi's address at the launch of PM GatiSh…
PM Modi's address at the launch of PM GatiShakti, National Master Plan for Multi-Modal Connectivity
Invest India closely works with
Government Ministry/ Department
Industry Association
Invest India Timeline
2021