Snapshot
Touching bullet speeds
India has the fourth-largest railway system in the world, behind only US, Russia and China.
The railway sector of India has 123,542 km of total tracks over a 67,415 km route and about 7,300 stations. The railways run close to 13,523 passenger trains and 9,146 freight trains daily on its network. In the fiscal year ending March 2020, Indian Railways carried 8.1 billion passengers. The railway sector in India has successfully and transported 1.23 billion tonnes of freight in FY 2020-21 which is 1.93 % higher compared to last year's loading for the same period. Indian Railways is the single largest employer in India and eighth largest in the world; employing close to 1.3 mn people.
Vision 2024 has been envisaged to achieve targets of 2024 MT freight loading by 2024
Mumbai-Ahmedabad high-speed rail project sanctioned at a total cost of $15 bn
The railway sector of India aims to electrify the entire network by 2023 which will lead to annual energy savings of $1.55 bn
Broad gauge railways network stands at 64,689 Route kms, of which 71% is electrified
India Railways is focused on 2,843 km dedicated freight corridors by June 2022 and

r

edevelop 123 railway stations into world-class transit hubs
Indian Railways has commissioned Wi-Fi at 6,000 Railway stations across the country
In order to achieve its green mission, Indian Railways has solarised more than 960 stations across
1806 Kisan Rails run on 153 routes (upto 24.12.2021) and carried around 5.9 lakh tones of agricultural products
100% FDI allowed in railway infrastructure under the automatic route.
For further details, please refer FDI Policy
bn

Annual Estimated Passengers in 2031

MT

Annual Estimated Freight Demand in 2031

MT

Freight Loading by 2024

$ bn

Revenue from freight traffic (2021)
4th largest railway system in the world
4th largest rail freight carrier in the world
Single largest employer in India and 8th largest in the world
Industry Scenario

FOREIGN INVESTMENT

INDUSTRY TRENDS

POLICIES & SCHEMES
Industry Scenario
The Indian Railways' freight revenues in 2021 were worth $16 bn.
The railway sector in India aims to aspires about 1.5% to the country's GDP by building infrastructure to support 45% of the modal freight share of the economy. The Indian Railways clocked a 3% increase in freight revenue in 2020-21 and the quantum of goods loaded grew by 1.93%.
Two Dedicated Freight Corridors (DFC), one on the Western route (Jawaharlal Nehru Port to Dadri) and another on the Eastern route (Ludhiana to Dankuni), have been fast-tracked.

The railway sector in India

has the highest ever planned capital expenditure of $29.5 bn in 2021-22
The average speed of freight trains has increased to 45.6 kmph in March 2021, marking an 83% increase over the previous year
Railway Electrification works completed on a total of 6,015 Route kms during 2020-21
GROWTH DRIVERS
Rising passenger & freight traffic

Increasing urbanization, rising incomes (both rural and urban), growing industrialization across the country along with private sector participation

Increasing freight traffic

Growing industrialization across the country

Dedicated freight corridor

Six high-capacity, high-speed dedicated freight corridors

Freight Business Development Portal

One-stop cargo solution for seamless goods transportation

Diamond Quadrilateral network of high-speed rail

Connecting major metros and growth centers of the country

Atmanirbhar Bharat Abhiyaan - Self Reliant India

Special economic and comprehensive package of INR 20 lakh crores towards promoting manufacturing in India
Industrial Land Bank Portal
GIS - based map displaying available infrastructure for setting up business operations in the state.
Gallery
Nov 08, 2021
JalJeevan Mission in Water Pavilion at United Nations Climate Change Conference- #COP26
Nov 08, 2021
JalJeevan Mission in Water Pavilion at Unit…
JalJeevan Mission in Water Pavilion at United Nations Climate Change Conference- #COP26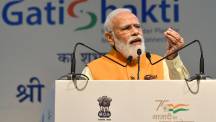 Oct 18, 2021
PM Modi's address at the launch of PM GatiSh…
PM Modi's address at the launch of PM GatiShakti, National Master Plan for Multi-Modal Connectivity
Sep 25, 2021
PM's video address at 'Global Citizen Live'
PM's video address at 'Global Citizen Live'