Snapshot
Stepping up to endless opportunities
India jumped 115 positions to 22nd (2020) from 137th (2014) on World Bank's Ease of doing business - 'Getting Electricity' ranking. Moreover, the power sector in India is forecasted to attract investments worth $128.24-135.37 bn between FY19-23.
The future of the power sector looks bright as by 2026-27, all India power generation installed capacity will be nearly 620 GW, 38% of which will be from coal and 44% from renewable energy.
Total Installed Capacity as on April 2021 was 382 GW of which 36.5% was generated from renewable sources.
By 2022, 175 GW of renewable energy capacity. This includes 100 GW from solar, 60 GW from wind, 10 GW from biomass and 5 GW from small hydro power.
The government has electrified all unelectrified villages on April 28, 2018 ahead of the deadline May 1, 2018. A total of 25 states have achieved 100% household electrification.
Electricity generation (weight: 19.85 per cent) increased by 9.0 per cent in July, 2021 over July, 2020.
As per the latest key world energy statistics published by the IEA in 2019, India is the 3rd largest producer of electricity in the world and it ranks 106th in terms of per capita consumption in 2017.
Under the scheme Deendayal Upadhyaya Gram Jyoti Yojana (DDUGJY), with a total Scheme Outlay of $10.21 bn (DDUGJY: $5.79 bn and RE Component: $4.42 bn), projects with total cost of $5.85 bn have been sanctioned in 32 States/UTs. An additional amount of $1.92 bn has been sanctioned for the creation of additional infrastructure to support 100% household electrification.
100% FDI in the power sector in India is allowed for generation from all sources (except atomic energy), transmission and distribution of electric energy, and Power Trading under the automatic route.
49% FDI allowed in Power Exchanges registered under the Central Electricity Regulatory Commission (Power Market) Regulations, 2010 under automatic route
For further details, please refer FDI Policy
GW

Installed generation capacity

GW

Peak power requirement

%

Installed capacity CAGR (2011-2020)

%

Required hydropower capacity
2nd  largest coal producer in the world  
3rd largest number of nuclear reactors being installed in the world
3rd largest producer and 3rd largest consumer of electricity in the world
Industry Scenario

FOREIGN INVESTMENT

INDUSTRY TRENDS

POLICIES & SCHEMES
Industry Scenario
60 GW - Highest ever conventional power capacity addition in the last three years.
As of April 2021, India has a total Thermal installed capacity of 234 GW, of which 53% of the thermal power is obtained from coal and the rest from Lignite, Diesel, and Gas.
The private sector in the power industry in India generates 47.4% of the country's thermal power, whereas States and the Centre generate 27.1% and 25.5%, respectively. The electricity generation target of Conventional Sources for the year 2021-22 was fixed at 1356 BU i.e. growth of around 9.83% over the actual conventional generation of 1234.608 BU for the previous year (2020-21). This target comprises of 1155.200 BU Thermal; 149.544 BU Hydro; 43.020 Nuclear; and 8.236 BU Import from Bhutan.
Indian power sector is undergoing a significant change that has redefined the industry outlook. The power industry's future in India is bright, and sustained economic growth continues to drive electricity demand in India. The Government of India's focus on attaining 'Power for all' has accelerated capacity addition in the country.
Under the One Nation One Grid
The Transmission Line Capacity has increased to 4,25,071 cKm during FY 2019-20 as compared to 4,13,407 cKm during FY 2018-19
The addition of Transformation Capacity was 9,67,893 MVA during FY 2019-20 as compared to 8,99,663 MVA during FY 2018-19
The Inter-Regional Transmission Capacity Addition was 1,02,050 MW during FY 2019-20 as comapred to 99,050 MW during FY 2018-19
GROWTH DRIVERS
Industrial expansion

Expansion in industrial activity to boost demand for electricity

Growing population

Growing urban & rural population is likely to boost demand for energy

Market advantage

Increasing per-capita power usage will provide further impetus to the energy industry

Increasing investments

Ambitious projects across the value chain is leading to further power requirements

Coal production

Highest ever coal production, increase of 74 mn tonnes in 2 years

One Nation-One Grid-One Frequency

11,921 ckm of Transmission lines (220 kV and above) and 35,760MVA Transformation capacity has been added during 2020
Industrial Land Bank Portal
GIS - based map displaying available infrastructure for setting up business operations in the state.
Gallery
Nov 08, 2021
JalJeevan Mission in Water Pavilion at United Nations Climate Change Conference- #COP26
Nov 08, 2021
JalJeevan Mission in Water Pavilion at Unit…
JalJeevan Mission in Water Pavilion at United Nations Climate Change Conference- #COP26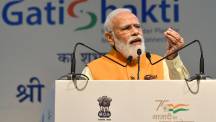 Oct 18, 2021
PM Modi's address at the launch of PM GatiSh…
PM Modi's address at the launch of PM GatiShakti, National Master Plan for Multi-Modal Connectivity
Sep 25, 2021
PM's video address at 'Global Citizen Live'
PM's video address at 'Global Citizen Live'
Invest India closely works with
Invest India Timeline
2022