Snapshot
Leading global automotive manufacturing hub
The growing presence of global automobile Original Equipment Manufacturers (OEMs) in the Indian auto components industry has significantly increased the localization of their components in the country.
The FDI inflow into Indian automotive industry during the period April 2000-March 2021 stood at $25.85 bn
100% FDI in the automotive parts industry is allowed under the automatic route.
For further details, please refer FDI Policy
%

Share in India's GDP

mn

Employment generated

%

CAGR (over 6 years)

mn +

Hybrid and electric vehicles sale
The rapidly growing auto market in India is expected to reach $ 300 bn by 2026
Automotive aftermarket segment in India is expected to reach $ 32 bn by 2026
Auto Components industry exports to grow 5X in next 10 years
Industry Scenario

FOREIGN INVESTMENT

INDUSTRY TRENDS

POLICIES & SCHEMES
Industry Scenario
The $49 bn (FY20)  Auto Components industry in India is expected to grow to $200 bn by 2026.
Indian Auto Component industry exports, which are currently valued at $14.5bn in FY20, are expected to grow at an annual rate of 23.9% to reach $80 bn by 2026. USA, Germany, UK, Thailand and Italy are the top destinations for exports.
Aftermarket segment which includes tyre, battery, brake parts, is expected to reach $32 bn by 2026 from $9.8 bn currently.
The overall Indian auto components industry, which accounts for 2.3% of India's GDP currently, is set to become the 3rd largest globally by 2025.
GROWTH DRIVERS
Expanding R&D hub

8% of the country's R&D expenditure is in the automotive sector

Emerging global sourcing hub

Proximity to markets such as ASEAN, Europe, Japan and Korea

Cost competitive

Excise duty reduction in vehicles will spur demand

Sixth largest vehicles manufacturer in the world

India expected to be the third largest market by 2026

Favorable trade policy

100% FDI allowed and no restrictions on import-export

Atmanirbhar Bharat

PLI schemes in automobile and auto component sector with financial outlay of INR 57,042 crores introduced under Atmanirbhar Bharat 3.0
Production Linked Incentive (PLI) Scheme
The Union Cabinet chaired by the Prime Minister, Shri Narendra Modi has given its approval to introduce the Production-Linked Incentive (PLI) Scheme in the Automobile and Auto Components sectors for Enhancing India's Manufacturing Capabilities and Enhancing Exports – Atmanirbhar Bharat.
INR 57,042 cr

Scheme Outlay
Products
Industrial Land Bank Portal
GIS - based map displaying available infrastructure for setting up business operations in the state.
Gallery
Nov 08, 2021
JalJeevan Mission in Water Pavilion at United Nations Climate Change Conference- #COP26
Nov 08, 2021
JalJeevan Mission in Water Pavilion at Unit…
JalJeevan Mission in Water Pavilion at United Nations Climate Change Conference- #COP26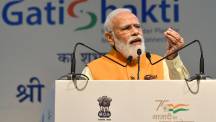 Oct 18, 2021
PM Modi's address at the launch of PM GatiSh…
PM Modi's address at the launch of PM GatiShakti, National Master Plan for Multi-Modal Connectivity
Sep 25, 2021
PM's video address at 'Global Citizen Live'
PM's video address at 'Global Citizen Live'
Latest In Auto Components
Invest India closely works with
Invest India Timeline
2022