Snapshot
India - Knitting the future
India is among the world's largest producers of Textiles and Apparel
The domestic apparel & textile industry in India contributes 5% to the country's GDP, 7% of industry output in value terms, and 12% of the country's export earnings. India is the 6th largest exporter of textiles and apparel in the world.
India is one of the largest producers of cotton and jute in the world. India is also the 2nd largest producer of silk in the world and 95% of the world's hand-woven fabric comes from India. The Indian technical textiles segment is estimated at $16 bn, approximately 6% of the global market.
The textiles and apparel industry in India is the 2nd largest employer in the country providing direct employment to 45 million people and 100 million people in allied industries.
India has also become the second-largest manufacturer of PPE in the world. More than 600 companies in India are certified to produce PPEs today, whose global market worth is expected to be over $92.5 bn by 2025, up from $52.7 bn in 2019.
FDI in the textiles and apparel industry in India has reached up to $3.9 bn till December 2021

India's exports of textiles and apparel are expected to reach $100 bn in the next 5 years, growing at a CAGR of 11%

To double the Indian textile and apparel industry size to $190 bn by 2025-26, 7 mega textile parks have been planned
The Indian technical textiles market was estimated at $17.6 bn in 2020-21 and grew at a CAGR of 10% since 2015-16
The domestic technical textile market for synthetic polymer was valued at $7.1 bn in 2020 and is projected to reach $11.6 bn by 2027, growing at a CAGR of 7.2%, while technical textile market for wovens is expected to grow at a CAGR of 7.4% to $15.7 bn by 2027, up from $9.5 bn in 2020
India has a share of 4% of the global trade in textiles and apparel.
For further details, please refer FDI Policy
%

Expected sector CAGR (2019-2021)

%

Share in India's GDP

%

Textile exports share in overall exports

mn

Direct employment generated
Explore Related Sub Sectors
One of the largest consumers and producers of cotton with the highest acreage of 126.14 lakh hectares under cotton cultivation
Second largest manufacturer of PPE and producer of polyester, silk and fibre in the world
Second largest employment provider in India after agriculture
Industry Scenario

FOREIGN INVESTMENT

INDUSTRY TRENDS

POLICIES & SCHEMES
Industry Scenario
Textiles and garments industry is expected to reach $190 bn by 2025-26 from $103.4 bn in 2020-21.
The textiles and apparel industry in India has strengths across the entire value chain from fiber, yarn, fabric to apparel. The Indian textile and apparel industry is highly diversified with a wide range of segments ranging from products of traditional handloom, handicrafts, wool, and silk products to the organized textile industry in India. The organized textile industry in India is characterized by the use of capital-intensive technology for the mass production of textile products and includes spinning, weaving, processing, and apparel manufacturing.
The domestic textiles and apparel industry stood at $108.5 bn in 2019-20 of which $75 bn was domestically consumed while the remaining portion worth $28.4 bn was exported to the world market.
The highest contributors to FDI in the Textile sector of India (including dyed, printed) from April 2016 to March 2021 are Japan, Mauritius, Italy, and Belgium.
Cotton production supports 5.8 million farmers and 40-50 million people in allied sectors.
Further, the domestic consumption of $75 bn was divided into apparel at $55 bn, technical textiles at $15 bn and home furnishings at $5 bn. While exports comprised of apparel exports at $12 bn; home textiles exports at $4.8 bn; fabric exports at $4 bn; yarn exports at $3.8 bn; fiber exports at $1.8 bn and others at $2 bn.
Export of Cotton Yarn/Fabrics/Made ups, Handloom Products Etc. was valued at $1297.82 bn in August 2021 with a positive growth of 55.62% over exports of $833.95 bn in August 2020.
Export of RMG Of All Textiles was valued at $1235.11 bn in August 2021 with a positive growth of 13.99% over exports of $1083.53 bn in August 2020.
The export of Textiles & Apparel from April - December 2021 is $ 30449.85 mn,posting an increase of 52% over the same period during 2020.
A total of 1,77,825 Weavers and Artisans are registered on Government-e-Marketplace (GeM).
GROWTH DRIVERS
Abundance of raw material

Presence of entire value chains

Competitive manufacturing costs

Availability of skilled manpower

Large and growing domestic market

Rising per capita income, higher disposable incomes and preferences for brands

Organized retail landscape & e-Commerce

Increased focus on technical textiles due to growth of end-user industries such as automotive, healthcare, infrastructure and oil and petroleum

Production-Linked Incentive (PLI) Scheme in Man-made fiber and technical textiles with financial outlay of INR 10,683 cr under Atmanirbhar Bharat package
Production Linked Incentive (PLI) Scheme
The Union Cabinet chaired by the Prime Minister, Shri Narendra Modi has given its approval to introduce the Production-Linked Incentive (PLI) Scheme in Textiles Products for Enhancing India's Manufacturing Capabilities and Enhancing Exports – Atmanirbhar Bharat. 1. A total of 61 applicants have been approved under Production Linked Incentive (PLI) Scheme For Textiles out of 67 applications received. 2. Government reduces import duty of cotton to zero. 3. The scheme has two parts, Part 1 where minimum investment is INR 300 crore and minimum turnover required to be achieved for incentive is INR 600 crore; and Part-2, where minimum investment is of INR 100 crore and minimum turnover required to be achieved for incentive is INR 200 crore.
INR 10,683 cr

Scheme Outlay
Ministry
Industrial Land Bank Portal
GIS - based map displaying available infrastructure for setting up business operations in the state.
Gallery
Feb 01, 2022
Finance Minister Nirmala Sitharaman presents Union Budget 2022
Feb 01, 2022
Finance Minister Nirmala Sitharaman presents…
Finance Minister Nirmala Sitharaman presents Union Budget 2022
Nov 08, 2021
JalJeevan Mission in Water Pavilion at Unit…
JalJeevan Mission in Water Pavilion at United Nations Climate Change Conference- #COP26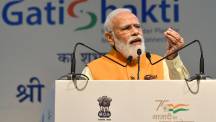 Oct 18, 2021
PM Modi's address at the launch of PM GatiSh…
PM Modi's address at the launch of PM GatiShakti, National Master Plan for Multi-Modal Connectivity
Latest In Textiles & Apparel
Press Release
India achieves $400 bn merchandise exports…
Report
Economic Survey 2021-22
Notification
PLI for Textiles
Report
Inside India's Production Linked Incentive…
Invest India Timeline
2022