Snapshot
Creating a sustainable world
India ranks 3rd in renewable energy country attractive index in 2021.
The country has set an ambitious target to achieve a capacity of 175 GW worth of renewable energy by the end of 2022, which expands to 450 GW by 2030. This is the world's largest expansion plan is in renewable energy.
India's installed renewable energy capacity has increased by over two and a half times and stands at more than 141 Giga Watts (including large Hydro), which is about 37 per cent of the country's total capacity (as on 16th June 2021). During the same period, the installed solar energy capacity has increased by over 15 times, and stands at 41.09 GW. The installed Renewable energy capacity (including large hydro) has increased from 76.37 GW in March 2014 to 150.54 GW in November 2021, i.e. an increase of around 97%.
India has achieved its NDC target with total non-fossil based installed energy capacity of 157.32 GW which is 40.1% of the total installed electricity capacity.
Up to 100% FDI is allowed under the automatic route for renewable energy generation and distribution projects subject to provisions of The Electricity Act, 2003.
For further details, please refer FDI Policy
+ GW

Renewable energy potential in India

GW

Installed renewable energy capacity (as of August 2021)

%

Share in total installed capacity

%

increase in renewable installed capacity (FY 2013-14 to FY 2020-21)
5th largest installed capacity of renewable energy in the world
4th largest installed capacity of wind power in the world
Fifth-largest solar installed capacity in the world
Industry Scenario

FOREIGN INVESTMENT

INDUSTRY TRENDS

POLICIES & SCHEMES
Industry Scenario
Renewable energy sources have a combined installed capacity of 96+ GW.
As of 31 June 2021, the total installed capacity for renewable energy in India is 96.95 GW
The following is the break up of total installed capacity for Renewables, as of 31 May 2021:
Wind power: 39.44 GW
Solar Power: 41.09 GW
BioPower: 10.34 GW
Small Hydro Power: 4.79 GW
Wind energy capacity in India has increased by 2.2 times from FY 2016-17 to FY 2020-21
Solar power capacity has increased by more than 5 times in the last five years from 6.7 GW to 40 GW in March 2021. Government of India further targets to increase the total Renewable Energy Capacity to 450GW by 2030.
42 solar parks of aggregate capacity 23,499 MW have been approved in 17 states up to March 2019
Solar Parks in Pavagada (2 GW), Kurnool (1 GW) and Bhadla-II (648 MW) included in top 5 operational solar parks of 7 GW capacity in the country
The world's largest renewable energy park of 30 GW capacity solar-wind hybrid project is under installation in Gujarat
GROWTH DRIVERS
Government commitments

Reduce the emissions intensity of GDP by 33% - 35% below the 2005 levels and increase share of non-fossil fuel in total capacity to ~40% by 2030

Proposed solar cities and parks

60 solar cities approved and $1.3 bn allocated for setting up 50 solar parks of 40GW by 2020

New areas of opportunities

Wind – Solar Hybrid, Off-shore Wind Energy, Floating PV Projects, Green Hydrogen

Atmanirbhar Bharat

PLI scheme in Solar PV manufacturing with financial outlays of INR 4,500 crores introduced under Atmanirbhar Bharat 3.0. Imposition of Basic Customs Duty of 25% on Solar Cell & 40% on Solar PV Modules w.e.f. 01.04.2022
Production Linked Incentive (PLI) Scheme
The Union Cabinet chaired by the Prime Minister, Shri Narendra Modi has given its approval to introduce the Production-Linked Incentive (PLI) Scheme in High Efficiency Solar PV Modules for Enhancing India's Manufacturing Capabilities and Enhancing Exports – Atmanirbhar Bharat.
INR 4,500 cr

Scheme Outlay
Products
Industrial Land Bank Portal
GIS - based map displaying available infrastructure for setting up business operations in the state.
Gallery
Nov 08, 2021
JalJeevan Mission in Water Pavilion at United Nations Climate Change Conference- #COP26
Nov 08, 2021
JalJeevan Mission in Water Pavilion at Unit…
JalJeevan Mission in Water Pavilion at United Nations Climate Change Conference- #COP26
Oct 22, 2021
PM's 4R Guiding Mantra For Energy Sector
PM's 4R Guiding Mantra For Energy Sector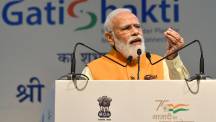 Oct 18, 2021
PM Modi's address at the launch of PM GatiSh…
PM Modi's address at the launch of PM GatiShakti, National Master Plan for Multi-Modal Connectivity
Latest In Renewable Energy