Snapshot
Creating a sustainable world
In 2019, India was ranked as the fourth most attractive renewable energy market in the world.
The country has set an ambitious target of 450 GW of renewable power by 2030. This is the world's largest expansion plan is in renewable energy.
Up to 100% FDI is allowed under the automatic route for renewable energy generation and distribution projects subject to provisions of The Electricity Act, 2003.
For further details, please refer FDI Policy
+ GW

Renewable energy potential in India

GW

Installed renewable energy capacity (as of August 2019)

%

Share in total installed capacity

%

Increase in renewable installed capacity (FY 2013-14 to FY 2018-19)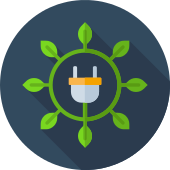 5th largest installed capacity of renewable energy in the world

4th largest installed capacity of wind power in the world

5th largest installed capacity of solar power in the world

Renewable Energy Information Kit
View
Industry Scenario

FOREIGN INVESTMENT

INDUSTRY TRENDS

POLICIES & SCHEMES
Industry Scenario
Renewable energy sources have a combined installed capacity of 89+ GW.
As of 30 September 2020, the total installed capacity for Renewables is 89+ GW with the following break up:
Wind power: 38 GW
Solar Power: 36 GW
BioPower: 10 GW
Small Hydro Power: 5 GW
Wind energy capacity in India has increased by 1.7 times in the last 4 years. Further to this, record 100 bn+ units of renewable electricity generating last year.
Solar power capacity has increased by more than 11 times in the last five years from 2.6 GW to 28.18 GW in March 2019.
42 solar parks of aggregate capacity 23,499 MW have been approved in 17 states up to March 2019
Kurnool (1,000 MW) and Bhadla-II (648 MW) Solar Parks are fully operational
Largest Solar Park of 2,000 MW in Pavagada is under installation
GROWTH DRIVERS
Government commitments

Reduce the emissions intensity of GDP by 33% - 35% below the 2005 levels and increase share of non-fossil fuel in total capacity to ~40% by 2030

Proposed solar cities and parks

60 solar cities approved and $1.3 bn allocated for setting up 50 solar parks of 40GW by 2020

New areas of opportunities

Wind – Solar Hybrid, Off-shore Wind Energy, Floating PV Projects
Industrial Information System (IIS) Portal
GIS - based map displaying available infrastructure for setting up manufacturing operations in the state.
Data On Map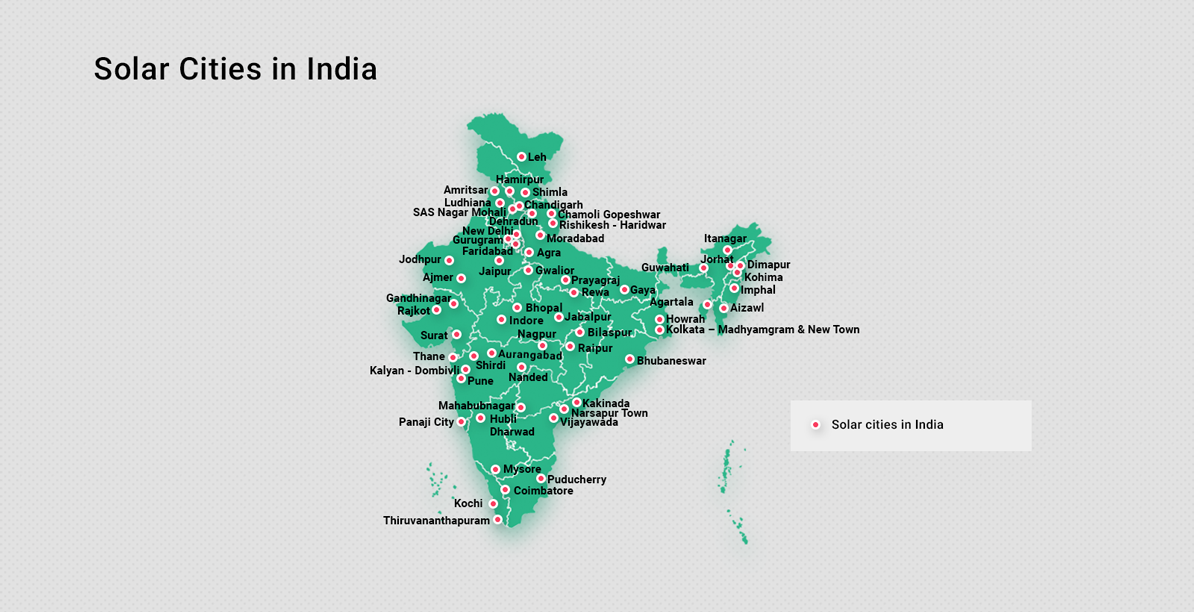 Gallery
Oct 07, 2020
India PV Edge 2020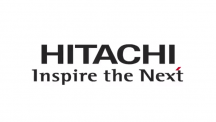 Jan 23, 2019
Hitachi - Transforming lives digitally in In…
Hitachi - Transforming lives digitally in India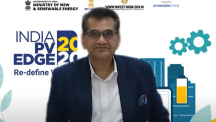 Oct 07, 2020
India PV Edge 2020
India PV Edge 2020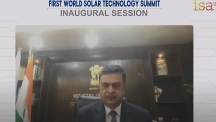 Sep 09, 2020
Union Minister R. K. Singh addresses First W…
Union Minister R. K. Singh addresses First World Solar Technology Summit
Latest In Renewable Energy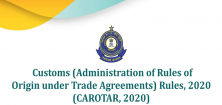 Brochure
Customs (Administration of Rules of Origin…
Portal
Industrial Information System (IIS) Portal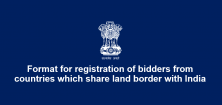 Rule
Format for registration of bidders from…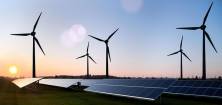 Report
Annual Report | Ministry of New & Renewable…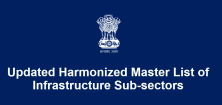 Notification
Updated Harmonized Master List of…
Invest India Timeline
2020