Snapshot
Incredible India
The Tourism and Hospitality industry is one of the largest service industries in India.
Tourism is an integral pillar of the Make in India programme. Tourism plays a role of significant economic multiplier and becomes critical since India has to grow at rapid rates and create jobs.
India offers geographical diversity, world heritage sites and niche tourism products like cruises, adventure, medical, eco-tourism, etc. Incredible India has spurred growth in Tourists Arrivals and Employment.
India's ranking in the Travel and Tourism Competitive Index (TTCI) of World Economic Forum moved from 52nd position in 2015 to 40th position in 2017. Now India has moved up by another 6 positions and ranked at 34th position in 2019.
Despite the pandemic, FY 2020 saw an inflow of $2.94 bn in investments in Indian tourism as compared to $1.07 bn in FY 2019, a y-o-y growth of 174.7%.
Tourism tends to encourage the development of multiple-use infrastructure including hotels, resorts & restaurants, transport infrastructure (aviation, roads, shipping & railways) and healthcare facilities.
By 2028, Tourism & Hospitality is forecasted to earn $50.9 bn as visitor exports compared to $28.9 bn earned in 2018

By 2029, Travel & Tourism will account for nearly 53 million jobs as compared to the 43 million jobs directly in 2018 (8.1% of total employment)

By 2030, India is expected to be among the top five business travel market

By 2029, theTourism sector is expected to grow at 6.7% to reach $35 tn

The hospitality sector is expected to touch $460 bn by 2028
100% FDI allowed under automatic route
100% FDI allowed in tourism construction projects, including the development of hotels, resorts, and recreational facilities
For further details, please refer FDI Policy
%

Share in World Tourist Arrivals

%

Share in World Tourism Receipts

%

Growth in Foreign Tourist Arrival on e-Tourist Visa

$ Bn

Foreign Exchange Earnings (FEEs)
8th largest tourism economy in the world
Ninth largest in cultural resources and business travel in the world
14.62 mn jobs created by tourism in last four years (between 2014-2018)
Industry Scenario

FOREIGN INVESTMENT

INDUSTRY TRENDS

POLICIES & SCHEMES
Industry Scenario
$460 bn contribution to India's GDP by 2028  
Travel and Tourism was the largest service industry in India was worth $234 bn in 2018. The industry has become one of the largest Foreign Exchange Earners in India with earnings of $29.962 billion over Jan 2019 – Dec 2019 equating a growth of 4.8% over the previous year.
According to The World Travel and Tourism Council (WTTC), tourism generated $194 bn or 6.8% of India's GDP in 2019 and supported 39.80 Mn jobs which is 8 % of its total employment.
The sector is predicted to grow at an annual rate of 6.9% to $460 bn by 2028 which is 9.9% of GDP.
FTAs in April 2019 were 7,71,353 viz-a-viz 7,45,051 in April 2018 registering a growth of 3.5%. Further to this, FTAs during the period January-April 2019 were 39,35,293 viz-a-viz 38,60,871 in January- April 2018 registering a growth of 1.9%.
During April 2019 total of 2,01,137 tourist arrived on e-Tourist Visa as compared to 1,57,094 during the month of April 2018 registering a growth of 28.0%. Further to this, during January- April 2019, a total of 11,08,665 tourist arrived on e-Tourist Visa as compared to 9,18,792 during January-April 2018, registering a growth of 20.7%. During 2019, a total of 2.93 mn foreign tourists arrived on e-Tourist Visa registering a growth of 23.6%.
As on December, 2019, e-visa facility has been extended to the nationals of 169 Countries under 5 sub-categories i.e 'e-Tourist visa', 'e-Business visa', 'e-medical visa', 'e-Medical Attendant Visa' and 'e-Conference Visa'. The latest country added is Kingdom of Saudi Arabia.
The Global Medical Tourism Market was worth $19.7 bn in 2016 and estimated to be growing at a CAGR of 18.8%, to reach $46.6 bn by 2021. Asia-Pacific accounted for the largest share of around 40% of the global market. The total number of inward medical tourists doubled in a span of just three years in India. In 2017, around 22% arrivals from West Asia was for medical purposes, followed by 15.7% from Africa.
GROWTH DRIVERS
Incredible India campaign

Extending international tourism business in India

E-Tourist VISA facility

E-visa facility extended to 171 Countries under 5 sub-categories i.e 'e-Tourist visa', 'eBusiness visa', 'e-medical visa', 'e-Medical Attendant Visa' and 'e-Conference Visa'.

Special Tourism Zones (STZ)

5 STZs in partnership with states to boost tourism in India

Medical tourism

Economical treatment, quality healthcare infra & highly skilled doctors

Coastal tourism

Promote intra-regional trade among Indian Ocean Rim (IOR) countries
Industrial Land Bank Portal
GIS - based map displaying available infrastructure for setting up business operations in the state.
Investible Projects
Investment Opportunities in Tourism & Hospitality
Gallery
Nov 08, 2021
JalJeevan Mission in Water Pavilion at United Nations Climate Change Conference- #COP26
Nov 08, 2021
JalJeevan Mission in Water Pavilion at Unit…
JalJeevan Mission in Water Pavilion at United Nations Climate Change Conference- #COP26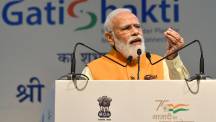 Oct 18, 2021
PM Modi's address at the launch of PM GatiSh…
PM Modi's address at the launch of PM GatiShakti, National Master Plan for Multi-Modal Connectivity
Sep 25, 2021
PM's video address at 'Global Citizen Live'
PM's video address at 'Global Citizen Live'