Snapshot
Unlock the Marvels of Incredible India
Powerhouse of Tourism and Hospitality
Tourism and Hospitality, as one of India's largest service industries, plays an extraordinary role in driving the nation's growth and prosperity.
The Tourism and Hospitality sector is an integral part of the Make in India initiative, serving as a vital economic catalyst that fuels job creation and rapid development.
It acts as a stimulant for the growth of multi-use infrastructure, including world-class hotels, resorts, exquisite restaurants, efficient transportation networks (aviation, roads, shipping, and railways), and state-of-the-art healthcare facilities.
India proudly boasts a tapestry of geographical diversity, encompassing awe-inspiring world heritage sites and niche tourism offerings such as captivating cruise tourism, exhilarating adventure tourism, renowned medical tourism, and mesmerizing eco-tourism. These unique offerings have resulted in an exponential increase in tourist arrivals, opening up vast employment opportunities.
The recently announced 2023 Union Budget has firmly placed tourism as a key sector in the spotlight. The Ministry of Tourism, in its mission mode, is dedicated to promoting the industry through active participation from all States, the convergence of Government Programs, and the establishment of impactful Public-Private Partnerships. This visionary approach will facilitate comprehensive development in at least 50 selected destinations through a challenge mode process.
Recognizing the importance of diversity and gender empowerment, the tourism industry stands as a leading employer of women. The government proactively collaborates with industry stakeholders to create a conducive work environment that fosters equal opportunities and celebrates the contributions of female employees.
The Ministry of Tourism has also designated the Year 2023 as the 'Visit India' year, an invitation to the world to witness the splendor and magnificence that our nation has to offer.
Embracing a progressive outlook, India welcomes 100% Foreign Direct Investment (FDI) in the tourism industry under the automatic route.
Additionally, 100% FDI is permitted for tourism construction projects, including the development of exquisite hotels, resorts, and unparalleled recreational facilities.
For comprehensive details, please refer to the FDI Policy, which highlights the investment opportunities and guidelines in the tourism sector.
India's tourism industry stands as a beacon of boundless possibilities, with its rich heritage, cultural tapestry, and captivating destinations. We invite you to embark on an extraordinary journey of investment and partnership, where your vision aligns with the immense potential India holds
Mn

International Tourism Arrivals (2023-24)

Bn

Domestic Tourist Visits all over the country (2023-24)

Mn

Employment from Tourism (2023)

$ Bn

Foreign exchange earnings (FEE) from tourism (2023-2024)

$ Bn

GDP Contribution
6th in terms of Travel & Tourism total contribution to GDP, WTTC (2021)
2nd in terms of Travel & Tourism Employment, WTTC (2021)
54th on the World Economic Forum Travel & Tourism Development Index (2022)
Industry Scenario

FOREIGN INVESTMENT

INDUSTRY TRENDS

POLICIES & SCHEMES
Industry Scenario
The tourism sector is projected to contribute $250 Bn to the country's GDP by 2030, generating an employment for 137 Mn individuals, and accrueing $56 Bn in foreign exchange earnings (FEE).  
The Indian Tourism sector ranks among the fastest-growing economic sectors in the country. The industry significantly impacts employment and drives regional development, while also creating a multiplier effect on the performance of related industries.
By 2028, India's tourism and hospitality industry is projected to generate $50.9 Bn in Visitor Exports, a significant increase from $28.9 Bn in 2018. Additionally, Foreign Tourist Arrivals (FTAs) are anticipated to reach 30.5 Mn by 2028.
In light of India's G20 Presidency and the India@75 Azadi ka Amrit Mahotsav celebrations, the Ministry of Tourism has designated 2023 as the 'Visit India Year' to promote inbound travel.
The Honorable Prime Minister has envisioned a mission mode approach to develop tourism during Amrit Kaal, with a strategic roadmap for the next 25 years. The objective is to position India as the foremost travel destination globally by the time we celebrate India@100 in 2047, creating unparalleled appeal for visitors from around the world.
Ministry of Tourism is planning to organize a Global Tourism Investors Summit along with Central Ministries and State/UT Governments to showcase opportunities for investment and trade. The event will allow global investors to explore Indian Tourism products and services.
Union Budget 2023 Highlights:
50 tourist destinations will be selected through challenge mode to be developed as a whole package for domestic and international tourism
Sector-specific skilling and entrepreneurship development to be dovetailed to achieve the objectives of the 'Dekho Apna Desh' initiative
Tourism infrastructure and amenities to be facilitated in border villages through the Vibrant Villages Programme
Unity Malls to be set up in State Capitals or prominent tourist centres
GROWTH DRIVERS
Infrastructure development

More than half of the Ministry of Tourism's budget is channelised for funding the development of destinations, circuits, mega projects as well as rural tourism infrastructure projects.

Hotels & Accommodation

Revenue is projected at $7.66 Bn in 2023. CAGR of 8.29% between 2023-27. 61.3 Mn potential customers by 2027

Adventure Tourism

India has 70% of the Himalayas, a 7,000+ Km of coastline, ranks 10th in total area under forest cover, and is one of the three countries in the world with both hot and cold deserts.

Medical tourism

Medical tourism and wellness retreats attract 21% of international travelers, leveraging world-class healthcare facilities and traditional healing practices.

Cruise Tourism

Cruise passenger traffic expected to increase from 0.4 Mn to 4 Mn by 2032. Increase in economic potential from $110 Mn to $5.5 Bn.

Eco-Tourism

Expected to grow at 15.7% between 2019-27 & reach $4.55 Bn. India offers unique destinations, exploration of wildlife, and pristine undisturbed natural areas.

Meetings, Incentives, Conferences, and Exhibitions

The Indian MICE market has less than 1% share currently, but with initiatives such as 'Meet in India', National Advisory Council for Mice, India Mice Board, MICE Tourism is projected to double in next 5 years.

Entrepreneurial Opportunities

The tourism sector has 1,300+ DPIIT recognized startups.
Industrial Land Bank Portal
GIS - based map displaying available infrastructure for setting up business operations in the state.
Gallery
Jun 21, 2023
PM Modi's video message in G-20 tourism ministers meeting in Goa
Jun 21, 2023
PM Modi's video message in G-20 tourism mini…
PM Modi's video message in G-20 tourism ministers meeting in Goa
May 01, 2023
PM Modi's address at post budget webinar on …
PM Modi's address at post budget webinar on 'Developing Tourism in Mission Mode'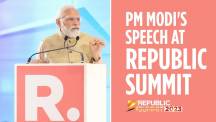 Apr 27, 2023
PM Modi's addresses Republic Summit 2023
PM Modi's addresses Republic Summit 2023
Latest In Tourism & Hospitality
New India Timeline @2047
2023