Snapshot
Incredible India
The Tourism and Hospitality industry is one of the largest service industries in India.
The tourism sector in India is an integral pillar of the Make in India programme. The tourism industry in India plays a role of significant economic multiplier and becomes critical since India has to grow at rapid rates and create jobs.
India offers geographical diversity, world heritage sites and niche tourism products like cruises, adventure, medical, eco-tourism, etc. Incredible India has spurred growth in Tourists Arrivals and Employment.
India aims to increase cruise passenger traffic from 0.4 mn at present to 4 mn. Economic potential of Cruise tourism is expected to go up from $110 mn to $5.5 bn in the years to come.
Tourism tends to encourage the development of multiple-use infrastructure including hotels, resorts & restaurants, transport infrastructure (aviation, roads, shipping & railways) and healthcare facilities.
India is currently ranked 34th out of 140 countries in TTCI (2019).
By 2030, India is expected to be among the top five business travel market
100% FDI in the tourism industry is allowed under automatic route
100% FDI allowed in tourism construction projects, including the development of hotels, resorts, and recreational facilities
For further details, please refer FDI Policy
%

Share in World Tourist Arrivals

%

Share in International Tourism Receipts

$ Bn

Foreign Exchange Earnings (FEEs)
India ranks 7th in terms of travel & tourism's total contribution to GDP in 2020
3rd largest foreign exchange earner for the country
Ninth largest in cultural resources and business travel in the world
Industry Scenario

FOREIGN INVESTMENT

INDUSTRY TRENDS

POLICIES & SCHEMES
Industry Scenario
$512 bn contributions to India's GDP by 2028 and 53 million jobs by 2029  
In 2020, the travel & tourism industry's contribution to the GDP was US$ 121.9 billion; this is expected to reach US$ 512 billion by 2028. In India, the industry's direct contribution to the GDP is expected to record an annual growth rate of 10.35% between 2019 and 2028.
By 2028, Indian tourism and hospitality is expected to earn US$ 50.9 billion as visitor exports compared with US$ 28.9 billion in 2018. International tourist arrivals are expected to reach 30.5 million by 2028.
The travel market in India is projected to reach US$ 125 billion by FY27 from an estimated US$ 75 billion in FY20.
In FY20, tourism sector in India accounted for 39 million jobs, which was 8.0% of the total employment in the country. By 2029, it is expected to account for about 53 million jobs.
The hotel & tourism sector received cumulative FDI inflow of US$ 15.89 billion between April 2000 and June 2021
GROWTH DRIVERS
Incredible India campaign

Extending international tourism business in India

E-Tourist VISA facility

E-visa facility extended to 171 Countries under 5 sub-categories i.e 'e-Tourist visa', 'eBusiness visa', 'e-medical visa', 'e-Medical Attendant Visa' and 'e-Conference Visa'.

Infrastructure development

More than half of the Ministry of Tourism's budget is channelised for funding the development of destinations, circuits, mega projects as well as rural tourism infrastructure projects.

Medical tourism

Economical treatment, quality healthcare infra & highly skilled doctors

Coastal tourism

Promote intra-regional trade among Indian Ocean Rim (IOR) countries
Industrial Land Bank Portal
GIS - based map displaying available infrastructure for setting up business operations in the state.
Gallery
Feb 01, 2022
Finance Minister Nirmala Sitharaman presents Union Budget 2022
Feb 01, 2022
Finance Minister Nirmala Sitharaman presents…
Finance Minister Nirmala Sitharaman presents Union Budget 2022
Nov 08, 2021
JalJeevan Mission in Water Pavilion at Unit…
JalJeevan Mission in Water Pavilion at United Nations Climate Change Conference- #COP26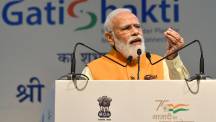 Oct 18, 2021
PM Modi's address at the launch of PM GatiSh…
PM Modi's address at the launch of PM GatiShakti, National Master Plan for Multi-Modal Connectivity
Invest India Timeline
2022