Snapshot
One of the fastest growing sectors in India
The Ayush sector has grown 17% year on year between 2014 and 2020. The market size of the industry stands at $ 18.1 Bn from $ 2.85 Bn in 2014, clocking a phenomenal growth of almost 6 times. The sector likely to generate nearly 3 Mn job opportunities.
Share of sub-sectors in Ayush market size are Herbal Plants (43.35%), Nutraceuticals (24.65%), Pharmaceuticals (14.11%), Cosmeceuticals (8.37%), Plant Derivatives (5.14%) and Plant Extracts (4.39%). The sector of herbal medicine grew at the rate of 7.4 % per annum during 2014-20. Various sub-sectors, particularly, herbal pharmaceutical sector expanded at the rate of 18.5 % during the same period with the market share of 14.1 % in 2020.
Country's exports in the sector expanded rapidly from $1.09 Bn in 2014 to $1.54 Bn in 2020, registering a robust growth rate of 5.9 % annually. The herbal pharmaceutical or medicament sector constituted 35.2% of Ayush exports in 2020, while the extracts and nutraceuticals sector shared around 22% export share each in the total, whereas medicinal and aromatic plant recorded 19.9% export share. India exports Ayush products to markets such as the USA, Nepal, Russia, Philippines, UAE, Kenya, Germany, Vietnam, China, Italy, The UK, Western Europe, Japan, Hong Kong etc.
India has exported Ayush and Herbal products worth $1,240.6 Mn in last two years (2021-2022 to 2022-23). A total of $612.1 Mn Ayush and Herbal products were exported in 2021-2022 while $628.25 Mn Ayush and Herbal products were exported in 2022-2023.
$ Bn

Service Sector Size

$ Tn

Ayush based Healthcare & Wellness economy by 2025

Ayush Dispensaries in India as of 2022
Ayurveda market predicted to grow at 15% CAGR from 2021-2026 
Ayush ranks among the top five health services' export earnings with MVT in India
More than 8,000 species of medicinal plants found in India
Industry Scenario

FOREIGN INVESTMENT

INDUSTRY TRENDS

POLICIES & SCHEMES
Industry Scenario
Position India as #1 Hub for Medical & Wellness Tourism globally with a market size of $13 Bn (INR 1L Cr) by 2026
Various sub-sectors, particularly, herbal pharmaceutical sector expanded at the rate of 18.5 % during the same period with the market share of 14.1 % in 2020.
Nutraceuticals is the dominant sector in the industry exports, accounting for 42.3% of the domestic market. Pharmaceuticals are also coming up with a share of 30% follow by herbal plants of 13.8%
The Government of India has already set a target of increasing spending on healthcare from the current 1.3% to 3% of GDP, which will positively impact Ayush.
The market size for telemedicine in India was around $830 Mn in 2019. It is projected to increase to $5.5 Bn by 2025 growing at a CAGR of 31% during 2020-25.
The number of patients treated with Ayush system of medicine through government hospitals and dispensaries has risen from 2.5 Crores (FY 2017-18) to 4.3 crore (FY 2020-21).
Under Ayushman Bharat scheme, Ayush would manage 12,500 HWCs to offer Ayush health services and wellness interventions as part of Comprehensive Primary Healthcare.
Drug Manufacturing Units under Ayush Systems: There are more than 8100 manufacturing units existing in the country (as of 2022)
According to the data available on the Udyam portal, there are about 53000 MSMEs (Micro – 47,892; Small – 4,412; Medium – 719) of Ayush sector.
Under Ayush Health Infrastructure, there are 12,000 Ayush Hospitals and 37,000 Ayush Dispensaries.
Ayush Educational Institutes, UG & PG (during the Academic year 2022-23)

Permitted Colleges: 697
Admitted Students: 4,593

Infrastructural Projects

No. of Projects in Progress: 21
Budget: 1864.29 Cr

Practitioners: There are 7,12,132 Ayush practitioners in the country (as of 2022).
GCTM: The Ministry of Ayush and the World Health Organization (WHO) is establishing the world's first and only global outposted centre (office) for traditional medicine (WHO- Global Centre for Traditional Medicine). The World Health Organization and the Government of India had signed the Host Country agreement on the 25th March, 2022 to establish the W.H.O- Global Centre for Traditional Medicine in Jamnagar, Gujarat. As lead investor in the WHO Global Centre for Traditional Medicine, Government of India has committed an estimated $250 Mn to support the Centre's establishment, infrastructure, and operations with a 10- year commitment.
Constant attempts at building an investment friendly industry, strong academia partnerships for Transfer of Technology (ToT) through major research institutions like CCRAS (Central Council for Research in Ayurvedic Sciences) and CSIR (Council of Scientific & Industrial Research), digitization through e-Charak, e-Aushadi etc., are some of the initiatives of the Ministry of Ayush.
GROWTH DRIVERS
Increased Government Spending

The total allocation of budget to Ayush Ministry has increased by 20% to INR 3647 Cr. Budget allocation to centrally sponsored National Ayush Mission (NAM) has got 50% increase in allocation from INR 800 Cr to INR 1200 Cr.

Developing Standards on Ayush Systems

Promotion of Ayush products in over 165 countries through ISO standards route.

WHO Global Centre for Traditional Medicine

This would promote collaborative efforts in research, regulation, & trade and connect the global value chain leading to improved ease of business & governance.

Policy support & Incentives

100% FDI is allowed in Greenfield & Brownfield projects, Ayush Visa, Ayush Parks & Ayush Mark to improve EoDB are being undertaken.

Rise in Medical Value Travel

Due to the relatively low cost of medical care in India, Indian Medical Value Travel market size is expected to grow to $13 Bn by 2026 from present value of $5-6 Bn.
Industrial Land Bank Portal
GIS - based map displaying available infrastructure for setting up business operations in the state.
Gallery
Aug 14, 2023
Press conference by Secretary, Ministry of Ayush
Aug 14, 2023
Press conference by Secretary, Ministry of A…
Press conference by Secretary, Ministry of Ayush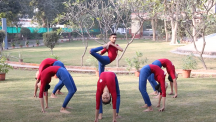 Jul 26, 2023
Yogasana Demonstration
Yogasana Demonstration
Jul 26, 2023
International Day of Yoga 2019
International Day of Yoga 2019
Latest In Ayush
Brochure
The Power of Ayush; India on a Mission
Press release
Steps taken by Government to train farmers…
Press Release
The Budget 2023-24 gives major emphasis on…
Press release
Year-end Review: Ministry of Ayush
Press Release
Reforms in Ayush sector to boost growth:…
New India Timeline @2047
2023