Snapshot
The Global Entertainer
Media is consumed by audiences across demographics and various avenues such as television, films, out-of-home (OOH), radio, animation, and visual effect (VFX), music, gaming, digital advertising, live events, filmed entertainment, and print.
In 2024, television will make up 40% of the Indian media industry, 13% by print media, 12% by digital advertising, 9% by cinema, and 8% each by OTT and Gaming sectors.
The trajectory for the country's digital revolution is expected to reach more than a billion users by 2028.
By 2024, Media & Entertainment industry is expected to reach $39 bn and a CAGR (2019-24) of 9%
The overall online video market for India is projected to grow at a CAGR of 26% between 2020 and 2025 to reach $4.5 bn in revenue over the next five years
OTT content cost may grow at a CAGR of 18% to reach $1.6 bn between 2020-2025
India holds the most potential of any market in the world and its breakneck rate of growth will see total OTT video revenue overtake South Korea, Germany and Australia to jump to be the 6th largest market in 2024
Accounting for 80% of the revenue, online gaming segment will drive enormous engagement and another addition of another 100 million smartphones and continued conversion of 2G and 3G connections to 4G will drive a 3X growth in this segment by 2022
Total pay-TV subscribers will expand from 127 million in 2020 to 134 million by 2025
eSports in India is witnessing levels of interest and excitement seen in other markets around the world. A huge millennial fanbase, coupled with the affordability of eSports streaming services and improved internet bandwidth is driving this growth
Up to 100% FDI allowed in Teleports, DTH, Multi-System Operator, cable networks in DAS areas, mobile TV, Headend-in-the-Sky Broadcasting Services
100% FDI is allowed in Publishing/ Printing of scientific and Technical magazines/ Speciality journals/ Periodicals under the government route
For further details, please refer FDI Policy
%

TV industry revenue share

%

Digital advertising's contribution to total advertising

INR bn

E-commerce advertising in 2020
Explore Related Sub Sectors
Second largest market by app downloads 
Fifth largest fantasy sports market
Second largest digital population
Industry Scenario

FOREIGN INVESTMENT

INDUSTRY TRENDS

POLICIES & SCHEMES
Industry Scenario
Indian M&E sector is expected to grow at a CAGR of 13.7% to reach $30.6 bn by 2023.
The Indian M&E industry is projected to grow at a pace of 14% over the period 2016-2021, outshining the global average of 4.2% CAGR, with advertising revenue expected to increase at a compounded Annual Growth Rate (CAGR) of 15.3% during the same period.
Television is expected to grow at a CAGR of 14.7% over the next five years as both advertisement and subscription revenues are projected to exhibit strong growth at 14.4% and 14.8% respectively.
Television, Print and Films are the largest segments constituting nearly 80% of the M&E market.
In 2020, digital channels of Prasar Bharati across DD and Akashvani have registered more than 100% growth, clocking over a billion digital views and over 6 billion digital watch minutes.
The online video streaming platforms may become an INR 4000 crore revenue market by the end of 2025, according to reports.
The online gaming industry is expected to grow at a compound annual growth rate (CAGR) of 40% to $2.8 bn by 2022, up from $1.1 bn in 2019.
The AVGC sector is the fastest-growing sector, rising at a rate of 29% between 2019 and 2024, while the audiovisual and services sector is expanding at a rate of 25%. The Indian AVGC industry is expected to reach $43.93 bn by 2024.
OTT content investments in India touched $700 mn in 2020
The Indian OTT streaming industry is expected to grow to $13-15 bn over the next decade at a CAGR of 22-25%
India's pay-TV industry will grow at 7% CAGR between 2020-25 as total industry revenues, including subscription and advertising, reach $12.3 bn by 2025.
Government Initiatives
The Government of India has taken various initiatives such as digitizing the cable distribution sector to attract greater institutional funding, increasing the FDI limit from 74% to 100% in cable and direct-to-home (DTH) satellite platforms, and granting industry status to the film industry for easy access to institutional finance.
Film Facilitation Office (FFO) set up by the Ministry of Information & Broadcasting, Government of India, acts as a single window clearance and facilitation point for producers and production companies with a view to assist them in getting requisite filming permissions.
The merger of Film Media Units in December 2020 by the Ministry of Information and Broadcasting under one corporation will lead to convergence of activities and resources and better coordination, thereby ensuring synergy and efficiency in achieving the mandate of each media unit.
In September 2020, the Government of India announced its plans to develop an Animation, Visual Effects, Gaming and Comic (AVGC) Centre for Excellence in collaboration with IIT Bombay.
GROWTH DRIVERS
Increasing young population

385 million millennials in India accounting for 65% of total Indian population contribute to changing media consumption habits and evolving lifestyles

Internet Penetration

Increased 11% to reach 795 mn

Digital Payments

1497 Mn digital payment transactions in 2020 (5x growth in the amount)

Mobile Data Prices

Most affordable in India ($0.09 per GB) as compared to US ($8 per GB) and UK ($1.39 per GB)
Industrial Land Bank Portal
GIS - based map displaying available infrastructure for setting up business operations in the state.
Gallery
Nov 08, 2021
JalJeevan Mission in Water Pavilion at United Nations Climate Change Conference- #COP26
Nov 08, 2021
JalJeevan Mission in Water Pavilion at Unit…
JalJeevan Mission in Water Pavilion at United Nations Climate Change Conference- #COP26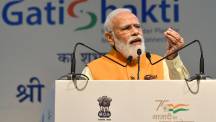 Oct 18, 2021
PM Modi's address at the launch of PM GatiSh…
PM Modi's address at the launch of PM GatiShakti, National Master Plan for Multi-Modal Connectivity
Sep 25, 2021
PM's video address at 'Global Citizen Live'
PM's video address at 'Global Citizen Live'
Invest India Timeline
2022