Snapshot
Building a sustainable future
The Construction industry in India consists of the Real estate as well as the Urban development segment. The Real estate segment covers residential, office, retail, hotels and leisure parks, among others. While Urban development segment broadly consists of sub-segments such as Water supply, Sanitation, Urban transport, Schools, and Healthcare. FDI in the construction development sector (townships, housing, built up infrastructure and construction development projects) and construction (infrastructure) activities stood at $26.08 bn and $24.72 bn, respectively, between April 2000 and March 2021.
By 2025, the construction business market in India is expected to emerge as the third-largest globally

By 2025, the Indian construction market output is expected the growth on average by 7.1% each year

Construction equipment industry revenue stood at $ 6.5 Bn in 2020
Cement production (weight: 5.37 per cent) increased by 21.8 per cent in July, 2021 over July, 2020.
100% Foreign direct investment in the construction industry in India under automatic route is permitted in completed projects for operations and management of townships, malls/shopping complexes, and business constructions.
100% Foreign direct investment in the construction industry is allowed under the automatic route for urban infrastructures such as urban transport, water supply, sewerage, and sewage treatment.
For further details, please refer FDI Policy
%

Share in India's GDP

mn

People employed
Explore Related Sub Sectors
Second largest employer in India in 2017
Second largest FDI recipient sector for India in 2020-21
Third largest construction market globally by 2025
Industry Scenario

FOREIGN INVESTMENT

INDUSTRY TRENDS

POLICIES & SCHEMES
Industry Scenario
The construction Industry in India is expected to reach $1.4 Tn by 2025
The construction business in India received the 2nd highest FDI in the period 2000-2020
The construction industry market in India works across 250 sub-sectors with linkages across sectors.
The Real Estate Industry in India is expected to reach $1 Tn by 2030 and contributes to 13% of GDP
Under NIP, India has an investment budget of $1.4 Tn on infrastructure - 24% on renewable energy, 19% on roads & highways, 16% on urban infrastructure, and 13% on railways
Under the Smart Cities Mission till June 2021, 2,734 projects have been completed of the total 5,956 projects
GROWTH DRIVERS
Smart cities

100 smart cities currently

Industrial corridors

Eleven industrial corridors planned

Railway stations/ lines

600 stations planned for redevelopment

Mega ports

14 CEZs, 6 new ports are planned and three mega ports are planned

Increasing demand for commercial space

Construction of office spaces, hotels, retail, entertainment units. The net office space absorption across India's largest 6 cities stood at 31.9 Mn sqft in 2020
Industrial Land Bank Portal
GIS - based map displaying available infrastructure for setting up business operations in the state.
Gallery
Nov 08, 2021
JalJeevan Mission in Water Pavilion at United Nations Climate Change Conference- #COP26
Nov 08, 2021
JalJeevan Mission in Water Pavilion at Unit…
JalJeevan Mission in Water Pavilion at United Nations Climate Change Conference- #COP26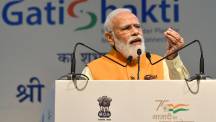 Oct 18, 2021
PM Modi's address at the launch of PM GatiSh…
PM Modi's address at the launch of PM GatiShakti, National Master Plan for Multi-Modal Connectivity
Sep 25, 2021
PM's video address at 'Global Citizen Live'
PM's video address at 'Global Citizen Live'