Snapshot
Food processing - 'A Sunrise sector'
India's food ecosystem offers enormous investment opportunities with stimulating growth in the food retail sector encouraging economic policies, and attractive fiscal incentives. Through the Ministry of Food Processing Industries (MoFPI), Government of India is taking all necessary measures to boost investments in the food processing industry in India. Some of the initiatives include:
Pradhan Mantri Kisan Sampada Yojana (PMKSY) aims at developing modern food processing infrastructure. PMKSY has been envisaged as a comprehensive package which will result in creation of modern infrastructure with efficient supply chain management from farm gate to retail outlet.

Pradhan Mantri Formalisation of Micro Food Processing Enterprises Scheme (PMFME) aims to enhance existing individual micro-enterprises in the unorganized segment of the food processing industry.

Production Linked Incentive Scheme for Food Processing Industry (PLISFPI) aims to boost domestic manufacturing, increase exports, while supporting food manufacturing entities with stipulated Sales and willing to make investment for expansion of processing capacity and branding abroad to incentivize emergence of strong Indian brands. The scheme is EoI bases.
India's agricultural and processed food products exports were up by 13% to $ 19.69 bn in nine months of the current fiscal (2022-23) compared to the same period last year.
Click here to know more about Agro Processing Cluster Projects approved by MoFPI
Click here to know more about Mega Food Park Projects approved by MoFPI.
The total FDI received in the food processing sector from April 2000 till December 2022 was $11.79 Bn. The FDI equity inflow in the Food Processing Sector for the period of April 2021- March 2022 was $ 709.72 Mn. The total FDI equity inflow in sector from April 2000 to December 2022 is $ 11.79 Bn.
By 2025 the Indian Food Processing market is estimated to reach $ 535 bn and growing at a compound annual growth rate of 15.2%. Tier-II and Tier-III cities could mirror the trend visible in metropolitan areas, by consuming more processed food in the coming years.

India's consumer spending to grow to $6 Tn by 2030.

India's agricultural and processed food products exports were up by 13% to $ 19.69 bn in nine months of the current fiscal (2022-23) compared to the same period last year. India exported more than $ 2.14 Bn worth of final food products in 2020-21. The major destination of RTE export in 2020-21 data is the U.S.A, U.A.E, and Nepal. The major exporting destination for RTC export in 2020-21 are U.S.A, Malaysia, and U.A.E
India's sugar exports grow by 291% since 2013-14, Sugar exports exceed 10 Mn tons for the first time. Sugar exports rise by 64.90% during 2021-22 alone.
India's non-basmati rice exports witnessed an astounding growth of 109 % from $2925 Mn in FY 2013-14 to $6115 Mn in FY 2021-22
Government aims to make India the Global Hub for 'Shree Anna' (Millets)
100% FDI is permitted under the automatic route in food processing industries in India.
100% FDI is allowed through the government approval route for trading, including through e-commerce in respect of food products manufactured or produced in India.
For further details, please refer FDI Policy
%

% share of GVA of agriculture and allied sector to total economy

%

Share in total employment

%

Share in India's exports

%

Cropping intensity
Explore Related Sub Sectors
World's largest producer of Spices, Milk and Pulses
World's second largest producer of tea and sugarcane
World's second largest producer of food grains, fruits, and vegetables
Industry Scenario

FOREIGN INVESTMENT

INDUSTRY TRENDS

POLICIES & SCHEMES
Industry Scenario
India's food processing sector is one of the largest in the world and its output is expected to reach $535 Bn by 2025-26.
The Food Processing sector in India has a quintessential role in linking Indian farmers to consumers in the domestic and international markets. The Ministry of Food Processing Industries (MoFPI) is making all efforts to encourage investments across the value chain. The food processing industry has a share of 12.38% (at 3-digit of NIC classification) in the employment generated in all Registered Factory sector engaging approximately 1.93 Mn people. Unregistered food processing sector supports employment to 5.1 Mn workers as per the NSSO 73rd Round report. Major sectors constituting the food processing industry in India are grains, sugar, edible oils, beverages, and dairy products.
Under PMKSY, 41 Mega Food Parks, 376 Cold Chain projects, 79 Agro-Processing Clusters, 489 proposals under Creation/Expansion of Food Processing & Preservation Capacities (CEFPPC), 61 Creation of Backward and Forward Linkages Projects, 52 Operation Green projects, 183 Food Testing Laboratories projects have been approved across the country.
The key sub-segments of the Food Processing industry in India are Fruits & Vegetables, Poultry & Meat processing, Fisheries, Food retail, dairy industry, etc.
Key facts:
The total horticulture production is estimated to be 342.33

Mn

tonnes in the year 2021-22, showing an increase of about 7.73

Mn

tonnes (an increase of 2.3%) over the year 2020-21 (final)
India ranks 1st in Milk production and the total milk production in the country during 2021-22 is 221.06

Mn

tonnes. In the year 2021-22, the milk production has registered an annual growth rate of 5.29%
In 2021-22, the total egg production in the country is 129.60 Bn which have increased by 6.19% as compared to the previous year
The fish production in 2021-22 is 16.24

Mn

Tonnes comprising of marine fish production of 4.12 mn Tonnes and 12.12

Mn

Tonnes from Aquaculture
Online grocery retail in India has seen a CAGR of over 50% and projected to grow to $10 Bn to 12 Bn by 2025.
Seafood products export from India during the last three years has increased from $ 6679 mn in FY 2019-20 to an all-time high record figure of $ 7759.58 mn in FY 2021-22. Exports to these three countries contributed 63% of exports.
The export of other cereals recorded a growth of 13.64% in nine months of the current fiscal.
Other cereals' exports increased from $764 Mn in April-December 2021 to $ 869 mn in April-December 2022 and the export of milled products increased from $188 Mn in April-December 2021 to $255 Mn in April-December 2022—registering a growth of 35.71 % in the nine months.
The total meat production in the country is 9.29 Mn tonnes for the year 2021-22 with an annual growth rate of 5.62%. The total five major meat producing States are Maharashtra (12.25%), Uttar Pradesh (12.14%), West Bengal (11.63%), Andhra Pradesh (11.04%), and Telangana (10.82%)
As per 4th advance estimates, the estimated production of rice is 130.29 Mn Tonnes, Wheat is 106.84 Mn Tonnes, and Nutri/Coarse cereals is 50.90 Mn Tonnes for the year 2021-22.
During Sugar Season (SS) 2021-22, India exported 110 LMT sugar and became second largest exporter of sugar in the world and earned about INR 40,000 Cr worth of foreign exchange for the country.
Non-Basmati Rice has emerged as India's top export item among the many agricultural and processed food product exports under APEDA basket, with the export of $4,663 Mn in nine months of 2022-23.
GROWTH DRIVERS
Agri-commodity hub

Largest producer of several agri-commodities

Huge consumer base

1.3 Bn consumers with increasing demand for branded food

Strong economy

India is the fastest growing largest economy in the world

Conducive policies

Proactive government policies with attractive fiscal incentives

One District, One Product (ODOP)

Under ODOP scheme, 713 districts have been identified. across the country
Production Linked Incentive (PLI) Scheme
The Union Cabinet chaired by the Prime Minister, Shri Narendra Modi has given its approval to introduce the Production-Linked Incentive (PLI) Scheme in Food Products for Enhancing India's Manufacturing Capabilities and Enhancing Exports – Atmanirbhar Bharat. Under the PLI Scheme for Food Processing Industry, a total of 182 applications have been approved under different categories including 30 applications (8 large entities and 22 SMEs) under the PLI Scheme for Millet Based products. The implementation of PLI scheme is likely to facilitate expansion of food processing capacity by nearly INR 30,000 crore and create additional direct and indirect employment opportunities for about 2.5 lakh persons by the year 2026-27. As per the data being reported by the PLIS beneficiaries, investment of about INR 4900 Crores has been made under the Scheme.
INR 10,900 Cr

Scheme Outlay
Industrial Land Bank Portal
GIS - based map displaying available infrastructure for setting up business operations in the state.
Gallery
Apr 27, 2023
PM Modi's addresses Republic Summit 2023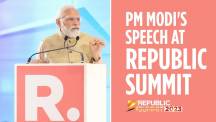 Apr 27, 2023
PM Modi's addresses Republic Summit 2023
PM Modi's addresses Republic Summit 2023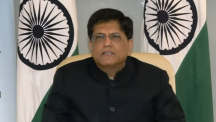 Apr 13, 2023
New India's Trade Performance by Piyush Goya…
New India's Trade Performance by Piyush Goyal, Commerce & Industry Minister
Mar 20, 2023
Prime Minister Narendra Modi's address at th…
Prime Minister Narendra Modi's address at the Global Millets Conference (Shree Anna) in Delhi
Latest In Food Processing