Snapshot
Food processing - 'A sunrise sector'
India's food ecosystem offers huge opportunities for investments with stimulating growth in the food retail sector, favorable economic policies, and attractive fiscal incentives.
Through the Ministry of Food Processing Industries (MoFPI), the Government of India is taking all necessary steps to boost investments in the food processing industry in India. The government has sanctioned 41 food parks funded under the Mega Food Parks Scheme of which 38 have final approval. In 2014, there were only 2 Mega Food Parks in the country. As of 1 August 2021 there are 22 Mega Food Parks are functioning in the country. Now the target is to take their number to more than 40.
India records close to 15% rise in export of agricultural and processed food products in April-October.
Click here to know more about Mega Food Park Projects approved by MoFPI.
By 2025, India's food processing industry is expected to be worth over half a trillion dollars.
By 2030, Indian annual household consumption to treble, making India 5th largest consumer
100% FDI is permitted under the automatic route in food processing industries in India.
100% FDI is allowed through the government approval route for trading, including through e-commerce in respect of food products manufactured or produced in India.
For further details, please refer FDI Policy
%

Share in India's food market

%

Share in total employment

%

Share in India's exports

%

Cropping intensity
Explore Related Sub Sectors
World's largest producer of Spices, Milk and Pulses
World's largest processor, producer and consumer of cashew nuts
World's second largest producer of food grains, fruits, and vegetables
Industry Scenario

FOREIGN INVESTMENT

INDUSTRY TRENDS

POLICIES & SCHEMES
Industry Scenario
India's food processing sector is one of the largest in the world and its output is expected to reach $535 bn by 2025-26.
The Food Processing sector in India has a quintessential role in linking Indian farmers to consumers in the domestic and international markets. The Ministry of Food Processing Industries (MoFPI) is making all efforts to encourage investments across the value chain. The food processing industry engages approximately 1.93 mn people in around 39,748 registered units with fixed capital of $32.75 bn and aggregate output of around $158.69 bn. Major sectors constituting the food processing industry in India are grains, sugar, edible oils, beverages, and dairy products.
Under PMKSY, 41 Mega Food Parks, 353 Cold Chain projects, 63 Agro-Processing Clusters, 292 Food Processing Units, 63 Creation of Backward & Forward Linkages Projects & 6 Operation Green projects across the country have been approved.
The key sub-segments of the Food Processing industry in India are Fruits & Vegetables, Poultry & Meat processing, Fisheries, Food retail, dairy industry, etc.
Key facts:
296.65 mn tonnes of horticulture food grains in 2019-20
Milk production of 198.4 mn tonnes during 2019-20
Ranks 3rd in the world in Egg production with 114.38 billion in 2019-20
Second largest producer of fish in the world — total fish production in 2019-20 was 14.16 MT with 7.56% of Global production
70 Lakh Metric Tonne (LMT) of Sugar has been exported in sugar season 2020-21, an increase of 17.45% compared to 2019-20
Food grocery and food services segments, growing at a CAGR of 25% and 15%, respectively, are majorly dominating the Food Retail Sector of India.
India shipped 12,89,651 MT of seafood worth $6.68 bn during 2019-20
The export of other cereals increased from $44.9 mn in April-June 2020 to $231.4 mn in April-June 2021
The export of meat, dairy and poultry products increased from $483.5 mn in April-June 2020 to $1022.5 mn in April-June 2021
GROWTH DRIVERS
Agri-commodity hub

Largest producer of several agri-commodities

Huge consumer base

1.3 bn consumers with increasing demand for branded food

Strong economy

India is the fastest growing largest economy in the world

Conducive policies

Proactive government policies with attractive fiscal incentives

Atmanirbhar Bharat

PLI schemes worth INR 10,900 crores introduced under Atmanirbhar Bharat 3.0

One District, One Product (ODOP)

Under ODOP scheme, 135 district-specific unique products for 728 districts have been identified. across the country
Production Linked Incentive (PLI) Scheme
The Union Cabinet chaired by the Prime Minister, Shri Narendra Modi has given its approval to introduce the Production-Linked Incentive (PLI) Scheme in Food Products for Enhancing India's Manufacturing Capabilities and Enhancing Exports – Atmanirbhar Bharat.
INR 10,900 cr

Scheme Outlay
Industrial Land Bank Portal
GIS - based map displaying available infrastructure for setting up business operations in the state.
Gallery
Nov 08, 2021
JalJeevan Mission in Water Pavilion at United Nations Climate Change Conference- #COP26
Nov 08, 2021
JalJeevan Mission in Water Pavilion at Unit…
JalJeevan Mission in Water Pavilion at United Nations Climate Change Conference- #COP26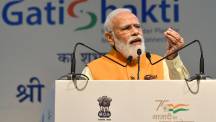 Oct 18, 2021
PM Modi's address at the launch of PM GatiSh…
PM Modi's address at the launch of PM GatiShakti, National Master Plan for Multi-Modal Connectivity
Sep 25, 2021
PM's video address at 'Global Citizen Live'
PM's video address at 'Global Citizen Live'