Snapshot
Food processing - 'A sunrise sector'
India's food ecosystem offers huge opportunities for investments with stimulating growth in the food retail sector, favorable economic policies, and attractive fiscal incentives.
Through the Ministry of Food Processing Industries (MoFPI), the Government of India is taking all necessary steps to boost investments in the food processing industry in India. The government has sanctioned 41 food parks funded under the Mega Food Parks Scheme of which 38 have final approval. In 2014, there were only 2 Mega Food Parks in the country. As of 1 August 2021 there are 22 Mega Food Parks are functioning in the country. Now the target is to take their number to more than 40.
India records close to 15% rise in export of agricultural and processed food products in April-October.
Click here to know more about Mega Food Park Projects approved by MoFPI.
FDI inflows in the food processing sector stood at $ 393.41 million in 2020-21. The total FDI received in the food processing sector since April 2000 till November 2021 was US$ 10.88 Bn.
India's food processing market may touch $470 billion by 2025. Tier-II and Tier-III cities could mirror the trend visible in metropolitan areas, by consuming more processed food in the coming years.

India's consumer spending to grow to $6 trillion by 2030.

India's exports of Ready to Eat (RTE), Ready to Cook (RTC) and Ready to Serve (RTS) was more than $ 2 billion in 2020-21. The major destination of RTE export as per 2020-21 data are U.S.A, U.A.E, Nepal, Canada and Sri Lanka.
The total FDI received in the food processing sector since April 2014 till December 2021 is $5.15 bn.
India's sugar exports grow by 291% since 2013-14, Sugar exports exceed 10 mn tons for the first time. Sugar exports rise by 64.90% during 2021-22 alone
India's non-basmati rice exports witnessed an astounding growth of 109 % from $2925 mn in FY 2013-14 to $6115 mn in FY 2021-22.
100% FDI is permitted under the automatic route in food processing industries in India.
100% FDI is allowed through the government approval route for trading, including through e-commerce in respect of food products manufactured or produced in India.
For further details, please refer FDI Policy
%

% share of GVA of agriculture and allied sector to total economy

%

Share in total employment

%

Share in India's exports

%

Cropping intensity
Explore Related Sub Sectors
World's largest producer of Spices, Milk and Pulses
World's largest processor, producer and consumer of cashew nuts
World's second largest producer of food grains, fruits, and vegetables
Industry Scenario

FOREIGN INVESTMENT

INDUSTRY TRENDS

POLICIES & SCHEMES
Industry Scenario
India's food processing sector is one of the largest in the world and its output is expected to reach $535 bn by 2025-26.
The Food Processing sector in India has a quintessential role in linking Indian farmers to consumers in the domestic and international markets. The Ministry of Food Processing Industries (MoFPI) is making all efforts to encourage investments across the value chain. The food processing industry has a share of 12.38 per cent (at 3-digit of NIC classification) in the employment generated in all Registered Factory sector engaging approximately 1.93 Mn people. Unregistered food processing sector supports employment to 5.1 Mn workers as per the NSSO 73rd Round report. Major sectors constituting the food processing industry in India are grains, sugar, edible oils, beverages, and dairy products.
During the last five years ending 2019-20, Food Processing Industries sector has been growing at an average annual growth rate of around 11.18%. As per the Annual Survey of Industries (ASI) 2018-19, food processing was ranked 1st in total persons engaged in the manufacturing sector.
Under PMKSY, 41 Mega Food Parks, 353 Cold Chain projects, 63 Agro-Processing Clusters, 292 Food Processing Units, 63 Creation of Backward & Forward Linkages Projects & 6 Operation Green projects across the country have been approved.
The key sub-segments of the Food Processing industry in India are Fruits & Vegetables, Poultry & Meat processing, Fisheries, Food retail, dairy industry, etc.
Key facts:
Total Horticulture production in 2020-21 is estimated to a record 334.60 MT, which is an increase of about 14.13 MT(4.4%) over that achieved in 2019-20.
India contributes 23 % of global milk production growing at a CAGR of 6.2 % to reach 209.96 million tonnes in 2020-21
India ranks 3rd in global egg production and produced at least 122.11 billion nos. in 2020-21 with per capita availability of egg at 91 eggs per annum in 2020-21.
2nd largest fish producing country in the world accounting for 7.56 per cent of global production, growing at rate of 10.87 per cent since 2014-15 with a record fish production of 145 lakh tons in FY 2020-21.
70 LMT of sugar has been exported in sugar season 2020- 21. Further, contracts of about 30 LMT for export of sugar have already been signed in the sugar season 2021-22.
Online grocery retail in India has seen a CAGR of over 50 percent and projected to grow to USD 10 Bn to 12 Bn by 2025.
The overall exports of Marine Products in the last Financial Year (March, 2020-April, 2021) was USD 5.96 Billion. Top 5 export destinations are: USA, China, Japan, Vietnam & Thailand. Frozen shrimps constitute the major share in India's Marine Products exports items with 74% share in value terms.
The export of other cereals increased from 102 MT in 2019-20 to 521 MT in 2020-21.
India ranks 8th in meat production in the world. Meat production in the country has increased from 6.69 million tonnes in 2014-15 to 8.80 million tonnes in 2020-21 (Provisional).
The production of rice, wheat and Nutri-cereals has increased at compound annual growth rates (CAGR) of 2.7, 2.9 and 3.5% respectively during the last six years i.e. 2015-16 to 2020-21.
The CAGR for pulses, oilseeds and cotton has been 7.9, 6.1 and 2.8 per cent, respectively during the same period.
GROWTH DRIVERS
Agri-commodity hub

Largest producer of several agri-commodities

Huge consumer base

1.3 bn consumers with increasing demand for branded food

Strong economy

India is the fastest growing largest economy in the world

Conducive policies

Proactive government policies with attractive fiscal incentives

Atmanirbhar Bharat

PLI schemes worth INR 10,900 crores introduced under Atmanirbhar Bharat 3.0

One District, One Product (ODOP)

Under ODOP scheme, 135 district-specific unique products for 728 districts have been identified. across the country
Production Linked Incentive (PLI) Scheme
The Union Cabinet chaired by the Prime Minister, Shri Narendra Modi has given its approval to introduce the Production-Linked Incentive (PLI) Scheme in Food Products for Enhancing India's Manufacturing Capabilities and Enhancing Exports – Atmanirbhar Bharat. Under the PLI Scheme the MoFPI has approved 56 companies in Category-I, 13 companies in Category-II and 80* companies in Category-III. *20 applications are common in category I and III out of above 149 applications approved.
INR 10,900 cr

Scheme Outlay
Industrial Land Bank Portal
GIS - based map displaying available infrastructure for setting up business operations in the state.
Gallery
Feb 01, 2022
Finance Minister Nirmala Sitharaman presents Union Budget 2022
Feb 01, 2022
Finance Minister Nirmala Sitharaman presents…
Finance Minister Nirmala Sitharaman presents Union Budget 2022
Nov 08, 2021
JalJeevan Mission in Water Pavilion at Unit…
JalJeevan Mission in Water Pavilion at United Nations Climate Change Conference- #COP26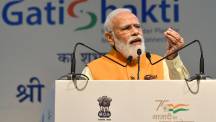 Oct 18, 2021
PM Modi's address at the launch of PM GatiSh…
PM Modi's address at the launch of PM GatiShakti, National Master Plan for Multi-Modal Connectivity
Latest In Food Processing
Press Release
India achieves $400 bn merchandise exports…
Report
Economic Survey 2021-22
India emerges as largest exporters of…
Report
The Wonder Berry: LADAKH'S SEABUCKTHORN