Snapshot
Food processing - 'A sunrise sector'
India's food ecosystem offers huge opportunities for investments with stimulating growth in the food retail sector, favourable economic policies and attractive fiscal incentives. The Food & Grocery market in India is the sixth largest in the world. Food & Grocery retail market in India further constitutes almost 65% of the total retail market in India.
The Government of India through the Ministry of Food Processing Industries (MoFPI) is also taking all necessary steps to boost investments in the food processing industry. The government has sanctioned 37 food parks funded under the Mega Food Parks Scheme, 20 are operational and 17 are under implementation as on 29th Oct 2020.
Click here to know more about Mega Food Park Projects approved by MoFPI.
By 2024, the Food Processing industry will potentially attract $33 bn investments and generate employment for 9 million people
By 2025, India's food processing sector is expected to be worth over half a trillion dollars

By 2030, Indian annual household consumption to treble, making India 5th largest consumer
100% FDI is permitted under the automatic route in Food processing industries.
100% FDI is allowed through government approval route for trading, including through e-commerce in respect of food products manufactured or produced in India.
For further details, please refer FDI Policy
%

Share in India's food market

%

Share in total employment

%

Share in India's exports

%

Cropping intensity

World's largest producer, consumer & exporter of spices

World's largest processor, producer and consumer of cashew nuts

World's second largest producer of food grains, fruits, and vegetables

Food Processing Information Kit
View
Industry Scenario

FOREIGN INVESTMENT

INDUSTRY TRENDS

POLICIES & SCHEMES
Industry Scenario
The Processed food market is expected to grow to $543 bn by 2020 from $322 bn in 2016, at a CAGR of 14.6%.
Food processing has an important role to play in linking Indian farmers to consumers in the domestic and international markets. The Ministry of Food Processing Industries (MoFPI) is making all efforts to encourage investments across the value chain. The industry engages approximately 1.93 mn people in around 39,748 registered units with fixed capital of $32.75 bn and aggregate output of around $158.69 bn. Major industries constituting the food processing industry are grains, sugar, edible oils, beverages and dairy products.
The key sub-segments of the Food Processing industry in India are Dairy, Fruits & Vegetables, Poultry & Meat processing, Fisheries, Food retail, etc.
Key facts:
296.65 mn tonnes of horticulture food grains in 2019-20
Milk production of 187.7 mn tonnes during 2018-19
Egg production of around 103.3 bn during 2018-19
Total fish production was 12.6 mn tonnes during 2017-18
Food Retail market is majorly dominated by Food Grocery (growing at CAGR 25%) and Food Services (growing at CAGR 15%) segments.
India shipped 12,89,651 MT of seafood worth $6.68 Bn during 2019-20
GROWTH DRIVERS
Agri-commodity hub

Largest producer of several agri-commodities

Huge consumer base

1.3 bn consumers with increasing demand for branded food

Strong economy

India is the fastest growing largest economy in the world

Conducive policies

Proactive government policies with attractive fiscal incentives

Atmanirbhar Bharat

PLI schemes worth INR 10,900 crores introduced under Atmanirbhar Bharat 3.0
Industrial Information System (IIS) Portal
GIS - based map displaying available infrastructure for setting up manufacturing operations in the state.
Data On Map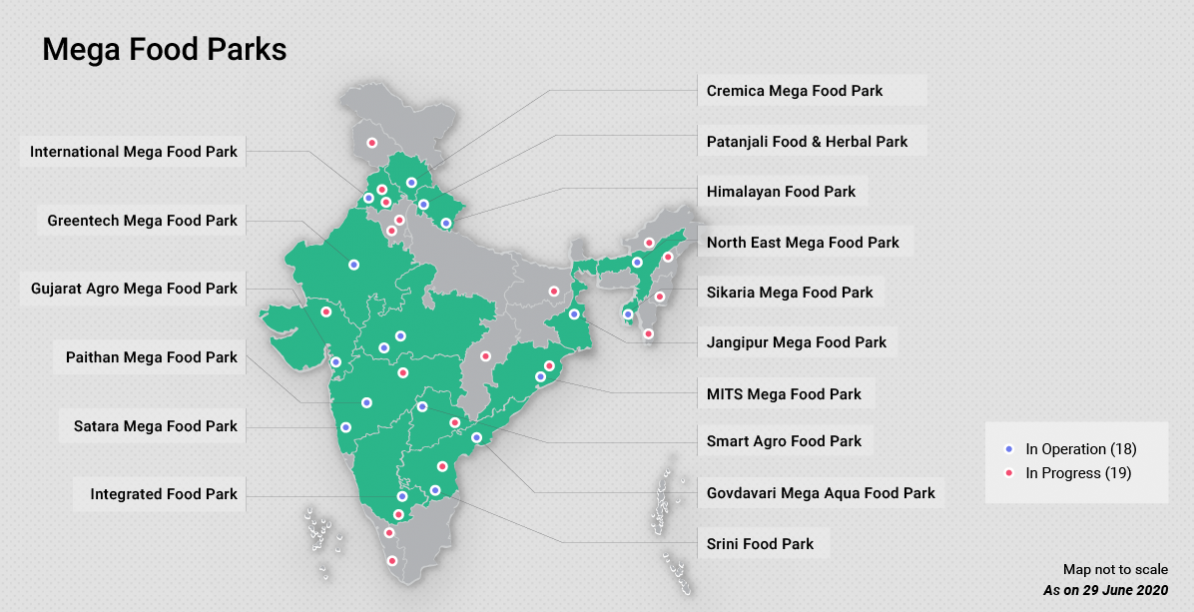 Gallery
Nov 09, 2020
Inaugurating Skill Development Table Book
Feb 05, 2020
Key announcements for the Agriculture Sector…
Key announcements for the Agriculture Sector in Budget 2020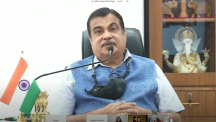 Nov 09, 2020
Inaugurating Skill Development Table Book
Inaugurating Skill Development Table Book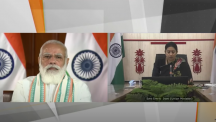 Oct 16, 2020
PM Modi releases commemorative coin to mark …
PM Modi releases commemorative coin to mark 75th anniversary of Food and Agriculture Organisation
Latest In Food Processing
Invest India Timeline
2020