Snapshot
Connecting the world
The Telecom industry in India is the second largest in the world with a subscriber base of 1.17 billion. The number of broadband -subscribers rose to 765.1 million in February 2021.
The industry has witnessed exponential growth over the last few years primarily driven by affordable tariffs, wider availability, roll-out of Mobile Number Portability (MNP), expanding 3G and 4G coverage, evolving consumption patterns of subscribers and a conducive regulatory environment.
The Government has emphasized bolstering India's domestic telecom manufacturing capacity. Efforts are also underway to develop a foundational network for 5G technology deployment in India.
India has the second-largest number of telephone connections in the world. As of February 2021, the total telephone connection rose to 1,187.9 million.
The teledensity of the rural market, which is largely untapped has increased to 59.48% while the overall teledensity of India has reached 87.26%.
The number of internet subscribers which was 687.62 mn in 2019 increased to 795.18 mn by the end of December, 2020
India contributes highest in the Global Mobile Data Traffic per smartphone at
14.5 GB per smartphone per month.
The Telecom sector is the 3rd largest sector in terms of FDI inflows, contributing 7.1% of total FDI inflow.

The sector contributes directly to 2.2 Mn employment and indirectly to 1.8 Mn jobs.

The sector is expected to contribute 8% to India's GDP in 2022 from ~6.5% currently.
100% FDI is allowed in the Telecom, wherein upto 49% is allowed through the automatic route and beyond 49% under government route.
For further details, please refer FDI Policy
%

Contribution to India's GDP

mn

Total employment

mn+

Smartphone subscriptions

No. of smart cities
India is expected to have a digital economy of $1 tn by 2025
Active internet users in India are expected to reach 900 mn by 2025
~410 mn additional smartphone users are expected in India by 2025
Industry Scenario

FOREIGN INVESTMENT

INDUSTRY TRENDS

POLICIES & SCHEMES
Industry Scenario
India is expected to have a digital economy of $1 tn by 2025
The Telecommunications industry is divided into following subsectors: Infrastructure, Equipment, Mobile Virtual Network Operators (MNVO), White Space Spectrum, 5G, Telephone service providers and Broadband.
As per GSMA, India is on its way to becoming the second-largest smartphone market globally by 2025 with around 1 billion installed devices and is expected to have 920 million unique mobile subscribers by 2025 which will include 88 million 5G connections.
Over the last thirteen years, the Indian Telecom Tower industry has seen a significant growth. An average of 29,000 new towers have been built per year.
It is also estimated that 5G technology will contribute approximately $450 billion to the Indian Economy in the period of 2023-2040.
Currently, 5G Spectrum Trials are being conducted in India to ensure proliferation of 5G technology across the country.
The DoT is targeting a combination of 100% broadband connectivity in the villages, 55% fiberisation of mobile towers, average broadband speeds of 25 mbps and 30 lakh kms of optic fibre rollouts by December 2022. By December 2024, it is looking at 70% fiberisation of towers, average broadband speeds of 50 Mbps and 50 lakh kms of optic fibre rollouts at a pan-India level.

GROWTH DRIVERS
PLI Schemes under Atmanirbhar Bharat Abhiyan

Production Linked Incentive schemes worth INR 12,195 cr for manufacturing of telecom and networking products

Increasing internet revenues

Mobile value-added service industry is expected to grow at a CAGR of 18.5% during the period 2015-2020 and reach US $23.0 Billion by 2022

Bharatnet project

Bharat Net Project Optical fibre cables laid to 163,000-gram panchayats.

PLI Schemes

New Schemes for Incentivizing manufacturing of Telecom &Networking Products: Production Linked Incentive schemes worth INR 12,195 cr.

India is one of the highest consumers of data per day

India is one of the highest consumers of data per day with ~5 hours of daily time spend on smartphones, India.

Prime Minister Wi-Fi Access Network Interface (PM-WANI)

Provision of public Wi-Fi service through Public Data Offices (PDOs) spread across the country to accelerate the expansion of broadband internet services.
Production Linked Incentive (PLI) Scheme
The Union Cabinet chaired by the Prime Minister, Shri Narendra Modi has given its approval to introduce the Production-Linked Incentive (PLI) Scheme in Telecom & Networking Products sector for Enhancing India's Manufacturing Capabilities and Enhancing Exports – Atmanirbhar Bharat. The PLI scheme is expected to attract large investments from global players and help domestic companies seize the emerging opportunities and become big players in the export market. For more information: https://www.investindia.gov.in/pli-scheme-for-telecom Last date for application: 3 July 2021
INR 12,195 cr

Scheme Outlay
Ministry
Industrial Land Bank Portal
GIS - based map displaying available infrastructure for setting up business operations in the state.
Gallery
Nov 08, 2021
JalJeevan Mission in Water Pavilion at United Nations Climate Change Conference- #COP26
Nov 08, 2021
JalJeevan Mission in Water Pavilion at Unit…
JalJeevan Mission in Water Pavilion at United Nations Climate Change Conference- #COP26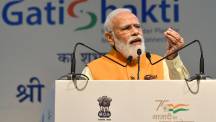 Oct 18, 2021
PM Modi's address at the launch of PM GatiSh…
PM Modi's address at the launch of PM GatiShakti, National Master Plan for Multi-Modal Connectivity
Sep 25, 2021
PM's video address at 'Global Citizen Live'
PM's video address at 'Global Citizen Live'
Invest India Timeline
2021