Snapshot
New India: The future is virtual
India is consistently strengthening its digital capabilities by adopting deep tech technologies and focusing on deploying AI, Cybersecurity and IoT based solutions.
In FY21, the Technology industry employed over 138,000 employees to reach total direct employment of 4.47 mn, and contributed 52% to overall services exports. Out of 146 acquisitions in FY21, over 90% of them were focused on growing digital capabilities. Over 280,000 new digitally skilled employees were added in FY21. At 28-30% of industry revenue, digital revenues grew five times the rate of overall services growth.
The government of India has taken some major initiatives to promote IT/ ITeS sector in India. Both central and state governments in India have taken steps toward developing technology solutions to enable citizen services. The government continues to focus on areas such as cybersecurity, hyper-scale computing, artificial intelligence and blockchain.
Indian TSPs are offering 1GB mobile data at $0.09 or INR 6.7 - one of the cheapest globally (as of July 2021); digital infrastructure enables ease of access to services like banking, governance and more.
India is the second highest number of internet subscribers in the world.
Up to 100% FDI is allowed in Data processing, Software development and Computer consultancy services; Software supply services; Business and management consultancy services, Market research services, Technical testing and Analysis services, under automatic route
For further details, please refer FDI Policy
%

Share in India's GDP

> %

Share in global outsourcing market

%

Growth in export revenue

> %

Share in Indian services export
Largest market share in global services sourcing industry
Third largest and the fastest growing hub for technology startups
India is No.1 in digital skills readiness
Industry Scenario

FOREIGN INVESTMENT

INDUSTRY TRENDS

POLICIES & SCHEMES
Industry Scenario
1 in software services exports
The IT-BPM industry's (excluding e-commerce) total revenue stood at $194 bn in 2020-21. The export revenue from this industry (excluding e-commerce) has been estimated at close to US$ 150 bn in 2020-21. In terms of FDI inflow, the computer software and hardware sectors attract the second highest FDI. Between April 2000 and September 2021, it attracted over US$ 78 billion.
India is one of the most preferred destinations when it comes to setting up Global Capability Centres (GCCs). At present, more than 1,400 GCCs have more than 2,300 GCC units in India, employing more than 1.38 million professionals.
Investment in Software-as-a-Service has increased 170% over 2020 and is expected to reach $4.5 billion in 2021, accounting for 8% of the overall private equity and venture capital deal value in India.
GROWTH DRIVERS
Blockchain

The Ministry of Electronics and Information Technology released the National Strategy on Blockchain to reduce frauds, speed up enforcement of contracts, and increase the transparency of transactions.

Remote Working

Increased focus on remote working and cloud enablement

The National Optical Fibre Network (NOFN)

1.78 lakh Gram Panchayats connected by optical fibre

Digital India Programme

India is the 2nd Fastest Digitizing Economy Globally

Start-up revolution

IoT, machine learning, artificial intelligence and healthcare

Artificial Intelligence

AI & new-age technology to boost India's annual growth rate by 1.3 per cent by 2035 (NITI Aayog white paper)
Industrial Land Bank Portal
GIS - based map displaying available infrastructure for setting up business operations in the state.
Gallery
Feb 01, 2022
Finance Minister Nirmala Sitharaman presents Union Budget 2022
Feb 01, 2022
Finance Minister Nirmala Sitharaman presents…
Finance Minister Nirmala Sitharaman presents Union Budget 2022
Nov 08, 2021
JalJeevan Mission in Water Pavilion at Unit…
JalJeevan Mission in Water Pavilion at United Nations Climate Change Conference- #COP26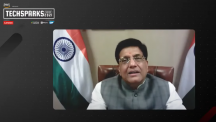 Oct 25, 2021
Shri Piyush Goyal at the TechSparks 2021
Shri Piyush Goyal at the TechSparks 2021
Invest India Timeline
2022