Snapshot
India - The Top Retail Destination
The retail market in India has undergone a major transformation and has witnessed tremendous growth in the last 10 years.
The retail market size is expected to reach ~1.5 tn by 2030 which is an addition of $700bn in market size from current estimated market size of $793Bn in 2020

The value of e-commerce market in India is expected to touch $40 bn by 2030, up from $4 bn in 2019, driven by a rapid increase in internet user base and as more people embrace online shopping

India's e-commerce retail market which stood at $30 bn in 2019 is also set to grow at a CAGR of 30% for gross merchandise value to be worth $200 bn by 2026.

The Indian e-commerce sector is expected to grow at a 27% CAGR over 2019-24 and is expected to reach $99 bn by 2024

The online commerce industry is projected to reach $188 bn in 2025 from $64 bn last year, with growing consumer preference to buy on the digital marketplace

Direct-to-Consumer segment could have a $100 billion addressable market by 2025.
The number of households carrying out online transactions in India is estimated to grow from 154 mn in 2020 to 233 mn in 2025\
$ 72 K worth of merchandise was sold on E-commerce Websites. This figure has tripled since 2015
India ranks among the best countries to invest in Retail space. Factors that make India so attractive include the second largest population in the world, a middle class of 600 mn people, increasing .urbanisation, rising household incomes, connected rural consumers and increasing consumer spending.
India ranked No. 2 in Global Retail Development Index (GRDI) in 2019.

Retail sector has contributed ~800 Bn to India's GDP in FY20 and has employed 8% of it's workforce (35+ Mn). It is expected to create 25 Mn new jobs by 2030.
Recent policy changes allow 100% FDI under the automatic route for single-brand retail trading.
For further details, please refer FDI Policy
%

Contribution to India's GDP

%

Share in India's employment

X

Rise in consumption

X

Growth in organized retail
Explore Related Sub Sectors
India ranked No.2 in Global Retail Development Index (GRDI) in 2019
India to have more internet users (650 mn) than the entire population of six G7 countries by 2021
India to become third-largest consumer economy by 2025 (consumption expenditure to increase by a factor of 3 to reach $ 4 tn)
Industry Scenario

FOREIGN INVESTMENT

INDUSTRY TRENDS

POLICIES & SCHEMES
Industry Scenario
The Indian e-commerce industry is expected to cross the $200 bn mark by 2026.
India's retail market is estimated to reach ~1.5 tn by 2030, from $0.79 tn in 2018, driven by socio-demographic and economic factors such as urbanisation, income growth and rise in nuclear families. On the other hand, the Indian e-commerce industry is expected to cross $200 bn mark by 2026, growing at a CAGR of 30%, and have a market penetration of 12% compared to 2% currently.
In 2020, e-commerce accounted for nearly a third of several electronic categories, almost half of smartphones sold, and about a fifth of all apparel sales in India. In 2020, e-commerce and consumer internet companies raised more than $8 bn in PE/VC capital across 400 deals (excluding investments in Jio). India's e-commerce market is growing at YoY rate of 5% with estimated revenue of $56.6 billion in FY 2021.
India is largely an unorganized retail market, contributing 88% to the total retail sector in India. The organized retail market is currently valued at $60 bn, while the unorganized market holds the rest. The share of the organized retail market is projected to increase to 22-25% by 2021, thereby reducing the unorganized retail market's share to 77%. The organized retail market, therefore, has the potential to reach approximately $140-160 bn.
GROWTH DRIVERS
Growing income

3X increase in average household income to reach $18,448 in 2020, from $6,393 in 2010

Increased online spending

Online shoppers are expected to increase to 300Mn – 350Mn by 2025 from current number of ~100Mn, with digital spending Projected to increase more than tenfold to $550 bn & account for 35% of all retail sales by 2025

Growth of rural consumption

Rural per capita consumption will grow 4.3 times by 2030, compared to 3.5 times in urban areas

Young millennial households

India will add nearly 90 million new households headed by millennials, who were born into liberalized India. The average age of the country by 2025 will be 29 with the world's largest skilled manpower pool of 600 million+ by 2025.
Industrial Land Bank Portal
GIS - based map displaying available infrastructure for setting up business operations in the state.
Gallery
Mar 23, 2021
Hon'ble CIM Shri Piyush Goyal speaking at the Inauguration of the India Services Conclave 2021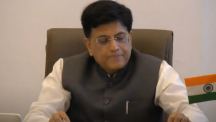 Mar 23, 2021
Hon'ble CIM Shri Piyush Goyal speaking at th…
Hon'ble CIM Shri Piyush Goyal speaking at the Inauguration of the India Services Conclave 2021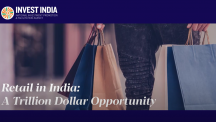 Mar 05, 2021
Retail in India: A Trillion Dollar Opportuni…
Retail in India: A Trillion Dollar Opportunity
Jan 21, 2021
Udyog Manthan | Industry-led expert panel di…
Udyog Manthan | Industry-led expert panel discussions on Gems & Jewellery Industry
Latest In Retail & E-commerce
Report
Union Budget 2021– Consumer Products and…
Report
Economic Survey 2020-21: Volume 1
Report
Economic Survey 2020-21: Volume 2
Regulations
Standard Operating Procedure (SOP) for…
FDI Policy 2020
DPIIT released the 'Consolidated FDI Policy'…
Invest India closely works with
Invest India Timeline
2021