Snapshot
Indian Aviation, flying high
A rising proportion of middle-income households, healthy competition amongst Low-Cost Carriers, infrastructure buildup at leading airports and supportive policy framework will see India become the 3rd largest aviation market in the world by 2024
In 2010, 79 mn people traveled to/from/or within India. By 2017 that doubled to 158 mn, and this number is expected to treble to 520 mn by 2037. With the air passenger traffic projected to increase, the Indian aviation industry is on a high-growth path.
To satisfy the current and projected rise in demand for commercial air travel, Indian airlines have placed large orders for aircraft. The nation's airplane fleet is projected to quadruple in size to approximately 2500 airplanes by 2038.
Currently, the country has 128 operational airports including 29 international, 89 domestic, and 10 custom airports. To meet the growing demand for air travel in India, it has become imperative to increase the capacity of airport infrastructure.
To augment the airport infrastructure the government aims to develop 100 airports by 2024 (under the UDAN Scheme) and expects to invest $1.83 bn in the development of airport infrastructure by 2026.
The projected upsurge in air travel in India would require more aircraft usage, thus, in turn, igniting the demand for Maintenance, Repair & Overhaul (MRO) services. The Indian Civil Aviation MRO market, at present, stands at around $900 mn and is anticipated to grow to $4.33 bn by 2025 increasing at a CAGR of about 14-15%.
Drone industry may grow to over INR 900 crore in FY 2023-24.
Up to 100% FDI is permitted in Non-scheduled air transport services under the automatic route.
Up to 100% FDI is permitted in helicopter services and seaplanes under the automatic route.
Up to 100% FDI is permitted in MRO for maintenance and repair organizations; flying training institutes; and technical training institutes under the automatic route.
Up to 100% FDI is permitted in Ground Handling Services subject to sectoral regulations & security clearance under the automatic route.
For further details, please refer FDI Policy
%

Passenger traffic growth

%

Foreign Tourist Arrival growth

MMT

Total freight traffic (MMT)

%

Domestic aircraft movement growth
Under the UDAN scheme, 359 routes and 59 airports including 5 heliports and 2 Water Aerodromes operationalized.
6 airports have been privatized. 6 airports are in the pipeline to be privatized.
Industry Scenario

FOREIGN INVESTMENT

INDUSTRY TRENDS

POLICIES & SCHEMES
Industry Scenario
The rise in demand for air travel in India has necessitated the development of a robust ecosystem and supportive government policies.
Through the National Civil Aviation Policy 2016 (NCAP) the government plans to take flying to the masses by enhancing affordability and connectivity. It promotes ease of doing business, deregulation, simplified procedures, and e-governance.
The Regional Connectivity Scheme or UDAN ('Ude Desh ka Aam Nagrik') is a vital component of NCAP 2016. The scheme plans to enhance connectivity to India's unserved and under-served airports and envisages to make air travel affordable and widespread. Under the scheme, airfare for a one‑hour journey of 500 km has been capped at INR 2,500, as an all‑inclusive charge.
The National Civil Aviation Policy (NCAP) significantly covers the MRO industry and specifically focuses on easing the pain points that have traditionally impacted the Indian aviation sector. In April 2020, the Goods and Services Tax for MRO services rendered locally was reduced from 18% to 5%. The 'place of supply' for B2B MRO services was changed to the 'location of recipient', enabling Indian MRO facilities to claim zero-rating (i.e., export status) under GST laws on MRO services rendered to prime contractor/OEM located outside India. This has been an extremely crucial policy amendment as it will encourage global participation in the Indian aviation sector by allowing foreign MRO operators to subcontract MRO work to Indian entities without any extra tax liability.
The aircraft leasing and financing businesses are operated from the International Financial Services Centre (IFSC) and GIFT City provides the off-shore status for financial services. Read More
GROWTH DRIVERS
NABH (NextGen Airports for Bharat)

Nirman is a government initiative to expand airport capacity more than five times to handle a billion trips a year, in the next 10-15 years.

GIFT City Advantage for Aviation Sector

Aircraft Leasing and Tax Incentives available in GIFT city

Regional connectivity Scheme

Boost air connectivity to smaller cities & northeast states
Production Linked Incentive (PLI) Scheme
The Central Government under the leadership of Hon'ble Prime Minister Shri Narendra Modi, has approved the Production-Linked Incentive (PLI) scheme for dronesand drone components. The PLI scheme comes as a follow-through of the liberalised Drone Rules, 2021 released by the Central Government on 25 August 2021. The PLI scheme and new drone rules are intended to catalyse super-normal growth in the upcoming drone sector.
Products
Industrial Land Bank Portal
GIS - based map displaying available infrastructure for setting up business operations in the state.
Gallery
Nov 08, 2021
JalJeevan Mission in Water Pavilion at United Nations Climate Change Conference- #COP26
Nov 08, 2021
JalJeevan Mission in Water Pavilion at Unit…
JalJeevan Mission in Water Pavilion at United Nations Climate Change Conference- #COP26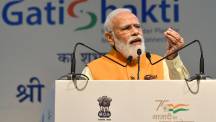 Oct 18, 2021
PM Modi's address at the launch of PM GatiSh…
PM Modi's address at the launch of PM GatiShakti, National Master Plan for Multi-Modal Connectivity
Sep 25, 2021
PM's video address at 'Global Citizen Live'
PM's video address at 'Global Citizen Live'
Invest India closely works with
Invest India Timeline
2022