Snapshot
India - A global FinTech Superpower
India has the highest FinTech adoption rate globally
India is amongst the fastest growing Fintech markets in the world. Of the 2,100+ FinTechs existing in India today, over 67% have been setup in the last 5 years.
The Indian Fintech market is currently valued at $31 Bn and is expected to grow to $84 Bn by 2025, at a CAGR of 22%.
The Fintech transaction value size is set to grow from US$ 66 Bn in 2019 to US$ 138 Bn in 2023, at a CAGR of 20%.
The Indian Fintech ecosystem sees a wide range of subsegments including Payments, Lending, Wealth Technology (WealthTech), Personal Finance Management, Insurance Technology (InsurTech), Regulation Technology (RegTech) etc.
The industry has seen cumulative investments into domestic FinTechs of more than $10 Bn since 2016.
As of May 2021, India's United Payments Interface (UPI) has seen participation of 224 banks and recorded 2.6 billion transactions worth ~$68 Bn representing a jump of 15x from just 3 years ago for the same period in 2018.
%

CAGR of Fintech market size in 2025

%

Growth in number of deals from 2019-2020H1 compared to 2018

%

CAGR in growth in digital payments transactions from FY18-20

%

Highest expected RoI on Fintech projects globally
More than $10 Billion in funding from in the last 5 years 
Highest Fintech adoption rate globally (87%)
3rd largest FinTech ecosystem globally
Industry Scenario

FOREIGN INVESTMENT

INDUSTRY TRENDS

POLICIES & SCHEMES
Industry Scenario
It is expected that the Indian Fintech market, currently valued at $31 Bn, will grow to $84 Bn by 2025, at a CAGR of 22%. 
While Payments and Alternative Finance segments constituted more than 90 percent of the sector's investment flows in 2015, there has been a major shift towards a more equitable distribution of investment across sectors since. In 2020, FinTech SaaS and InsurTechs saw total investments of $145 Mn and $215 Mn respectively, representing a 4-5X growth over their 2015 funding flow.
Amongst India's 50+ FinTechs with more than $100 Mn valuation, there are 4 Wealth and Broking FinTechs, 5 InsurTechs and 8 SaaS FinTechs.
UPI is expected to grow significantly with the participation of domestic and international players (Paytm, Walmart and Google) continuing to dominate the segment, with a heavy focus on development the payments infrastructure through investments.
Neo-banks in India are emerging as a key segment for growth in the space – with over 15 Neo-banks currently in India, several of them under development or in beta stages. The segment has been growing steadily, with several private banks partnering with these Fintechs to explore synergies and better means of service-delivery.
GROWTH DRIVERS
Volume of Funds

High volume of funding from venture capital, private equity and institutional investors driving innovation in the sector.

India stack

Open API platforms i.e. Aadhar, UPI, Bharat Bill Payments, GSTN

New business models

Implementation of new business models driven by technologies such as Artificial Intelligence and Machine Learning

Indian population's digital behaviour patterns

As of 2020, India has 550-600 million smartphones (60% higher than the corresponding number in 2016) and the number of internet users has also risen sharply in the past 4 years (Primarily driven by lower data tariffs)

India's strong STEM

India's strong STEM (Science, Technology, Engineering and Mathematics) orientation and education institutes have enabled growth in the talent pool for the sector.
Industrial Land Bank Portal
GIS - based map displaying available infrastructure for setting up business operations in the state.
Gallery
Sep 24, 2021
Prime Minister Narendra Modi meets Vice President Harris on 3-day visit to US
Sep 24, 2021
Prime Minister Narendra Modi meets Vice Pres…
Prime Minister Narendra Modi meets Vice President Harris on 3-day visit to US
Sep 23, 2021
Launch of the National Single Window System
Launch of the National Single Window System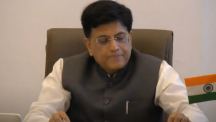 Mar 23, 2021
Hon'ble CIM Shri Piyush Goyal speaking at th…
Hon'ble CIM Shri Piyush Goyal speaking at the Inauguration of the India Services Conclave 2021
Latest In BFSI – Fintech & Financial Services
Report
Global Innovation Index 2021
Guidelines
Circular on Modalities for implementation of…
Press Release
Inter-operable platform to enhance investor…
Press Release
Constitution of an Expert Committee on…
Press Release
Joint Statement on the 1st India-UK…
Invest India Timeline
2021