Snapshot
Banking for $1.37 bn
Total Banking Assets of $2.52 Tn in FY20 with a CAGR was at 2.25%
Respective breakdowns for PSUs ($1.53 Tn), Private Sector ($0.81 Tn) and Foreign Banks ($0.18 Tn)

Assets of PSUs were nearly 60% of total banking assets.

Historically Indian banking has benefited from high savings rates and growth in savings as well as disposable income growth

The Banking industry in India has historically been one of the most stable systems globally, despite global upheavals. The government has consistently strived to promote financial inclusion through various initiatives targeted to bring the country's underbanked population under the banking gamut.

As a part of the Digital India initiative, the Govt. mandated an open API policy, known as India Stack, giving third-party providers access to the proprietary software for five key programs: Aadhaar (the Government's biometric identity database), e–KYC, e–signing, privacy-protected data sharing and the UPI.
For further information, please refer the FDI policy
Public sector banks

Private sector banks (PSUs)

Small Finance Bank

Foreign banks

Regional rural banks
High level of M&A activity with 32 M&A deals valued at $ 42 Bn (2019) 
India set to become the third-largest domestic banking sector by 2050 
Over 420 million bank accounts opened in India  
Industry Scenario

FOREIGN INVESTMENT

INDUSTRY TRENDS

POLICIES & SCHEMES
Industry Scenario
Bank accounts opened under GoI Pradhan Mantri Jan Dhan Yojana ~420 Mn and deposits in Jan Dhan Yojana accounts were around $18.4 Bn.
Bank Credit from FY16-20 has registered a CAGR of 3.6% and as of FY20 and total credit extended stand at ~$1.7 Tn
Investments stood as the 2nd largest component in the assets side of the total banks' balance sheets after loans and advances, driven primarily by Government securities.
As of 2020, the capital adequacy amongst Indian banks remained above regulatory requirements with RBI also further relaxing the leverage ratio for banks to boost lending.
Deposits has registered a ~14% CAGR from $1.15 Tn (2016) to ~$2 Tn (2021).
RBI has taken steps to enable mobile payments key enablers to growth, by removing transaction limit of $745 and allowing banks to set their own limits.
Recovery of stressed assets improved during 2019-20 through the IBC, 2016 and Securitisation and Reconstruction of Financial Assets and Enforcement of Security Interests (SARFAESI) Act, 2002.
GROWTH DRIVERS
Robust demand & incomes

Increase in working population and growing disposable income, increased consumerism and easier access to credit.

Government initiatives and interventions

This is to promote banking technology and expansion in unbanked and non-metro regions.

Rural Household

High demand from rural households owing to higher real disposable income levels (expected to grow at 3.6% CAGR through FY'25).

Credit Increase

Increasing credit (at a CAGR of ~13% from FY16-20) in the housing sector, driven by low and mid-income segments.

Loan Books

Both corporate and retail loan books have seen increasing demand. Main sectoral drivers have been services, real estate, consumer durables and agri for credit growth expansion.
Industrial Land Bank Portal
GIS - based map displaying available infrastructure for setting up business operations in the state.
Gallery
Nov 08, 2021
JalJeevan Mission in Water Pavilion at United Nations Climate Change Conference- #COP26
Nov 08, 2021
JalJeevan Mission in Water Pavilion at Unit…
JalJeevan Mission in Water Pavilion at United Nations Climate Change Conference- #COP26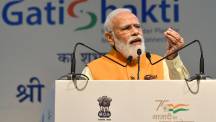 Oct 18, 2021
PM Modi's address at the launch of PM GatiSh…
PM Modi's address at the launch of PM GatiShakti, National Master Plan for Multi-Modal Connectivity
Sep 25, 2021
PM's video address at 'Global Citizen Live'
PM's video address at 'Global Citizen Live'
Latest In BFSI - Banking
Report
Global Innovation Index 2021
Press Release
Inter-operable platform to enhance investor…
Press Release
Constitution of an Expert Committee on…
Press Release
Joint Statement on the 1st India-UK…
Press Release
Statement on Developmental and Regulatory…
Invest India closely works with
Government Ministry/ Department
Industry Associations
Invest India Timeline
2022