Snapshot
Fisheries & Aquaculture
Fueling the Future of Global Protein Demand
World population is expected to reach 9.8 billion in 2050, implying a further increase in pressure on the existing food resources. Aquaculture sector can play a vital role in feeding the rising global demand for protein.
India is the 3rd largest producer of fish in the world and about 68% of India's fish comes from the aquaculture sector. Moreover, India stands as the largest producer and exporter of culture shrimp in the world with exports worth $ 4.89 billion in FY2019.
India's top export destinations for fish and fish products are China, USA, Southeast Asia, European Union, and Japan.
India exported a total of $6.7 bn worth of fish and fish products in FY 2019
India has seen a 19X increase in fish production from 0.75 MMT in FY 1950 to 14.16 MMT in FY 2019
74% of fish production was contributed by inland fisheries and the rest 26% was contributed by marine fisheries in FY2019
28 mn fishers and fish farmers are engaged at a primary level in the fisheries and aquaculture sector
100% FDI is allowed under the automatic route in pisciculture and aquaculture sector in India
For further details, please refer FDI Policy
%

Contribution of Aquaculture in India's fish production in 2019

%

Average Annual Growth Rate of the sector in FY 2019

%

Contribution of the sector in Agriculture GVA in FY 2019
Largest culture shrimp producer and exporter 
2nd  largest aquaculture producing country
3rd largest fish producing country 
Industry Scenario

FOREIGN INVESTMENT

INDUSTRY TRENDS

POLICIES & SCHEMES
Industry Scenario
Frozen Shrimp and Frozen Fish- Top Marine Exports of India
With the rising population, stress on existing resources is increasing tremendously to meet the growing demand for nutritional diet. Fisheries and Aquaculture sector plays a vital role in meeting this growing demand for protein.

India Specific Key Facts:
10.43 MMT Inland Fisheries production in FY 2019
3.72 MMT Marine Fisheries production in FY 2019
$1.56 mn Export of Ornamental Fisheries in FY 2019
Top exporting destination for Ornamental Fisheries: Thailand; UAE; Singapore; Hong Kong; China; Jordan; Taiwan
States with major breeding units for Ornamental Fisheries: Tamil Nadu; Maharashtra; Kerala; Rajasthan; Madhya Pradesh; Himachal Pradesh; West Bengal
1548 total fish landing centres
654 Cold Storages with 402,949.38 MT of capacity
42 Chilled Storages with 23,267.80 MT of capacity
90 Dry Fish Storages with 30,151.92 MT of capacity
GROWTH DRIVERS
Demand-side drivers

Fish is an affordable and rich source of protein, minerals and vitamins Changing lifestyle and food habits towards animal-based diet. Increasing demand for protein due to rising population.

Supply-side drivers

Rich and diverse set of water resources implying diverse fisheries resources. 10 % of the global biodiversity in terms of fish and shellfish species found in India. 2.02 million sq.km EEZ & underutilized inland waters offer a huge potential.

Policy support

Fisheries and Aquaculture Infrastructure Development Fund (FIDF)- INR 7522.48 Cr. Pradhan Mantri Matsya Sampada Yojana (PMMSY)- INR 20,500 Cr. Production Linked Incentive Scheme for Food Processing Industry- INR 10900 Cr. FDI Policy- 100% FDI allowed through automatic route in Pisciculture and Aquaculture.
Industrial Land Bank Portal
GIS - based map displaying available infrastructure for setting up business operations in the state.
Gallery
Nov 08, 2021
JalJeevan Mission in Water Pavilion at United Nations Climate Change Conference- #COP26
Nov 08, 2021
JalJeevan Mission in Water Pavilion at Unit…
JalJeevan Mission in Water Pavilion at United Nations Climate Change Conference- #COP26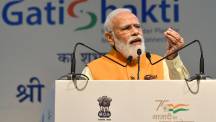 Oct 18, 2021
PM Modi's address at the launch of PM GatiSh…
PM Modi's address at the launch of PM GatiShakti, National Master Plan for Multi-Modal Connectivity
Sep 25, 2021
PM's video address at 'Global Citizen Live'
PM's video address at 'Global Citizen Live'