Reasons To Invest
Indian e-two-wheeler market would hit 4.5 million-5 million by 2025, accounting for 25%-30% of the total market, and nine million by 2030
Electric 3-wheelers likely to account for 30% of new sales by 2025
Production linked incentive schemes (Auto and Advanced Chemistry cell manufacturing) with a combined budgetary outlay of INR 44,038 crore to drive the growth for Electric vehicles
How We Help Investors
Research Content Provider
Policy Advisory/Representation
Regulatory Clearance Facilitation
FDI Norms
100% FDI is allowed under this sector under the automatic route
Did you Know?
Government Support
Production Linked Incentive Scheme on Advanced Chemistry Cell (ACC) (Incentives worth INR 18,100 Crore)
Product Profiles
Electric 2-wheelers

Electric 3-wheelers
2W fleets are likely to shift to EVs much more rapidly.
The electric two-wheeler market in India is emerging on account of increased government policies supporting battery-powered vehicles, the growing awareness toward the environment, increasing petrol prices, and stringent emission norms.
2Ws are expected to be one of the early adopters of electrification. High vehicle utilization and easy home or workplace charging would drive the uptake in the commercial 2W segment.
Gallery
Sep 24, 2021
Prime Minister Narendra Modi meets Vice President Harris on 3-day visit to US
Sep 24, 2021
Prime Minister Narendra Modi meets Vice Pres…
Prime Minister Narendra Modi meets Vice President Harris on 3-day visit to US
Sep 23, 2021
Launch of the National Single Window System
Launch of the National Single Window System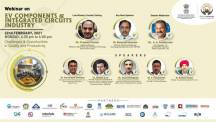 Feb 23, 2021
Udyog Manthan | Industry-led expert panel di…
Udyog Manthan | Industry-led expert panel discussions on EV Components & Integrated Circuits
Team Articles
Apr 12, 2022
The National Capital Region (NCR) has made significant…
Feb 01, 2022
The next two decades in India will be marked by the…
Jan 28, 2022
The AGNIi Mission has had numerous engagements with…
Invest India Timeline
2022