Snapshot
Mining the future
Steel
India is the 2nd largest crude steel producer in the world, with January-November 2021 production at 104.91 MT.
Production of Total Finished Steel stood at 111.858 MT showing a growth of 21.3% over the year.

India Exported 13.5 MT of Finished Steel amounting to INR one lakh crores during FY'22
Over 2030-31, crude steel actual production forecasted to reach 255 MT
Per capita finished steel consumption is expected to rise to 160 kg by 2030-31 (from 72.3 kg in 2021)
Steel production (weight: 17.92 %) increased by 9.3 % in July 2021 over July 2020
Domestic stainless steel demand expected to reach 20 MT by 2047
India produced 120 million tonne (MT) of crude steel during financial year 2021.
Coal
India is home to 1,303 mines which reported mineral production (excluding atomic, fuel, and minor minerals) in 2019-20 and produces 95 minerals – 4 fuel-related, 10 metallic, 23 non-metallic, 3 atomic, and 55 minor minerals.
India is the 2nd largest producer of coal, in 2020-21, all India coal production was 716.08 MT.
India's total coal production increased by 6.74% to 74.78 MT during December 2021 as compared to the same period in 2019.
Coal is projected to remain the largest single source of electricity in India in 2040.
Coal India Limited (CIL) Coal dispatch increased 14.62% to 75.05 MT from 65.48 MT during December 2021 as compared to December 2019.
The country's FDI Policy for the metals and mining sector allows:
100% FDI through automatic route in the steel sector
100% FDI through automatic route in the mining sector
100% FDI for coal and lignite under automatic route
For further details, please refer FDI Policy
MT

Domestic steel production capacity by 2030

$ bn

FDI equity inflows to metallurgical industries and mining (Apr 2000 - Sep 2021)

$ mn

FDI equity inflows to coal production (Apr 2000 - Sep 2021)
Largest sponge iron (DRI) producer
Second largest crude steel and coal producer in the world
Fourth largest iron ore producer in the world
Industry Scenario

FOREIGN INVESTMENT

INDUSTRY TRENDS

POLICIES & SCHEMES
Industry Scenario
With the launch of the National Mineral Policy 2019 and the Mines and Minerals (Development and Regulation) Amendment Act 2021, India presents a major opportunity for investors looking to invest in the metal industry in India.
India has large reserves of Iron ore, Bauxite, Chromium, Manganese ore, Baryte, Rare earth and Mineral salts.
The Metals and Mining sector in India is expected to witness a major reform in the next few years, owing to reforms such as Make in India Campaign, Smart Cities, Rural Electrification, and a focus on building renewable energy projects under the National Electricity Policy as well as the rise in infrastructure development.
The 3rd round of auction have 88 coal blocks offered and the 4th round of auction held in December 2021 offered 99 coal mines, of which 59 are fully explored with 40 partially explored.
*The production level of important minerals in March 2021 were: Coal 960 lakh tonnes, Lignite 52 lakh tonnes, Bauxite 2,103 thousand tonnes, Chromite 601 thousand tonnes, Copper conc 11 thousand tonnes, Iron ore 227 lakh tonnes, Lead conc 41 thousand tonnes, Manganese ore 331 thousand tonnes, Zinc conc 164 thousand tonnes, Limestone 391 lakh tonnes, Phosphorite 124 thousand tonnes, Magnesite 12 thousand tonnes, Gold 148 kg, and Diamond 34 carat.
*The production of important minerals showing positive growth during March 2021 over March 2020 included Manganese Ore (80.1%), Lead conc. (74.9%), Phosphorite (57.0%), Copper conc. (50.2%), Chromite (45.8%), Limestone (45.6%), Magnesite (44.9%), Zinc conc. (43.2%), Bauxite (33.4%), Lignite (25.3%), Iron ore (13.7%), and Coal (0.2%)
19 coals blocks were auctioned in 2020 for commercial mining. The total expected revenue from these mines is around INR 7,000 cr with a combined peak capacity of 51 MPTA.
India's coal production increased by 6.13 % to 79.60 Mn Ton from 75 MT during Jan 2022 as compared to the same month 2020.
Recognising the importance of bringing sustainability in coal mining, a "Sustainable Development Cell" has been created in Ministry of Coal and in all coal PSUs to promote adoption of better environment management practices in coal mines.
* provisional
GROWTH DRIVERS
Cost advantage

Cost advantage in steel and alumina production-conversion

Rising demand from infrastructure and transportation sectors

Schemes such as Housing for all by 2022 and expansion of railway network

Unexplored mines

Only 20% of the total reserves of minerals have been mined till now

Supportive government policies

Permission granted to captive mines to sell coal in open market

Atmanirbhar Bharat Abhiyan

Production Linked Incentive scheme in specialty steel sector has been introduced under Atmanirbhar Bharat 3.0 package

Single Window Clearance Portal

A unified platform that facilitates the grant of clearances and approvals required for starting a coal mine in India
Production Linked Incentives (PLI) Scheme
The Union Cabinet chaired by the Prime Minister, Shri Narendra Modi has given its approval to introduce the Production-Linked Incentive (PLI) Scheme in Specialty Steel for Enhancing India's Manufacturing Capabilities and Enhancing Exports – Atmanirbhar Bharat. Application deadline has been extended to 31st May 2022.
INR 6,322 cr

Scheme outlay
Ministry
Industrial Land Bank Portal
GIS - based map displaying available infrastructure for setting up business operations in the state.
Gallery
Feb 01, 2022
Finance Minister Nirmala Sitharaman presents Union Budget 2022
Feb 01, 2022
Finance Minister Nirmala Sitharaman presents…
Finance Minister Nirmala Sitharaman presents Union Budget 2022
Nov 08, 2021
JalJeevan Mission in Water Pavilion at Unit…
JalJeevan Mission in Water Pavilion at United Nations Climate Change Conference- #COP26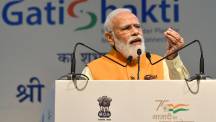 Oct 18, 2021
PM Modi's address at the launch of PM GatiSh…
PM Modi's address at the launch of PM GatiShakti, National Master Plan for Multi-Modal Connectivity
Invest India closely works with
Invest India Timeline
2022