Reasons to Invest
The Indian handloom industry is one of the oldest and largest cottage industries in India with 23.77 lakh looms. The level of artistry and intricacy achieved in handloom fabrics is unparalleled and certain weaves/ designs are still beyond the scope of modern machines.
The sector employs 43.31 lakh weavers directly and indirectly throughout the country with 77% of them being women.
Almost every state of India has a unique handloom product to offer such as Jacquard from Uttar Pradesh, Chanderi from Madhya Pradesh, Phulkar from Punjab, Brocare from Benares and Daccai from West Bengal.
How We Help Investors
Research Content Provider
Policy Advisory/Representation
Regulatory Clearance Facilitation
FDI Norms
100% FDI (automatic route) in the textile and apparel sector in India
Did You Know?
Government Support
Comprehensive Handloom Cluster Development Scheme
National Handloom Development Programme (NHDP)
Trade Scenario
During 2018-19, India exported handicrafts worth US$ 3.80 billion and handlooms worth US$ 344 billion.
Indian handicrafts are exported across geographies, with the top destinations being the US, the UK, the UAE, Germany, France, Latin American Countries (LAC), Italy, Netherlands and Canada
Product Profiles
Art Metalware - Brass Metalware, Bidri work, Dhokra, Bell Metal, Bells & Chimes, Candle Holders, Candle Sconces, Fireplace, Flower Vases, Jewellery Boxes, Utensils etc.
Wooden Artware - Almirah Beds, Cabinets, Chairs, Home Temples, Mirror Frames, Side Boards, Sofa Sets, Stools, Tables etc.
Hand-Printed Textiles - Kalamkari, Tie & Dye, Block Printing, Bed Covers, Carpets, Coverlets, Curtains, Cushion Covers, Duvets, Kitchen Towels, Quilts, Rugs & Mats, Sofa Covers etc.
Embroidered & Crocheted Goods - Zardozi, Parsiwork, Kashmiri Crewel Embroidery Work, Phulkari Work, Kasuti, Chikankari, Crocheted Work, Kantha Embroidery, Mirror Work Embroidery etc.
Imitation Jewellery - Anklets, Armlets, Bangles, Bracelets, Brooches, Chokers, Cufflinks, Earrings, Necklaces, Pearls, Pendants, Rings, Toe Rings etc.
Others - Shawls as artwares, Zari goods, Terracotta goods, Leather Goods, Paintings, Toys & Dolls, Papier-Mache craft, Tables & Garden accessories, Antique Armoury etc.
Gallery
Sep 24, 2021
Prime Minister Narendra Modi meets Vice President Harris on 3-day visit to US
Sep 24, 2021
Prime Minister Narendra Modi meets Vice Pres…
Prime Minister Narendra Modi meets Vice President Harris on 3-day visit to US
Sep 23, 2021
Launch of the National Single Window System
Launch of the National Single Window System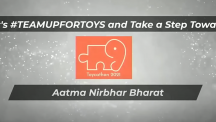 Jan 05, 2021
Union Education Minister Shri Pokhriyal and …
Union Education Minister Shri Pokhriyal and Union Minister for Textiles and Women & Child Development Smt Zubin Irani jointly launch the Toycathon -2021
Team Articles
Sep 09, 2021
Textile Machinery Industry Overview A ~$2.5 bn…
Aug 09, 2021
  Among the textile products selected under the 'One…
May 19, 2021
A key priority for the AGNIi Mission is to advance the…
Invest India Timeline
2022