Snapshot
Highway to growth
The total road network in India is 6.37 mn km comprising all categories of roads - national & state highways and urban & rural roads which is the second largest in the world. National Highways (NH) account for 2% of the total road network and carry over 40% of total traffic.
There has been a consistent increase in the construction of National Highways, with 13,327 kms being constructed in 2020-21, from 4,410 km of NH construction in 2014-15.
India has a well-developed framework for Public-Private-Partnerships (PPP) in the highway sector. Asian Development Bank ranked India at the first spot in PPP operational maturity and also designated India as a developed market for PPPs.
In the last 7 years, the length of NHs has gone up by more than 50% from 91,287 km, as on April 2014, to 1,40,152 km now. The pace of construction has increased more than 3 times, from 12 km per day in 2014-15 to 37 km per day in 2020-21. Ministry of Roads & Highways overall target to develop 2 lakh Kms of National Highway Network by 2025.
The BharatMala Pariyojana, launched in 2017, aims to build about 65,000 km of national and economic corridors, border and coastal roads, and expressways, to optimize the efficiency of already built highway infrastructure. It is envisaged that the programme will provide 4-lane connectivity to 550 districts, develop 50 economic corridors of about 26,000 km, increase the vehicular speed by 20-25%, reduce the supply chain costs by 5-6%, and improve the NH network to carry 70-80% of total road traffic. The first phase of the programme will develop 34,800 km of highways, at an estimated outlay of INR 5,35,000 crore.
100% FDI in roads and highways is allowed under automatic route.
For further details, please refer FDI Policy
Km

Avg. highway constructed per day in FY 2020-21

Lakh Km

Total length of National Highways as of Aug 2021

%

Share of GDP on logistics & transportation

INR Lakh Cr

Budget 2023-24 for Roads and Highways
$275 Billion to be invested on roads under NIP between 2019 and 2025
Highest ever construction of 37 km per day of National Highways in 2020-21
1,40,152 KM Total length of National Highways as of Aug 2021
Industry Scenario

FOREIGN INVESTMENT

INDUSTRY TRENDS

POLICIES & SCHEMES
Industry Scenario
The GoI has given a massive push to infrastructure by allocating about $1.4 Tn for infrastructure to be invested until 2025.
The government has forecasted an investment of $350 bn towards road infrastructure in the North-East region of India during 2020-2025.
The market for roads and highways in India is projected to exhibit a CAGR of 36.16% during 2016-2025, on account of growing government initiatives to improve transportation infrastructure in the country. For the period of 2016-17 to 2021-22, the CAGR stands at 20%.
The highways sector in India has been at the forefront of performance and innovation. The government has successfully rolled out over 60 road projects in India worth over $10 bn based on the Hybrid Annuity Model (HAM). HAM has balanced risk appropriately between private and public partners and boosted PPP activity in the sector.
Asset recycling, through the toll-operate-transfer (ToT) model has been taken up by the National Highways Authority of India (NHAI) for 100 highways. The first two bundles of 9 highways each were monetized successfully for an investment of over $2 bn.
As one of the biggest reforms in the road transportation industry in India, the NHAI has gone 'Fully Digital', with the launch of a unique cloud-based and Artificial Intelligence-powered Big Data Analytics platform – Data Lake and Project Management Software. The entire project management work flow of NHAI is transformed from manual to online portal based, wherein the complete project execution operations including 'workflow with time lines' and 'alert mechanism' have been configured. All project documentation, contractual decisions and approvals are now being done through portal only.
GROWTH DRIVERS
Massive infrastructure push

$1.4 Tn to be invested for infrastructure from 2020-25

NH expansion

Length of national highways to reach 200,000 km

Growing demand

Production of all vehicle segments reached 26 mn

Policy support

Standardized process for bidding and tolling
Industrial Land Bank Portal
GIS - based map displaying available infrastructure for setting up business operations in the state.
Gallery
Mar 20, 2023
Sh. Nitin Gadkari launched air conditioned electric buses in Nagpur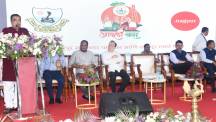 Mar 20, 2023
Sh. Nitin Gadkari launched air conditioned e…
Sh. Nitin Gadkari launched air conditioned electric buses in Nagpur
Mar 06, 2023
PM Modi addresses webinar on Improving logis…
PM Modi addresses webinar on Improving logistics efficiency with PM Gatishakti National Master Plan
Mar 02, 2023
Addressing 5th National Conference on Traffi…
Addressing 5th National Conference on Traffic Technologies organised by CAPT, Bhopal | Nitin Gadkari
Latest In Roads & Highways
Press release
Dec 23, 2022
Battery Swapping Policy to play critical role in the growth of electric vehicles in the country
Read Now
Press release
Battery Swapping Policy to play critical…
Press release
PM Gati Shakti National Master Plan (NMP)…
Report
Freight Greenhouse Gas Calculator User…
Report
Economic Survey 2021-22
Invest India closely works with
New India Timeline @2047
2023