Snapshot
World's fastest-growing energy market
India is the third largest energy and oil consumer in the world after China and the US.
India is the 4th largest importer of liquefied natural gas (LNG).
India consumed 213.13 MMT petroleum products and 64.14 BCM natural gas in FY 2019-20, marking a growth of 0.4% and 5.5% over the FY 2018-19 consumption levels. India's projected oil demand is going to grow at CAGR of 4% during 2016
- 2030 against the world average of 1%, though the projected oil demand will be much lower as compared to the US and China.
230 billion-barrel O+OEG conventional hydrocarbons in over 3 mn sq.km area, spread over 26 sedimentary basins, is available for investors
India aims to reduce oil and gas imports dependence by 10% by 2022
The total number of fuel retail outlets increased from 18,848 (2002) to 77,094 (2021) at a CAGR of 7.7%
Present share of natural gas in the energy mix of the country is 6%. The aim is to increase it to 15% by 2030
12 Biofuel refineries are planned to be opened with an investment in the oil and gas sector of around $1.9 bn
GoI is planning to set up around 5,000 compressed biogas (CBG) plants by 2023 under the SATAT scheme
Ethanol blending in petrol will grow from 5% to 20% by 2030 in India
Natural Gas production (weight: 6.88 per cent) increased by 18.9 per cent in July, 2021over July, 2020.
Petroleum Refinery production (weight: 28.04 per cent) increased by 6.7 per cent in July, 2021 over July, 2020.
Export of Petroleum Products was valued at $4559.82 bn in August 2021 with a positive growth of 139.78% over exports of $1901.64 bn in August 2020.
Crude oil production during November 2021 was 2431.44 TMT, which is 6.89% lower than target for the month and 2.22% lower than the production of November 2020.
Natural gas production during November 2021 was 2869.47 MMSCM, which is 23.09% higher than the production of November 2020 but 12.8% lower than the monthly target.
Crude Oil Processed during November 2021 was 21483.42 TMT, which is 3.38% higher than November 2020 and 3.49% higher than the target for the month.
Production of Petroleum Products during November 2021 was 22338.45 TMT, which is 4.26% higher than production of November 2020 and 4.39% higher than target for the month.
100% FDI allowed in exploration activities of oil and natural gas fields under automatic route
49% FDI allowed in petroleum refining by the Public Sector Undertakings (PSU), without any disinvestment or dilution of domestic equity in the existing PSUs under automatic route
100% FDI allowed in infrastructure related to marketing of petroleum products and natural gas, marketing of natural gas and petroleum products, petroleum product pipelines, natural gas/ pipelines, LNG regasification infrastructure, market study and formulation and petroleum refining in private sector.
100% FDI allowed in Strategic disinvestment of a PSU with 'in-principle' approval granted by the Government via automatic route
For further details, please refer FDI Policy
%

Gas Consumption CAGR (2015-20)

%

Oil Consumption CAGR (2015-20)

%

Fuel RO CAGR (2002-19)
Explore Related Sub Sectors
Largest exporter of petroleum products in Asia
Second largest refiner in Asia
Third largest energy consumer in the world
Industry Scenario

FOREIGN INVESTMENT

INDUSTRY TRENDS

POLICIES & SCHEMES
Industry Scenario
India has emerged as a refinery hub and plans to increase refining capacity to 400 MMTPA by 2025.
India's current refining capacity stands at 249 MMTPA, comprising of 23 refineries—18 under public sector, 3 under private sector and 2 in a joint venture. Indian Oil Corporation (IOC) is the largest domestic refiner with a capacity of 70 MMTPA. Top three companies – IOC, Bharat Petroleum Corporation (BPCL) and Reliance Industries (RIL) - contribute around 66.3% of India's total refining production from FY 2018 - 19.
33,764 Km Natural Gas Pipeline Network across the country has been authorized with the aim to create a national gas grid. About 19,998 km of Natural Gas pipeline are operational and 15,369 km are under progress.
India has witnessed a steady increase in production as well as consumption of petroleum products over the years. The production of petroleum products stood at 262.94 MMT in year 2019-20.
Crude oil production during July 2021 was 2,548.78 TMT and Cumulative crude oil production during April-July 2021 was 9,961.65 TMT.
Natural gas production during July 2021 was 2,891.96 MMSCM and Cumulative natural gas production during April-July 2021 was 11,060.07 MMSCM
74 lakh new LPG connections were issued by OMCs in FY20-21.
Liquefied Natural Gas (LNG) supply is forging ahead on both coasts with 5 new LNG Terminals and 1 expansion project under construction - 3 on the west coast and 2 on the east coast. Together with the projects under construction, overall capacity will reach 62.5 MMTPA.
GROWTH DRIVERS
Investments worth $118 bn by 2024

$58 bn will be invested in E&P by 2023 and $60 bn will be invested in natural gas infrastructure by 2024

City Gas Distribution

Coverage area has gone up from 20% to 70%

Abundant raw material

Natural Gas Reserve at 1.3 TCM

Favorable policies

National Data Repository (NDR), Discovered Small Field Policy (DSF),Marketing and Pricing freedom for natural gas, National Seismic Programme (NSP) of unappraised areas Planned 2D Seismic Survey for 48K LKM

Government incentives

Early production royalty concession of 10%, 20% and 30% for Category I, II and III basins

Setting up LNG stations

Any entity can set up LNG stations in any Geographical Area in India even if they do not have a City Gas Distribution license
Industrial Land Bank Portal
GIS - based map displaying available infrastructure for setting up business operations in the state.
Gallery
Nov 08, 2021
JalJeevan Mission in Water Pavilion at United Nations Climate Change Conference- #COP26
Nov 08, 2021
JalJeevan Mission in Water Pavilion at Unit…
JalJeevan Mission in Water Pavilion at United Nations Climate Change Conference- #COP26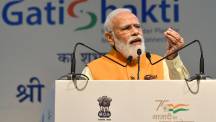 Oct 18, 2021
PM Modi's address at the launch of PM GatiSh…
PM Modi's address at the launch of PM GatiShakti, National Master Plan for Multi-Modal Connectivity
Sep 25, 2021
PM's video address at 'Global Citizen Live'
PM's video address at 'Global Citizen Live'
Invest India closely works with
Invest India Timeline
2022