Reasons To Invest
2nd largest producer of both polyester and viscose globally
India produces almost all the types of synthetic fibres, be it polyester, viscose, nylon or acrylic
MMF textile industry in India is self-reliant across the value chain right from raw materials to the garmenting.
How We Help Investors
Research Content Provider
Policy Advisory/Representation
Regulatory Clearance Facilitation
FDI Norms
100% FDI (automatic route) in the textile and apparel sector in India. FDI in the textiles and apparel industry has reached up to $3,930.33 mn during 2021.
Did you Know?
Government Support
Abolition of anti-dumping duty
National Technical Textile Mission
Remission of Duties and Taxes on Exported Products (RoDTEP) Scheme
Production Linked Incentive (PLI) Scheme for Textiles
Trade Scenario
India's export of man-made textile and apparel stood at $ 5.9 Bn in 2019-2020.
Within the imported knitted fabrics, the major fabric types include 100% Polyester, Polyester-Spandex, Nylon and Nylon-Spandex based fabrics primarily used in sportswear & fashion wear.
USA, UAE & Turkey are leading markets for India's manmade textile exports Gujarat is the largest producer of manmade fiber, synthetic fabric and it contributes ~12% of country's export
Overall imports of man-made staple fibre (MMSF) have grown at a CAGR of 9%. MMF export stood at 4.8 billion in 2021. India stands 6th in exports of MMF textiles accounting 16% of share in global MMF textile market.
Product Profiles
Amongst the top 15 traded MMF based categories, India has a comparatively higher share in categories like polyester filament yarn, carpets, dresses, blouses and t-shirts.
Purified Terephthalic Acid (PTA) is a key raw material component in the polyester value chain and reacts with Mono Ethylene Glycol (MEG) in the process of continuous polymerisation for producing polyester.
The PTA industry is a highly organised industry, with Reliance Industries, Mitsubishi and IOCL being the only PTA manufacturers in India. Likewise, the MEG industry is highly organized as Reliance Industries, India Glycols and IOCL being the only MEG manufacturers in India.
The polyester stable fiber production as of 2017-18 stands at 852 million kg
Gallery
Sep 24, 2021
Prime Minister Narendra Modi meets Vice President Harris on 3-day visit to US
Sep 24, 2021
Prime Minister Narendra Modi meets Vice Pres…
Prime Minister Narendra Modi meets Vice President Harris on 3-day visit to US
Sep 23, 2021
Launch of the National Single Window System
Launch of the National Single Window System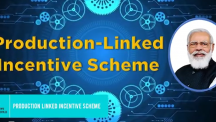 Sep 09, 2021
Production Linked Incentive Scheme for Texti…
Production Linked Incentive Scheme for Textiles
Team Articles
Sep 09, 2021
Textile Machinery Industry Overview A ~$2.5 bn…
May 05, 2021
Under the aegis of the 'AatmaNirbhar Bharat Abhiyan' …
Feb 03, 2021
As India revives from the shackles of Covid-19 pandemic and…
Invest India Timeline
2022