Indian Experience at the G7 Summit
The Group of Seven (G7) leaders are scheduled to meet in London from June 11 to June 13 for the 47th Summit. This year, they will also be joined by leaders from India, Australia, South Korea, and South Africa to deliberate upon how to 'build back better' from COVID-19 and create a greener, more prosperous future. The interaction between global leaders assumes higher importance as it is held amidst a global resurgence in COVID-19 infections and as healthcare systems in various countries struggle to inoculate people in the absence of vaccine supplies.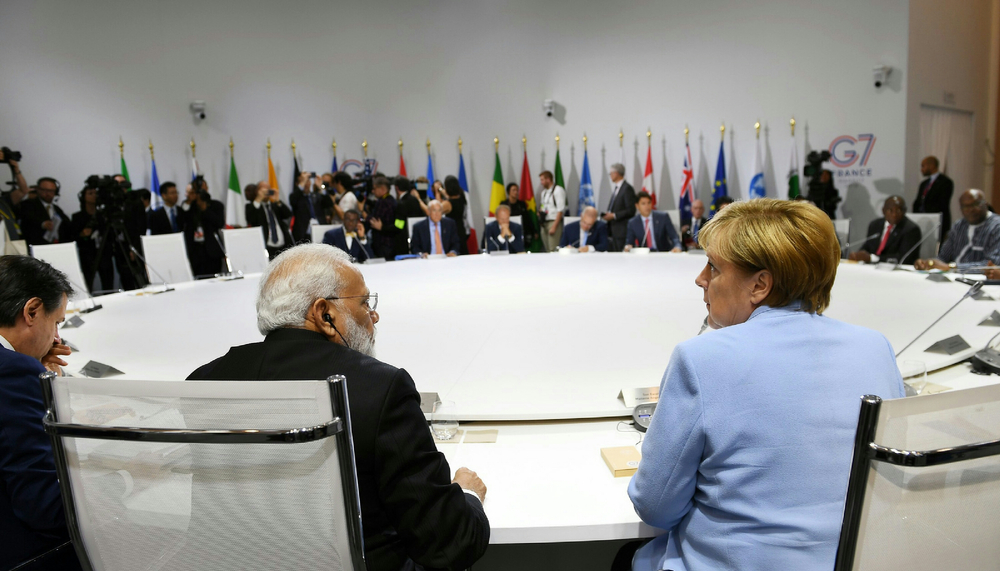 Record growth in FDI received in 2020-2021
Over the last one year, the global economy has been severely impacted due to strict national lockdowns, fall in consumer demand, struggling healthcare infrastructure, and limited capacity of countries to provide sufficient economic stimulus packages. This set a pall of gloom over the investment sentiment across the planet in 2020, evident from the 42% year-on-year fall in global foreign direct investment (FDI). However, the Indian economy withstood these headwinds and despite the fall in FDI across the globe, the inflows in India grew by 13% year-on-year. The highest ever FDI inflows of $81.7 bn in 2020-2021 reaffirmed the potential of the Indian economy to withstand unprecedented pressure and provide a safe destination for investment. The top countries investing in India included Mauritius, Singapore, United States, Japan, United Kingdom, and Germany. 
Resilience and strength of the Indian economy to rebound
The strength and resilience of the Indian economy was again on display during the COVID-19 pandemic. Realizing the critical requirement of medical equipment at home and overseas, the agile Indian industry quickly pivoted itself to manufacture items which were urgently needed. From manufacturing almost no Personal Protective Equipment (PPE) coveralls at the beginning of March 2020, India was producing 4,50,000 PPE coveralls daily by mid-May. Within two months, a $1 bn worth PPE manufacturing industry had been created in India which allowed the country to export 2.3 million coveralls by August 2020 to cater to the global requirement. Similar success stories were observed across sectors manufacturing critical items such as ventilators, N-95 masks, and surgical masks.  
The Indian experience in fighting COVID-19 will add tremendous value to the G7 summit deliberations, which seek to focus on building back better from the coronavirus and creating a greener, more prosperous future.  As the world's pharmacy, India has also played a proactive role as a responsible global power in supplying over 66 million vaccine doses to 95 countries. These efforts are expected to continue in the future, as additional manufacturing capacity is added by the country's pharmaceuticals sector.
An encouraging trend on display was the ability of the Indian industry to bounce back from the momentary aberration post the first wave in India. Within weeks of the first national lockdown being lifted, India had reached 100% pre-COVID levels for exports. India attained 90% pre-COVID levels for e-commerce order volumes by June, 100% pre-COVID levels in digital transactions by September 2020, and 85% food delivery volumes by October 2020. The economy also witnessed a revival in demand for two-wheelers, and the rural sector witnessed a 13% growth in sowing of the kharif summer crop.
Key reforms to further boost the Indian economy
To further boost the resurging economic activity and support investments, the Government of India launched a stimulus package equal to 10% of the country's GDP, aimed at making it easier to do business. The reforms under the package included the setting up of the Empowered Group of Secretaries (EGoS) for fast tracking investment clearance and the launch of the Production Linked Incentive (PLI) Scheme. The PLI scheme for 10 sectors such as Telecommunication, Electronics, Pharmaceuticals, and Medical Devices with a financial outlay of $19.6 bn aims to support global companies in their quest to diversify existing and establish new supply chain networks.   
Special desks for key bilateral investment corridors
India has also laid emphasis on key bilateral economic corridors and undertaken special steps to support investors from these countries. Special desks have been setup for countries such as Japan and South Korea which facilitate investments from these countries into India. Under these desks, investment specialists from these countries operating out of Invest India support investors around areas such as identification of investment opportunities, communication gaps due to language barriers, and issue resolution. These bilateral desks have gone a long way in not only improving the bilateral investment cooperation, but also deepen the people-to-people connections. 
Focus on improving experience of existing foreign investors in India
To further make it easier to do business in India, bilateral Fast Track Mechanisms have been established with key investing countries to ensure that issues being faced by investors are resolved expeditiously.  The first such arrangement with Germany was institutionalized in 2015 during the Inter-Government Consultations (IGC) held by the Hon'ble Prime Minister of India and H.E. The Chancellor of Germany.  Till date, over 87% of the issues brought under the Indo-German Fast Track Mechanism have been resolved, which has further strengthened the investment ecosystem between the two countries. Riding on the success of the Mechanism, similar arrangements have also been setup with United Kingdom, the Netherlands, Italy, and with the European Union. 
The country has also emphasized on making the policy-making process for participative and ensure that the voice and opinions of key stakeholders are considered before any reforms are undertaken. In this spirit, regular CEO forums are organized with investors from various countries including Germany, Switzerland, and Sweden. Further, Invest India has also periodically organized issue roundtables with investors to understand their desired policy framework. 
Emphasis on fostering innovation and entrepreneurship 
India is fast emerging as the global leader in innovation and entrepreneurship. Owing to the multi-faceted support offered to new businesses over the last few years, the country has established itself as the 3rd largest startup ecosystem globally, with 50,000 recognized startups. This provides a huge opportunity to promote cooperation between Indian and global startups.  India has formalized its startup cooperation with various countries including Germany, Portugal, France, Finland, Sweden, and Japan. These startup collaborations are aimed at providing market entry support, promote exchange programs, establish investor connects, and supporting co-working opportunities. In addition, India has also created specialized programs to support investment and access to the Indian market for global mid-market segment companies.  These programs, with Germany, United Kingdom, Switzerland, and Italy, are aimed at ensuring that MSMEs which may be suppliers to the anchor units are also able to successfully establish their manufacturing presence in India. 
As a rising global power, India has set an example for the world on managing the pandemic by curtailing the spread of the infection.  With the 2nd largest global population, the country has performed well in keeping fatalities low, supplying critical medical equipment and vaccines to nations in need, and ensure that the economy continues to grow.  With a combination of government reforms and private sector participation, India is expected to grow at 12.5% in 2021, making it the fastest growing major economy in the world. The Indian experience and vision at the G7 Summit will be of immense value to other countries and allow nations to deliberate on measures to rebuild the global economy. 
Vatsal Khullar is a Senior Investment Specialist at Invest India, the National Investment Promotion and Facilitation Agency of the Government of India. At Invest India, Vatsal leads the Germany Team and facilitates investments from Central and Eastern Europe. He also leads the Roads and Highways Sector and works on institutional investments into the country.