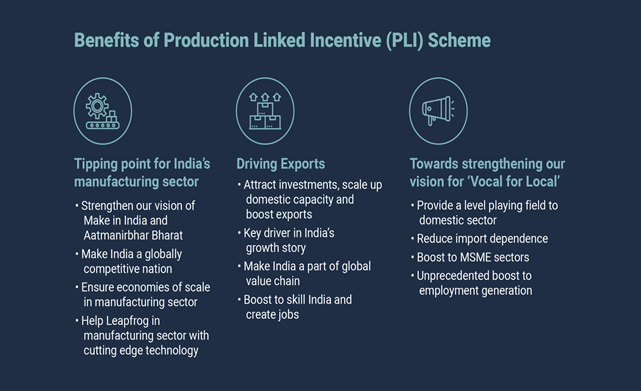 Under the aegis of the 'AatmaNirbhar Bharat Abhiyan' (Self-Reliant India) movement launched by Prime Minister Narendra Modi, a series of game-changing reforms have been introduced to promote ease of doing business in India. From creation of next-gen infrastructure to boosting exports, the government has not only been preparing strategies for businesses to thrive but also continues to roll out the red carpet for global investors to choose India as their preferred investment destination.
Adding to the series of reforms is the recently announced production-linked incentive (PLI) schemes signaling a meaningful turn in India's industrial policy. The basic premise on which the PLI schemes stands are as follows:
Outcome-based and result-oriented: This means that incentives will be disbursed only after production has taken place in the country.
Linking incentives to output: The calculation of incentives will be based on incremental production to be achieved at a high rate of growth. To achieve this incremental production, beneficiaries will be required to make additional investments in establishing green-field facilities or carrying out expansion of existing facilities.
Creating 'champions' to maximize impact: The scheme focuses on size and scale by selecting those players who can deliver on volumes. The targeted nature of the scheme will make it highly effective and the beneficiaries are likely to become globally competitive.
Selection of sectors has solely been based on its scope to cover cutting-edge technology, integrate with global value chains and create large-scale employment.
The strategy behind the scheme is to offer companies incentives on incremental sales from products manufactured in India, over the base year. The scheme also invites foreign companies to set up units in India alongside encouraging local companies to set up or expand existing manufacturing units, generate more employment, and cut down the country's reliance on imports.
In the Union Budget 2021-22, the Finance Minister announced an outlay of INR 1.97 lakh crores (~$26 bn) for the PLI schemes for 13 key sectors to achieve the following:
Make domestic manufacturing globally competitive,
To create global champions in manufacturing,
To boost existing capacities in domestic manufacturing for sunrise and strategic sectors,
Curb cheaper imports,
Reduce import bills,
Improve cost competitiveness of domestically manufactured goods,
Enhance export capacity, and
Generate employment
Covering key sectors of ESDM, automobile, battery, pharma, food, textiles, steel, and telecom, the scheme envisages providing on average 5% of the production value as an incentive. This implies that minimum production as a result of the scheme stands to be around $520 bn over the next five years. The idea is to create a few large manufacturing players with the advantage of policy support to the tune of 5-8% of value add, scale, and world-class technology. The scheme also aims to boost exports, thus narrowing the trade deficit by $55 bn.
The first three PLI Schemes covering the Mobile Manufacturing and Specified Electronic Components, Critical Key Starting materials/Drug Intermediaries, and Active Pharmaceutical Ingredients and medical devices were approved earlier in March 2020 and these were followed by another 10 New PLI Schemes in November 2020.
Read more about :
#PLIforAatmanirbharBharat