As a part of its 'Doing Business in India Guide' series, Invest India regularly collates information kits in response to various investor queries. These are across various elements of investor interest such as taxation, incorporation of business and business guidelines, government policies, visa guidelines, sector and state specific information packs etc. Great Places for Manufacturing in India is Invest India's latest information kit (in collaboration with JLL), wherein facts, figures, and investor activity have been captured for various industrial ecosystems that exist in India. This is the first in the planned series, which shall be subsequently expanded to include other established and emerging industrial clusters of India. Thematic collations of clusters such as industrial hubs in coastal economic areas, hubs in north-eastern states and hubs for high-priority sectors are going to be included in future editions. This series is an effort to provide deeper clarity and insights to investors on doing business in India, and address common investor queries on understanding various capabilities, players, and strengths of the Indian manufacturing landscape.
Quote from the Prime Minister
In one year, the question has changed from 'Why invest in India' to 'Why not invest in India'.
Shri Narendra Modi
Prime Minister of India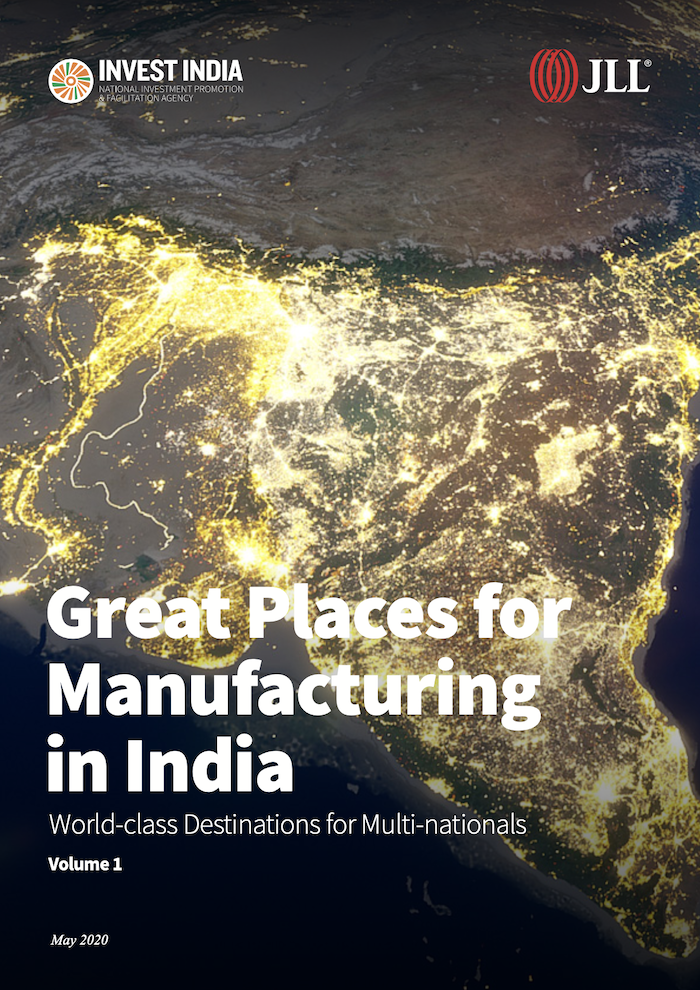 About the Report
This handbook (a joint collaboration of Invest India and JLL) is intended for the benefit of India's existing and potential investors, and the entire support ecosystem for grounding investments in India. Read it to know more if you are looking to understand-
The business, economic and demographic overview of India
The manufacturing ecosystem of India, including key stakeholders, investor facilitation mechanisms and pan-India location analyses for sample sectors
Profiles of established industrial powerhouses of India, with glimpses into the hotspots' infrastructure, State support, occupiers, focus sectors, unique strengths and industrial parks
The dual-tiered incentive structure and mechanism of India
This report is the first of the series, and more locations shall be covered in subsequent editions.
Chapter 1: Advantage India
Exploring the economic opportunities in the land of the Great Banyan Tree: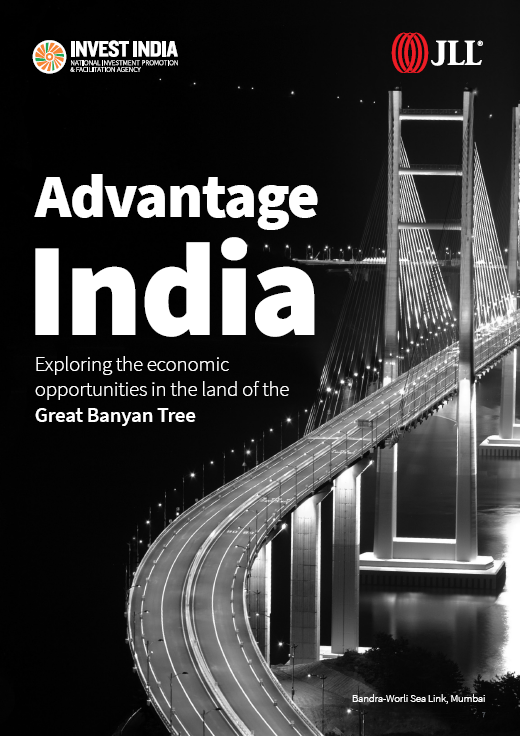 India has witnessed a 257% growth in GDP between 2004-05 and 2018-19. As the 6th largest consumer market globally and with 49% workforce participation, India is likely to be a growth engine for global economic growth for the foreseeable future. The most attractive factors that make India a destination of choice for multi-nationals are:
Large Developing Economy
Logistics & Maritime Potential
Large Consumption Base
Massive Investment in Physical and Digital Infrastructure
Historic Tax Reforms
Business-friendly Government and Ease of Doing Business
Abundant Natural Resources
Youngest Work Force
High Technology Adoption Rates
Focus on Sustainability and Environment Conservation
Proactive and progressive leadership has been successfully guiding the nation during the COVID-19 pandemic, and the country is prepared to emerge as the most viable location for Business Continuity Plans.
Chapter 2: Pan-India Location Analysis
Top established and emerging destinations for manufacturing sectors: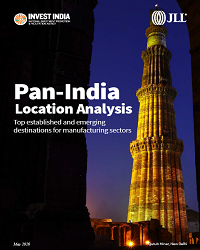 Last five years accounted for over half of the FDI received by India since the liberalization era of the early 90s, propelling India to Top 3 greenfield FDI destinations. Interestingly, these investments came in diverse sectors ranging from highly sophisticated areas such as R&D centres and development centres for engineering, consumer internet, biotechnology, and pharmaceutical multinationals to resource-intensive industries such as food processing, chemicals and petrochemicals. India also attracted large scale investments in labour-intensive manufacturing process of electronics assembly, textiles, and footwear industries. This chapter offers a sneak peek into the most evolved ecosystems and preferred locations for manufacturing in Chemicals & Petrochemicals, Automobile & Automobile Components, Drugs & Pharmaceuticals, and Electronics & Consumer Appliances sectors.
Chapter 3: Mumbai-Aurangabad
Maharashtra's New Industrial Belt:
Mumbai, the world's 12th wealthiest city, is India's financial, commercial and entertainment capital, accounting for 5% of India's GDP and 70% of capital transactions in the country. Jawaharlal Nehru Port, popularly called JNPT, is India's largest container port, facilitating 40% of Indian container volumes. Mumbai Aurangabad corridor houses many IT, pharmaceuticals, textiles and consumer durable units. Aurangabad is also emerging as an automobile manufacturing and engineering hub.
Chapter 4: Pune
A Unique Culmination of IT and Manufacturing: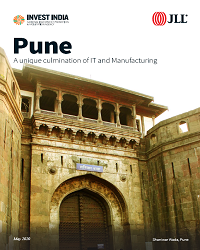 Accounting for almost one-fifth of the industrial investment in India, the city and its industrial areas are well established hubs for automobile, consumer durables and IT and engineering. It is the most developed automobile ecosystem of India and has a noteworthy concentration of German, American, Korean and Chinese companies. This city is also among the prime markets in India for the development of light industrial parks and warehouses. Pharmaceuticals and food processing are other important sectors. The city was ranked first in Mercer's Quality of Living Index, 2018 for Indian cities.
Chapter 5: NH48, Gurugram-Bhiwadi-Neemrana Corridor
India's Oldest Automobile Cluster: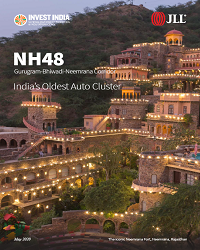 NH48, connecting Delhi with Mumbai, houses several industrial clusters such as Gurugram, Manesar, Bhiwadi, Bawal, Neemrana and Ghilot, especially in the vicinity of NCR. Along with Western Dedicated Freight Corridor, it has emerged as the conceptual spine of the Delhi-Mumbai Industrial Corridor. Gurugram-Manesar-Bawal belt is the largest automobile ecosystem in India, accounting for half of 4-wheeler manufacturing. Gurugram is an IT and startup hub, and home to more than half of the Fortune 500 companies. Neemrana hosts 55+ Japanese companies in its successful Japanese Industrial Township. FMCG, ESDM, and ceramic and glass are other notable sectors along the highway.
Chapter 6: Noida - Greater Noida - Yamuna Expressway
India's Electronics Manufacturing Corridor: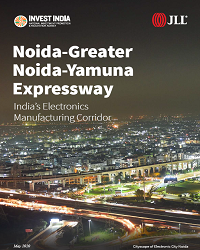 India's largest electronics manufacturing zone, it accounts for 40% of India's mobile manufacturing and more than half of mobile component manufacturing. It hosts the biggest cluster of Chinese factories in India, along with notable Korean and Japanese presence. Automobile OEMs and ancillaries, IT and food processing also have a noteworthy presence in this zone. The Jewar international airport, planned to be the biggest aerotropolis in India and Delhi's second international airport, is expected to be operational by 2023.
Chapter 7: Bengaluru
India's Silicon Valley: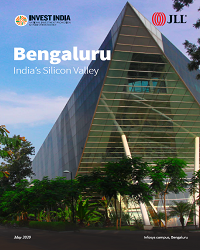 A startup, IT and R&D capital of the world, Bengaluru is home to 70% of India's chip designers, 60% of India's machine tools production, 400+ global R&D centers and 2/5ths of India's IT exports. It is also a hub for aerospace, textiles, and biotechnology sectors. The capital city of India's pioneer state for niche segment policies such as India's first Electric Vehicle and Energy Storage policy, Startup policy, AVGC (Animation, VFX and Gaming) policy, among many others, it is also headquarters to some of India's largest Public Sector Undertakings like Hindustan Aeronautics Limited (HAL), National Aerospace Laboratories (NAL), Indian Space Research Organisation (ISRO) and Bharat Earth Movers Limited (BEML).
Chapter 8: Chennai
Detroit of India and nearby Tirupati-Nellore Cluster: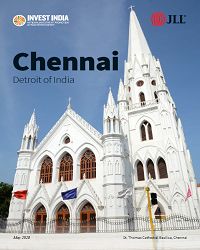 Tamil Nadu is the state with the largest number of factories in India, and its capital city Chennai is the largest industrial and commercial center of South India. The city hosts 3 of India's 12 major ports, which makes it India's closest point of call for major manufacturing ecosystems such as China, Korea, Taiwan, Japan & ASEAN. 1/3rd of India's automobile manufacturing industry is concentrated here, with notable presence across engineering, textiles and garments, leather products, software and IT-enabled services as well. Chennai, together with Tirupati (an emerging Electronics cluster) and Nellore-Chittoor (home to Sricity: India's largest industrial park in South India), is known as the tri-city industrial growth corridor.
Chapter 9: Hyderabad
Fostering New Innovations in Manufacturing Sector: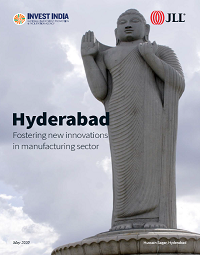 Hyderabad, popularly nicknamed Cyberabad, has emerged as the second Silicon Valley of India, after Bengaluru. It boasts of being home to the largest campuses (outside the US) of technology giants such as Apple, Amazon, Facebook, Microsoft, Uber, Google and Qualcomm. The State also has niche policies such as Drone Policy, Data Center Policy, IoT policy, IMAGE (Innovation in Multimedia, Animation, Gaming and Entertainment) policy, Innovation policy among others, to boost its status as an innovation and IT powerhouse. Accounting for 1/3rd of global vaccine production and two-fifths of domestic pharmaceuticals production, the city is also an established pharmaceuticals and biotechnology hub. Other notable sectors include aerospace and defence, and ESDM.
Chapter 10: Ahmedabad
India's Emerging Automobile Hub: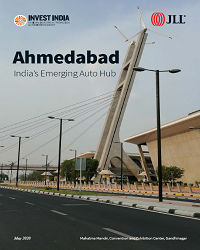 India's first heritage city, Ahmedabad is an established industrial base for chemicals, textiles, pharmaceuticals and food processing. Led by Suzuki Motors and Honda, Mandal-Becharaji industrial belt, along with neighbouring Sanand, is expected to become India's largest automobile hub post completion of expansion plans. It is the largest city of the State with the longest coastline and highest number of ports. GIFT (Gujarat International Finance Tec-city), is India's only International Financial Services Center (IFSC) trying to compete with financial centres like Singapore, Hong Kong and Dubai.
Chapter 11: Vadodara, Bharuch-Ankleshwar Cluster
Country's Power Engineering and Chemicals Cluster: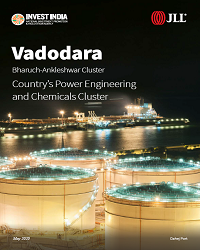 Accounting for more than one-third of India's power transmission & distribution equipment manufacturers, the region also has a vibrant manufacturing landscape spanning sectors like chemicals, pharmaceuticals, engineering and automobile. The Dahej Petroleum, Chemicals and Petrochemicals Investment Region (PCPIR) zone is India's most active and successful, and is one of the best locations for red category industries. OPaL's (ONGC Petro Additions Limited) unit at Dahej is the largest petrochemical plant in India. Indian Oil Corporation's second largest refinery is also located here, which is expected to become India's largest refinery, post completion of expansion plans by 2023.
Chapter 12: Incentives Snapshot
Structure and Types: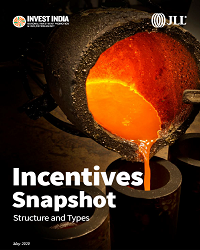 India follows a federal structure, wherein both governments, at centre and state, frame laws, policies and incentives to regulate and support industries in their areas of jurisdiction. Incentives schemes designed by the centre and states have objectives such as:
Attract new / support expansion of manufacturing units,
Attract new / support expansion of services companies and start-ups,
Encourage exports from India,
Drive higher value addition in India, etc.
India has undertaken a slew of historic tax reforms in the last 12 months, such as the reduction of Corporate Income Tax to 17.16% for new manufacturing units, the reduction of Corporate Income Tax for existing businesses to 25.17%, the abolition of taxes such as Dividend Distribution Tax (DDT) and Minimum Alternate Tax (MAT). State Governments have been at the forefront of introducing new reforms and extending attractive incentive packages for businesses. Some of the commonly offered incentives are Capital Subsidy, Interest Subsidy, Stamp Duty Concessions, State GST refunds, employment subsidy, etc.
Chapter 13: Grounding Investments in India
Key Stakeholders and Investor Checklist: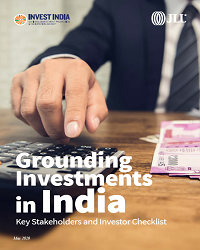 India has been rolling out the red carpet to welcome investors to its shores. At the heart of India's investment promotion and facilitation program has been personalized hand-holding and issues resolution for investors, which is carried out through the existing or newly created administrative channels by the government.
At the centre, Department for Promotion of Industry and Internal Trade (DPIIT) under Ministry of Commerce & Industry has been managing important national missions such as Make in India and Start-up India. Other line ministries formulate and implement policies pertaining to their respective sectors or areas of allocation. Invest India is the national investment promotion and facilitation agency of Government of India and is headquartered at New Delhi.
At State level, Department of Industries & Commerce, Industrial Development Corporations and Investment Promotion Agencies play the most significant role in the dissemination of information, formulation of investor-friendly policies and benefits packages, management of single window portals, and grounding of investments. The reports cover a detailed directory of all such important agencies