BRICS 2019: Economic Growth for an Innovative Future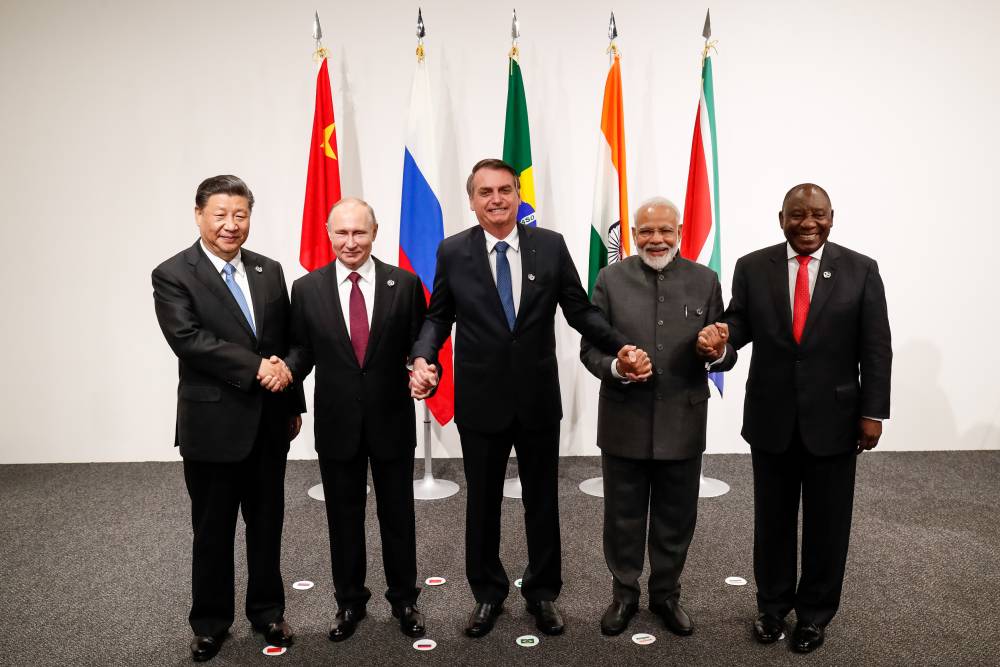 BRICS is an acronym for the combined economies of Brazil, Russia, India, China and South Africa.
The original term was BRIC in 2003; South Africa was later added to the list in 2011 creating BRICS.
Unlike the European Union, these countries are not a political alliance or a formal trading association, instead, they are a powerful economic bloc owing to low production and labour costs. 
According to a report that was published by Goldman Sachs in 2001, it was predicted that by 2050, India and China would become the world's dominant suppliers of manufactured goods and services; Brazil and Russia would similarly dominate as suppliers of raw materials.
To further the economic alliance, The BRICS Business Council (BBC) was established in 2013 at the 5th BRICS Summit in Durban, South Africa, bringing together the private sector of Brazil, Russia, India, China and South Africa.
The council is organized into five national sections. Each section has five leading CEOs, a secretariat and a set of members, including companies and business organizations, led by a chairperson. The chairmanship of the BBC is rotating and annual. BBC presidency would be rotating to India in 2021.
Here are some recommendations proposed and discussed during the BBC session at BRICS 2019, hosted by Brazil:
Cooperation on modern biotechnology and harmonization of regulatory rules. 
Establish a network of innovation hubs to share experiences and to strengthen the BRICS Partnership on New Industrial Revolution. 
Establish Mutual Recognition Agreements on Authorized Economic Operator Programs
Promote connectivity in remote areas for digital inclusiveness and initiatives on digital education and literacy.  
Promote energy integration among BRICS and bordering countries via the New Development Bank.
Improve public private partnerships in infrastructure projects implementation and investments. 
Increase logistics connectivity between the BRICS countries and within their regions to foster trade and development. 
Introduce a BRICS countries' Inventory of International Best Practices in Aviation Products and Services. 
Adopt a common curricula basis for future skills development, and waste management
Given the global economic outlook facing a grave challenge amongst growing protectionism and rising trade tensions manifested in unilateral measures, backed by a WTO 2019 report of downgraded global growth to 2.6% for 2019 from 3% the previous year; yet, the BRICS nations continue to offer economic opportunities.
Interesting to note here is that, BRICS has successfully lobbied the IMF for greater voting rights for emerging economies. One of the most important advances for the bloc was the establishment of the New Development Bank – a response to slow reform of the IMF and the World Bank, and of course the dominance of the G7 countries (France, Italy, Japan, the UK, the US, West Germany, Canada and EU as a "non-enumerated" member)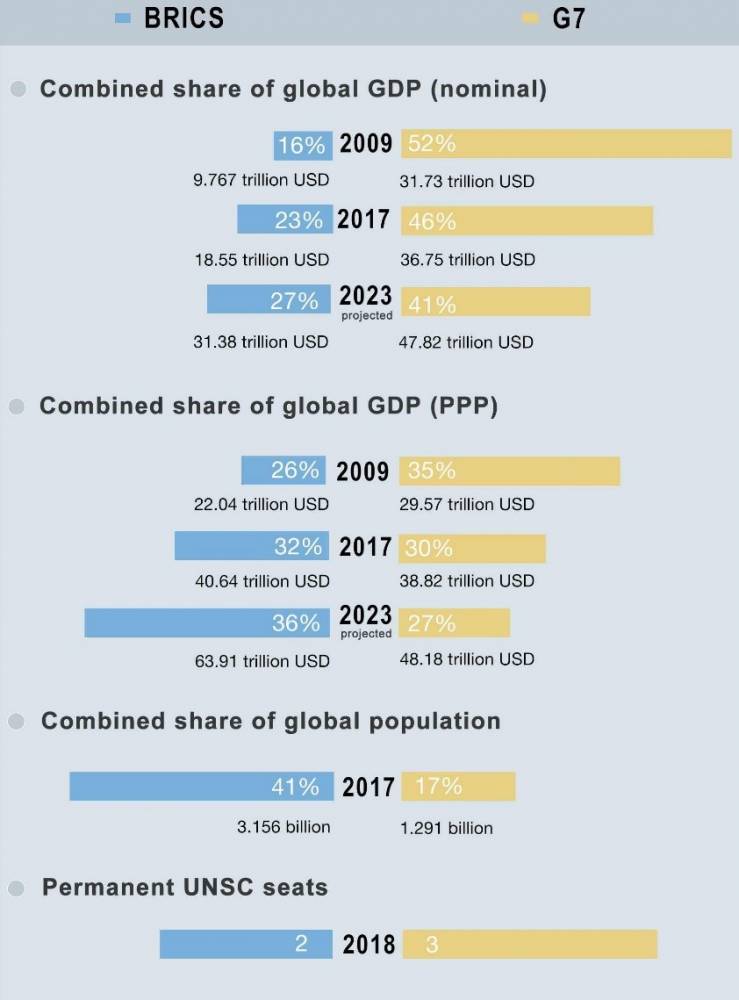 India believes that the BRICS conglomerate can bring the crucial global stability as the macroeconomic fundamentals are strong. 
Moreover, the BRICS countries recognise the importance of international trade as a powerful tool for achieving a system that ensures effective participation of all nations, specially the LDCs (Least Developed Countries), and agree to maintain the momentum on areas agreed on this year under the Brazilian presidency as mentioned previously.

In today's context, BRICS has to develop to be a strong voice of stability, reform, progress and governance specifically tiered towards inclusive and development centric world trade that remains focused on the hard realities of a large number of countries. 
Services remain a crucial area with the econometric simulation of a possible increase in the world trade by 50% by 2040, so do MSMEs and building the digital infrastructure and Skill development exchange.
At the outset of BRICS 2019, it is important to mention that Invest India signed an MoU for multilateral cooperation and sharing best practices with the stakeholders for South Africa (InvestSA), Brazil (ApexBrasil), China (Trade development Bureau, IPA), and Russia (Ministry of Economic Development).
As the Prime Minister Narendra Modi put it during his address to the BRICS nations, "It is a gentle, and yet subtly powerful - no strings attached model of cooperation driven purely by the requirements and priorities of the member countries".