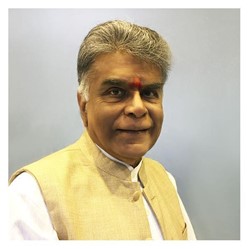 .
1. What could be your strategy to boost aggregate demand in the sector going ahead into 2021?

The Apparel Export Promotion Council (AEPC) has identified Man-Made Fibre (MMF)-based garments as the sunrise industry for boosting aggregate demand both in the domestic and international markets. Indian apparels are predominantly cotton based. However, the bulk of the global demand is in the MMF segment. The global market for MMF garments is $ 500 billion including $ 170 billion for sportswear. Share of MMF garments in India's total apparel exports is only $ 1.6 billion, hardly 10 per cent, whereas the world trade in MMF garments is to the tune of $ 200 billion. AEPC has been hosting webinars to promote domestic production of MMF garments, planned MoUs with a number of MMF manufacturers, and is setting up a dedicated R&D centre at its head office in Gurugram. The government's fiscal stimulus of INR 10,683 crore under the Production Linked Incentive (PLI) for the textile sector, mainly in MMF segment and technical textiles, is likely to encourage production of MMF garments.
Another strategy to increase demand for goods from the apparel industry was our major foray into production of Personal Protective Equipment (PPE). From almost zero production of protective gears at the start of the pandemic in March 2020, India now is the second largest producer of PPE kits in the world. The sector is catering to burgeoning demand both from within the country and overseas. With the lifting of export ban on these products, we are well on our way to become a major hub for medical textiles for the entire world. Other strategies that are being deployed by the Council to boost demand for Indian apparels are integration of Indian textile industry with the global value chain, virtual B2B meetings with international buyers and use of our own 24x7 virtual exhibition platform to showcase Indian apparels around the year. A major development has been a complete transformation of the AEPC's outlook. The Council's head office and its regional offices across India have become more adept in doing its duties and resolving issues of its members. It now issues Export Promotion Certificates and import certificates online, holds virtual B2B meetings and also host international fairs on its round-the-clock online platform.

Besides, while the Council has been requesting for FTAs/ CEPAs in major export destinations for a fair treatment for Indian apparels vis-à-vis our competitors, we have been also identifying major product lines and geographies that have been vacated by China for Indian apparels to move in. After the outbreak of coronavirus, many countries and companies are either moving away from doing business with China or are trying to diversify their source base to more reliable partners. There is growing positive sentiment towards India and the Council is working in collaboration with Indian embassies abroad to take maximum advantage of this. AEPC has also entrusted KPMG for doing a 'Study on Market for Indian Apparels in the United States – Trends, Potential and Expansion Strategy'.
Several virtual B2B meetings have been held and are in the pipeline with global brands and buyers both in traditional as well new export destinations. Also, the Council has been holding meetings with textile associations in neighboring countries for a unified approach to handle apparel exporter issues with the overseas buyers. As a whole, we have already started seeing positive results in our strategy to boost demand for apparels. I am confident that we will see a huge surge in the coming fiscal.

2. India being the world's third largest startup hub, how do you see the startup space in your sector for the coming period?

Indian textiles and apparel industry contributes 2 per cent to India's GDP and 12 per cent of the country's export earnings. The industry, which is already the second-largest employer in the country providing direct employment to 45 million people, has a huge potential to further support the domestic economy given the massive size of the global textiles market. The global market is projected to touch $ 1.3 trillion by 2025. To gain a bigger market share, Indian apparel industry will have to be innovative. We see a big role for startups if they can find solutions to challenges like sustainability, green technology, environment and better textile materials.

Several startups have already made their entry into the fashion, textiles and apparel sector though many have failed due to tough market conditions and shortage of funds. Numerous startups have entered the $ 115 billion Indian fashion market, each trying to create its own distinct space. Some of them have found their footing and are building their brand value both in India and overseas. With huge support from the Indian government and foreign investors, I believe startups will expand their presence in the textiles and apparel sector, particularly because major transformations are happening across the world.
The pandemic itself has given a major boost to startups in the sector as seen in the Personal Protective Equipment (PPE) segment. Some startups have got into robotic automation and nano technology. While one has developed a nanotech coating for textiles that inactivates the coronavirus within five minutes of contact, another has found a nano-copper compound that inhibits coronavirus when sprayed on fabrics. Then there are opportunities for those who can find sustainable alternatives for single and multiple use plastics with biodegradable, low-cost, natural and indigenous alternatives.


3. Do you think the sector space in India could be lucrative for foreign investors around the world given the global scenario?

India is the world's second largest producer and exporter of textiles. Its textile industry has a strong competitive advantage due to low cost of production. India has abundant availability of raw materials such as cotton, wool, silk and jute, and has a strong production base of a wide range of fibre and yarns from natural fibres and man-made fibres like polyester, viscose, nylon and acrylic. The domestic textile and apparel market is estimated at $ 106 billion in FY20 and has increased at a CAGR of 10 per cent since FY06. With rising per capita income and a shift in preference to branded products, there is a growing domestic demand which is likely to grow at 12 per cent CAGR to reach $ 220 billion by 2025-26.

Apart from the strong production capacity at low cost, availability of raw materials and presence in the entire value chain, the 100 per cent FDI allowed in the sector through automatic route makes the Indian textile sector quite lucrative for foreign investors. The cumulative FDI inflow in the textiles sector stood at over $ 3.45 billion between April 2000 and June 2020. The textiles industry in India is experiencing a significant increase in collaboration between global majors and domestic companies. International apparel giants like Hugo Boss, Liz Claiborne, Diesel and Kanz, have already started operations in India.

Then there are some niche areas where India has gained prominence and foreign investors may want to ride the growth story. India has also become the second-largest manufacturer of PPE in the world. More than 600 companies in India are certified to produce PPEs today, whose global market worth is expected to be over $ 92.5 billion by 2025. India accounts for 7 per cent of the global home textiles trade. Superior quality makes companies in India a leader in export - almost two third of India's export of textiles is to the US and UK. India is also expected to be a key growth market for the technical textile sector due to cost-effectiveness, durability and versatility of technical textiles.

The proposed hike in FDI limit in multi-brand retail will bring in more players. It will also bring in greater investment along the entire value chain - from agricultural production to final manufactured goods. With global retail brands assured of a domestic foothold, outsourcing will also rise significantly. The country can become the one-stop sourcing destination for companies from Association of Southeast Asian Nations (ASEAN) as there exist several opportunities for textile manufacturing companies from 10-nation bloc to invest in India.

Finally, the disenchantment with China has thrown up massive trade and investment opportunities for India in this sector. With strong policy support, the country can leverage the positive sentiment towards doing business with India in terms of increasing its trade and inward investment.


4. Going ahead, what are the 3 most important things that you would want in Budget 2021 for your sector?

At macro level, we would like a growth-oriented budget that focuses on infrastructure development and raises aggregate demand through creation of an investor-friendly climate. This will help all sectors including the textile and apparel sector. The government should focus on reducing cost of doing business via easing access to low-cost capital, streamlining regulatory and compliance requirements, developing infrastructure in smaller cities as well, bridging logistics and supply chain gap, revising labour laws, skilling workforce and simplifying GST and relaxing its harsh penalties.

For bolstering the textile and apparel sector, the government should provide higher allocation in the budget, focus on resolving issues of MSMEs in the sector and draw an aggressive export policy.
Some of the suggestions of the Council for the forthcoming Union Budget towards mitigating the high cost of working capital and make Indian exports competitive are:

• Increasing the scope of the Interest Equalization scheme to all the apparel exporters (and not just MSMEs).
• Abolition of Tax Collected at Source (TCS) on sale of goods u/s 206C (1H). Since GST/ e-invoicing meets the objective of tracking transactions, the new provisions of TCS is an additional compliance burden.
• At present new manufacturing companies set up on or after 1st October 2019 and which will start manufacturing before 31st March 2023 are liable to pay tax at the rate of 15 per cent. It is proposed that new units of existing manufacturing companies should also be eligible to a Concessional Tax Regime (CTR) of 15 per cent taxation as this will boost the investment as existing companies will invest more in setting up new units.
• Tax benefits for investing in green energy and eco-friendly technologies.
• The facility of pre-shipment insurance as given to banks by ECGC should be extended to exporters.
• Expedite the implementation of NIRVIK scheme.
• Subsidy for investment in green technologies.
• Request for relaxation/exemption to apparel exporters as a "One-time Amnesty" in light of the pandemic.

Besides this, access to funds for technological upgradation needs to be eased. Removal of cap on benefit under the TUF scheme can encourage large scale projects and increase in FDI limit in multi-brand retail will bring in more organised players, more investment along the entire value chain, access to best manufacturing practices and higher domestic foothold will also encourage global retail brands to increase outsourcing here.

Higher budgetary allocation should also be used to strengthen the brand value of Indian textile and apparels, increase R&D into new products to suit emerging global demand and more testing labs and technical collaborations with international entities to help upgrade the quality of Indian exports.

Finally, startups should be the priority area in the budget with higher allocations and encouraging policies. Textile and apparel sector is one of the sectors that underwent major transformation during the pandemic, and we expect innovation and quick commercialisation to hold the key for gaining strength in the future.

* The views and opinions expressed above are solely of the interviewee. The content does not reflect Invest India's position or opinion and Invest India bears no responsibility for the same.