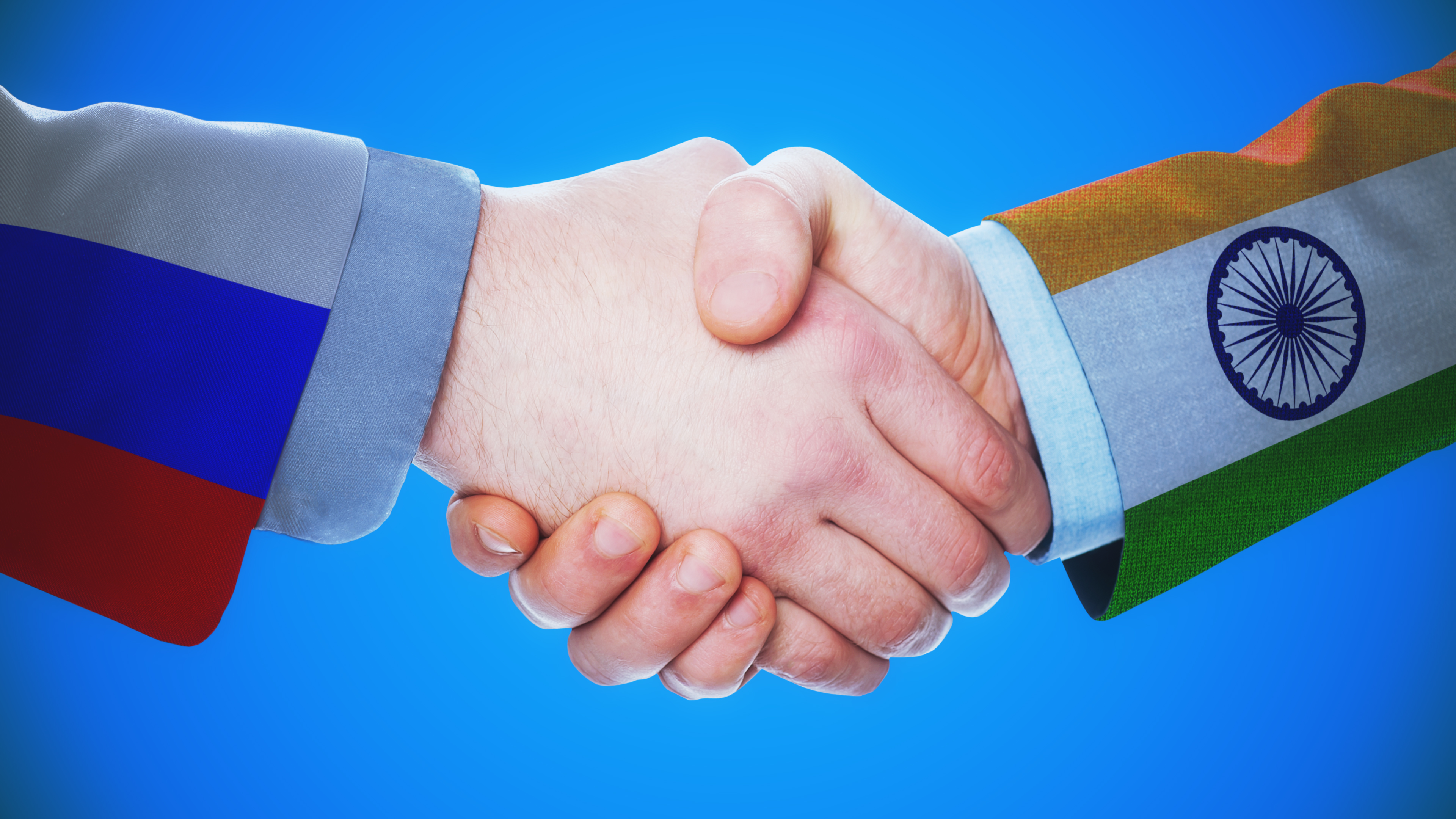 Celebrated with epithets such as 'time - tested', 'all - weather' and 'mutually complementary', the enduring ties between New Delhi and Moscow have been a hallmark for decades. From trade and people - to - people cooperation to counter - terrorism and security, the two countries have been actively working together under the framework of a special and privileged strategic partnership.
Development: The Cornerstone of Bilateral Ties
What makes the two countries special is strong leadership that is committed to fostering economic growth, peace and good governance. India today is at the cusp of transformation and the crossroads of change. Under the able leadership of Prime Minister Narendra Modi, the Indian economy is growing at a vibrant pace, with foreign direct investments worth billions coming in. Recent IMF projections peg India as the fastest growing economy in 2018, clocking robust growth at 7.4% and looking up to 7.8% in 2019. The IMF has also predicted that India currently at $ 6 bn in terms of GDP is set to be amongst the top four largest economies in 2022. Facilitating businesses and easing processes by cutting red tape and corruption has been the hallmark of the Modi government, the results of which were evident in India's historic jump in the World Bank's latest Ease of Doing Business rankings. India's consumer story is being led by more than 1.2 billion consumers.
At the same time, Russia, under President Vladimir Putin, has made rapid strides as the world's leading superpower. Today, Russia has the highest GDP per capita among its fellow BRICS countries — $ 27,900 - with the next-highest, China, having $ 16,624. In the last 18 years, Russian economic output has increased by 600%, public debt shrunk to 17.4% of GDP and her reserves have increased to $ 356 bn. While the Russian economy remains dominated by oil and gas revenues, its agriculture sector has boomed in recent years.
Since 2000, India and Russia have been working together under a special and privileged strategic partnership. This has resulted in tremendous highs for both countries: India's trade with Russia crossed $ 10.7 bn last year, witnessing a 21.5% growth. There has been a steady growth of bilateral trade. In 2017, it increased by 21%, or $ 9.3 bn, and was up by another 20%, this time $ 6 bn, in January - July.
Yet, there is room for much more: Prime Minister Modi and President Putin have set a target of $ 30 bn in bilateral trade by 2025. The impressive technological, resource and human potential of our countries makes it possible to strive for even greater volumes of trade and investment. Common economic interests, policies and attitudes to world problems can be a cementing bond.
Next Steps: Fostering Regional Cooperation
A game-changing initiative that can significantly boost the momentum of bilateral ties is to foster state-level cooperation and further intensify direct contacts between business, entrepreneurs and government bodies on both sides.
At the India - Russia Summit in 2018 in New Delhi, organized by Russia Plus at Invest India, the two countries had agreed on the modalities and principles of cooperation between the States of India and the constituent entities of Russia. In June 2017, Prime Minister Modi interacted with provincial governors in Russia, and efforts are on to make such mechanisms more effective and exhaustive. Allowing businesses and state/regional/provinces governments on both sides to explore and cement partnerships stands to address local issues while boosting national growth. In this direction, the signing of agreements between Assam and Sakhalin, Haryana and Bashkortostan, Goa and Kaliningrad, Odisha and Irkutsk, Visakhapatnam and Vladivostok hold tremendous potential. This is also in line with India's focus on enhancing 'cooperative federalism' and empowering local and state governments and communities.
Expanding the canvas, such initiatives can be adopted as pilot projects at the regional level as well, allowing increased economic and people - to - people exchanges. Russia's resource - abundant eastern front, bordering China and Japan, is a viable region to consider for this mechanism. Creation of Special Economic Zones, thoughtful identification of lucrative sectors and states and support to sub-regional collaborations can help New Delhi and Moscow in leveraging their cooperation and trade. The Green Corridor project, aimed at the simplification of customs operations in respect of goods being transported between India and Russia, is a case in point. The Russian Ministry of Far East Development has already taken many initiatives in this regard such as liberalization of the visa regime, the establishment of Special Economic Zones & making land allocations. An impact can also be generated by encouraging participation by regional delegations in major events like Saint Petersburg International Economic Forum (SPIEF), Eastern Economic Forum (EEF) and investment summits. Opening strategic dialogues between small and medium business from the two countries and convening inter - regional forums of cooperation will be welcomed by stakeholders on both sides. Collaboration between Indian States and Russian Provinces in the cornerstone for enhancing trade and investment cooperation between the two Partners.
India has, under her flagship programs of Make in India and Start-up India, made concerted efforts to attract technology, investments and best practices from across the world. These programs, the restructuring of the Indian Economy and ambitious policy measures such as the Goods and Services Tax, construction permits, a streamlined custom clearance process with robust management system, real-time shop registrations without inspections as per Shops & Establishment Act and various infrastructure programs have made doing business in India easier (India has jumped 74 in the last 36 months ranks in the World Bank Ease of Doing Business rankings, to now stand at the 77th spot) have opened up unparalleled opportunities and created the impulse for rapid growth.
Russia Plus team at Invest India (L to R): Arnav Kalia, Aarati Sharma, Manan Jaisinghani
Russia Plus is a fructification of Prime Minister Narendra Modi's commitment to set up a dedicated Russian desk to promote Russian investments in the country to take forward St Petersburg vision statement that seeks to open new vistas of economic engagement. Russia Plus, which works within the remit of Invest India – the investment promotion and facilitation agency of the Indian government, is a one-stop solution for investors that provides handholding support including business advisory, policy guidance, location assessment, assistance with regulatory approvals, issue redressal and expansion support.
Russia Plus is the key to push Russian investments in India in non-traditional sectors with Delhi and Moscow aiming to give an economic fillip to the bilateral strategic partnership.
Cooperation between Russian regions and Indian states is also of high priority for us.
Such initiatives hold the key to expanding cooperation in the traditional sectors of Indian and Russian economies. Some of the key categories of goods identified by Invest India as the 'catalysts' to boost regional trade are food supplies, chemicals, metals and machinery. It is of primary importance to continue and broaden cooperation in traditional sectors such as energy, mining, pharmaceuticals, aircraft construction, space technologies. 'New Economy' projects in the fields of science and technology, and Artificial Intelligence (AI) are avenues where both Russian and Indian IT specialists and researchers can contribute substantial expertise. Visit our sectors page to know more about the Indian IT sector.
In addition, both sides need to concentrate on enhancing their economic partnership, finding new avenues of cooperation and strengthening people to people ties, especially between their younger generation.
Old Friends, New Hopes: Looking Ahead at the Future
Undoubtedly, India and Russia are at the center stage of the global economic landscape and are moving forward with a clear focus on financial inclusion for sustainable and long-term growth. It is therefore natural for the two "old friends and allies" to strengthen and deepen their cooperation and usher in the next era of progress.
At the recent India Russia Business Summit, President Vladimir Putin emphasized the importance of transport infrastructure as a promising area for India-Russia cooperation, as well as joining hands in specialized areas such as aviation, space, medicine and pharmaceuticals. The Indian Government has also welcomed Russian collaboration in human resource development, natural and energy resources, trade and investment, nuclear and solar energy, and space.
As emphasized by Prime Minister Narendra Modi, "India gives top priority to its relations with Russia. Our Special and Privileged Strategic Partnership has consistently received new energy and direction from the continuous series of nineteen summits. India and Russia are unanimous in strengthening multipolarity and multilateralism in this rapidly changing world. We have agreed to continue our beneficial cooperation and coordination in international institutions."
Clearly, India and Russia are destined to remain role models for harmonious and mutually beneficial partnership and strong friendship between two nation states. Building on the shared vision of the development of bilateral relations, the warm ties between New Delhi and Moscow bring to life the old adage: 'An old and trusted friend is better than two new ones'.
For further info about foreign direct investment and foreign trade policy of India visit our resources section.
(As published on January 25, 2019 in the Supplement for India's Republic Day of Rossiskaya Gazeta in Moscow, Russia)