Footwear industry in Taiwan: Emergence, Growth and Way Ahead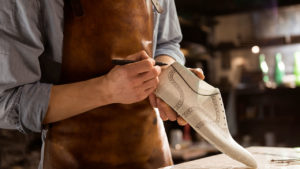 It is often believed that wherever the Taiwanese go, the world follows. 
Taiwan is known to play a pivotal role in the footwear supply chain. It has positioned itself as a key contributor to the design and development of a shoe and a leading manufacturing partner of some of the top footwear brands in the world.
Evolution of the footwear industry in Taiwan
Taiwan's footwear industry has gone through five phases. Beginning with the Early phase (1949–1960) during which the store and the factory were in the same place and there was focus on shoe customization. Each shoemaker could therefore make only one- two pairs of shoes per day. 
Then came the Burgeoning phase (1961–1969) wherein Taiwanese footwear factories introduced Japanese shoemaking techniques. Mass production model as well as the strategy of separating production and sales was applied. At that time, there were more than 30 export-oriented footwear factories in Taiwan, exporting on an average 20 million pairs of shoes per year and thereby constituting a major export industry in the region. 
This was followed by the Maturity phase (1970–1988). Factors such as low wages, abundant labor, and high quality attracted many orders from footwear manufacturers outside Taiwan. The number of footwear manufacturers in the region increased to more than 1400, with the volume of footwear production growing annually by 50%. In the year 1987, exports reached 1.8 billion pairs, making Taiwan the world's second largest footwear exporter. 
Then came the Industrial Structure Adjustment Phase (1988–1989) which witnessed high wages, rising labor consciousness, and labor shortages. There was also an appreciation of the New Taiwanese dollar against the U.S. dollar, with US$1 being equivalent to NT$39.85 in 1985 and NT$26.42 in 1989. Due to this appreciation, the profits and total output plummeted. This motivated manufacturers to move their shoemaking bases to countries or regions with land and labor cost advantages such as Thailand, Vietnam, Hong Kong, and China. 
This was followed by the International Division of Labor Phase (1990–present). According to the new pattern, orders are received in Taiwan and shoes are produced outside Taiwan. Thus, the concept of third-party contract manufacturing has gained popularity in Taiwan. 
Third-party contract manufacturing
Taiwanese companies act as key third party contract manufacturers for some of the leading footwear brands such as Adidas, Nike, New Balance, Puma, Under Armour etc. Some of the top Taiwanese contract manufacturers include Pou Chen Corporation, Feng Tay Enterprises, Apache Group, etc. 
Some of the leading companies from Taiwan had found their way into the Rio Olympics held in 2016 by offering their products to top brands such as Nike. Events such as the Olympics contributed as a major source of revenue for these contract manufacturers. 
Taiwanese companies have been fortunate to offer their products in another global sporting event- FIFA Football World Cup.
Historically, many of the jerseys, cleats and protective gears worn by the athletes along with the balls used in the matches have been made in Taiwan. Companies such as Pou Chen Corporation and Feng Tay have been key suppliers of football cleats while Twu Huolong Precision Lasts has been involved in making shoe lasts for football cleats and supplying them to footwear companies such as Pou Chen Corporation, Feng Tay, Nike.
Taiwan- a leading footwear design and development centre
Taiwan still retains its position as a key Footwear Design and Development Centre. There is no doubt that major Chemical giants such as BASF, Germany has in August 2020 set up its first Global Footwear Innovation Centre in Taiwan. The Centre features interactive footwear exhibits, biochemical labs, and manufacturing facilities to enhance the design capabilities. It also offers its footwear customers to co-create innovative components, process them, and find solutions together. 
Presence of Taiwanese companies in Asia and the growing market in India
Taiwanese companies have a lot of presence in countries such as Vietnam and China. The reason being that China has been the hub of low-cost footwear manufacturing while Vietnam offers a conducive environment from an EU-Vietnam Free Trade Agreement perspective, thereby influencing European brands to ask their contract manufacturers to set-up manufacturing in Vietnam.
However, due to the current Sino-US trade hostilities along with the increasing labour rates in China and the outbreak of Covid-19 in Vietnam, many Taiwanese companies are evaluating the feasibility of transferring production lines to other countries. For example, footwear production in Vietnam has faced difficulties as not more than 50% of the employees are allowed to work due to the Covid pandemic. There have been strict lockdowns announced in the country which has resulted production halts by Nike's key supplier- Pou Chen Corporation. As per the Vietnam Leather, Footwear and Handbag Association (Lefaso), the exports trend from Vietnam is expected to slowdown in the second half of 2021 due to the pandemic.
Considering the above scenarios, India has emerged as the next hub for footwear manufacturing. It is the 2nd largest producer and consumer of footwear in the world after China. The sector is a high employment generating industry offering jobs to more than 4 million people. It has emerged as a Champion Sector under the Prime Minister's Make-in-India drive. The exports of footwear from India in the period April 2020- February 2021 accounted for nearly 45.82% of the total exports of leather, footwear, and leather products. 
Two leading footwear contract manufacturers namely Feng Tay Enterprises and Apache Group are already present in India and are undergoing expansion in the country. These companies are facing success in India which acts as a testimony to the good investor climate in India. 
The Government of India is working towards enhancing the footwear industry. Key initiatives such as the launch of the Development Council for Footwear and Leather industry has been established for the implementation of promotional and development measures for growth of the labour-intensive footwear industry. 
A special package has been approved by the central government namely the Indian Footwear, Leather & Accessories Development Program.  This program was applicable for the period 2017-2020. It contained various sub-schemes such as those pertaining to the human resource development, job creation, establishment of institutional facilities, establishment of mega clusters, promotion of Indian brands, addressal of environmental concerns, additional employment incentives, measures for simplification of labour laws. It is undergoing revision and will be extended for the years 2021-2026 with new schemes such as Development of Design Studios. 
Another important initiative undertaken by the government has been the approval for the launch of the Mega Leather Park in Kanpur, Uttar Pradesh with an investment of INR 5850 Crore (~ $ 807 Mn). This will be India's first Leather Park which aims to create 50,000 direct jobs as well as indirect jobs for 1,50,000 people. 
Scope for future collaboration between India and Taiwan
With a growing market in India, there is immense scope for Taiwanese footwear companies to set up manufacturing in India, design and development institutes, shoe mold making facilities as well as increase sourcing from India. Through a collaborative approach, India can emerge as the next top footwear destination with R&D support from Taiwan.