If you are reading this article, chances are that you've already heard about the widely popular 'blockchain technology'. The term has gained massive traction since Satoshi Nakamoto (father of Bitcoin), published his famous white paper on a cryptography mailing list describing a digital currency that would allow secure, peer-to-peer transactions without the involvement of any middleman, whether that be the government, financial system or a company. Although Satoshi disappeared soon after he gave the world its first cryptocurrency, the technology has only scaled up with new innovations and better use cases. In 2020 itself, the global blockchain market size was estimated at $3 bn and is expected to reach $39.7 bn by 2025, growing at an impressive CAGR of 67.3% during the said period.
That said, the technology is also being received well in India. Many enterprises are trying to explore the technology by incorporating it in their daily business processes and a number of new start-ups are becoming a part of the big picture. In India, blockchain solutions have found the most takers in banking, financial services and insurance industry. The public sector has also been actively using this technology for use cases such as land title registry, vehicle lifecycle management, farm insurance and electronic health record management. Furthermore, India ranks second in terms of crypto adoption worldwide behind Vietnam, but ahead of countries such as the US, UK, and China, according to the 2021 Global Crypto Adoption Index by blockchain data platform Chainalysis. So, the rising adoption of this technology is evident but the main question that remains for us to answer is - how long before we fully exploit the power of this disruptor and can India position itself as the biggest technology hub adopting this technology?
As per a report released by NASSCOM, titled 'NASSCOM Avasant India Blockchain Report 2019', majority of the mid and large service providers have less than 5% of blockchain projects in India, which is low when compared to their projects in other geographies such as North America and Europe. Even among blockchain start-ups, while venture capital investments worldwide were as high as $5.6 bn, India was able to attract only 0.2% of them. Furthermore, India accounted only for about 2% of all the blockchain start-ups, globally. This shows that while the technology is being well received, it is still at a very nascent stage. There are many industries for which this concept is yet to be understood. Lack of knowledge and understanding are the primary challenges hindering the adoption and growth of blockchain technology. There are also misconceptions that blockchain will be replacing the current systems, which is not true. Unlike other technologies, which have the potential to deliver completely new services to citizens and other stakeholders alike, blockchain has the potential to revamp currently existing processes to unlock new sources of efficiency and value. Thus, the nascency of this idea presents India with huge opportunities to expand this market if it is able to tackle the bottlenecks well.
Now at this stage, many of us might be wondering why we should even expand and explore this idea. There are other sectors and challenges that require addressal. The current pandemic has also brought in dozens of other problems making it more difficult to implement this technology. So why should we?
There are several factors driving blockchain adoption in India, one of them being digitisation. Over the past decade, India has successfully created foundational digital infrastructure envisaged to enable private sector applications running on top of it such as Aadhaar, UPI, e-Sign and Digilocker along with digitally enabled tax governance networks like GSTN or digitally enabled health coverage such as Pradhan Mantri Jan Arogya Yojana (PM-JAY). These already lay a good base for us to experiment with the adoption of this technology in different sectors. Moreover, governance in India faces several challenges given the scale, diversity and complexity of processes involved in the delivery of varied public services. Blockchain offers unique possibilities for addressing issues relating to improving governance. In business, by allowing 'self-regulation', India can considerably move towards improving the 'Ease of Doing Business' by allowing entities to interact through a trusted medium with a reduced dependency on cumbersome regulatory oversight and compliance. By empowering citizens through features of transparency, decentralization and accountability, blockchain would help in improving ease of living as well. There are also several benefits that would directly affect the economy such as better contract management and procurement, greater accountability and quality control across supply chains and decentralization of authority in decision making. For example, blockchain can radically transform the agricultural sector in India by revamping the utility of eNAM, creating an audit trail of all farmer produce and removing the mistrust between farmers and arhatiyas (mandi intermediaries). Blockchain applications can also be used to explore certification of the provenance of organic produce, thus increasing marketability to foreign markets. Some more use cases for the Indian context are illustrated through the charts below.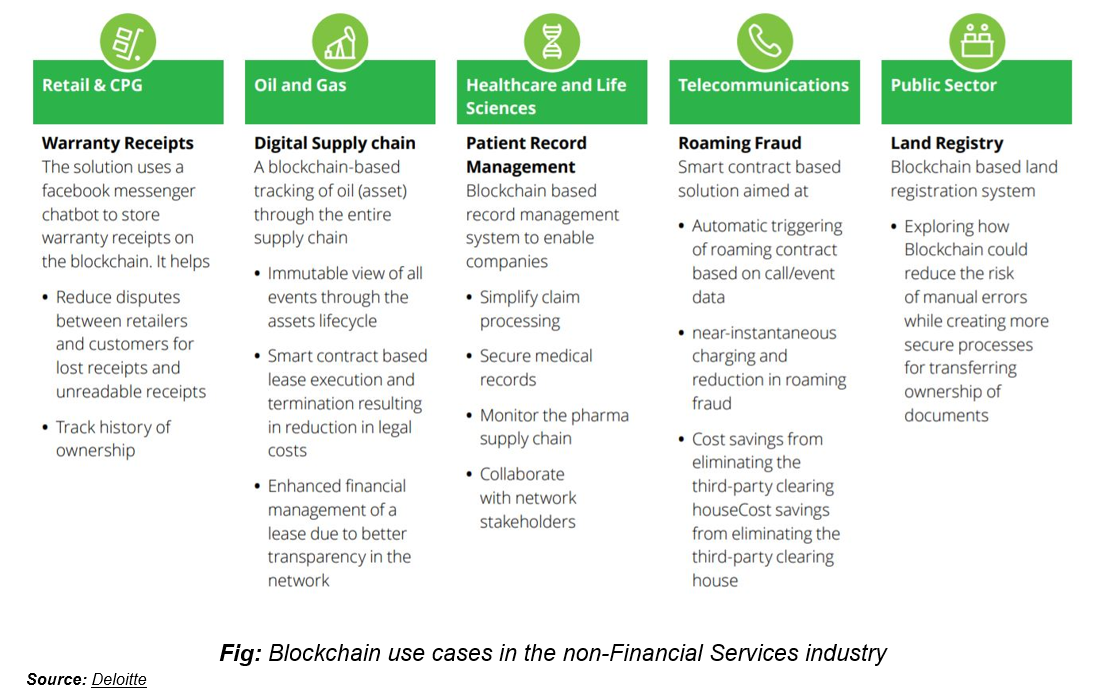 Blockchain has extensive practical applicability. It can introduce a completely new way of dealing with business problems with improved efficiency. There are several businesses adopting the idea and given how India wishes to position itself in the technology space in the coming years, this trend is only to continue. Moreover, technology efforts in India are being supported by players abroad as well. Foreign direct investment (FDI) in computer software and hardware jumped over threefold to $26.14 bn during 2020-21 on account of significant growth in the country's technology space, according to data from the Department for Promotion of Industry and Internal Trade. The sector received $7.67 bn FDI in 2019-20 and $6.41 bn in 2018-19. The computer software and hardware sector accounted for about 43% of the total $59.63 bn foreign inflows that India attracted in 2020-21.
The technology space in India is growing significantly on the back of the rapid end-to-end digitisation of businesses. This has especially accelerated during the lockdowns over the last year that has forced businesses to automate processes across the value chain and this is likely to further accelerate this year and in the next 2-3 years. Thus, we can see how India is set to become one of the most important technological hubs of the world. And, while we have witnessed how the 'Internet of Information' has changed our society over the past two decades, we are now entering a phase where Blockchain may do the same by ushering in a new paradigm comprising 'Internet of Trust' and 'Internet of Value'.
This blog has been authored by Vivek Sigchi.