RFID and Blockchain in Animal Husbandry and Dairying in India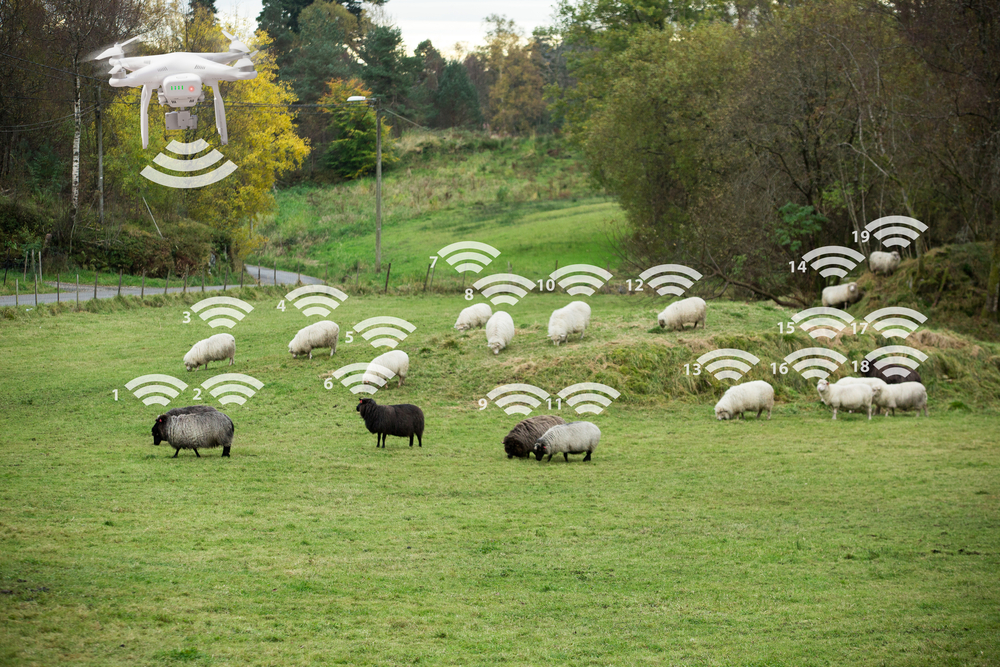 Animal epidemics, loss of livestock, low prices are all a major source of worry for livestock farmers all around the world. From farmers losing investments made in livestock to degradation in the quality of commodities and even the risk of transfer of disease to humans- pose a grave danger to the animal husbandry industry. To tackle these growing problems, scientists around the world have come up with several advanced level technologies. 
One way to tackle these growing problems is through better identification and tracking of animals. It can help the authorities to control exotic animal diseases and ensure the safety of native species. Furthermore, helping to strengthen the government's vaccination and disease prevention management of animals, improving the ability to diagnose and report animal diseases, as well as the emergency response to domestic and foreign animal epidemics while at the same time increasing the customer's involvement in the process. 
Radio Frequency Identification (RFID) is one such technology identified to tackle these growing threats. Earlier being used to identify enemy jets in the skies, it has now made its way to local farms around the world. RFID refers to a technology whereby digital data encoded in smart labels is captured by a reader via radio waves. RFID methods utilize radio waves to automatically identify objects, collect data about them, and enter those data directly into computer systems with little or no human intervention. At a simple level, RFID systems consist of three components: an RFID tag or smart label, an RFID reader, and an antenna. 
Countries around the world are increasingly adopting new technologies to improve the quality of food provided and the health of the animals. In China, RFID technology has also been applied to food safety tracking management and has received strong support from many local governments. In May 2002, the Ministry of Agriculture issued the "Administrative Measures for Animal Immunization Markings", which stipulated that pigs, cattle, and sheep must wear ear tags for immunity and establish an immunization records management system. In 2012, New Zealand introduced the National Animal Identification and Tracing (NAIT) program with the objective of protecting livestock from disease. It aims to record the location and movement of individual animals and contact details of the person in charge of them. 
'Blockchain' could be the next big innovation for the animal husbandry industry around the world. It is a sequence of blocks that holds a complete list of transaction records. It is a distributed ledger, or database, shared across a public or private computing network. Along with providing benefits like decentralization, transparency, and immutability, it also reduces reliance on third-party for verification of information.
One of the major advantages of blockchain in the animal husbandry and dairying sector is that it disrupts the current methods used to convey food quality and safety adherence and will differentiate by enhancing traceability and trust. It also facilitates international trade by streamlining the process of import and export. It provides full transparency in the end-to-end order and delivery process by removing third party transactions, therefore, increasing the adherence to regulatory norms. Being a decentralized technology, it makes sure that all data is reviewed and validated by the network, ensuring its accuracy and validity. Furthermore, it helps in reducing the internal administration costs as lesser manual processes and paper usage are required. Food safety can be guaranteed by storing up-to-date, accurate quality assurance certificates on the blockchain and can be shared with the need to know parties. Moreover, it can also enhance the shopping experience of the consumers by sharing with them end-to-end supply chain information through augmented reality.
Farmers, too, would gain insights into their own farm performance metrics by this technology. They will be able to gain unfiltered customer feedback and gain a better understanding of the handling points across the food chain. Additionally, cattle trade would become more secure and all the involved parties would have access to legitimate animal records prior to making the purchase decision. Blockchain will also keep a record of all the transactions, ensuring that regulations are obeyed during the transactions. Blockchain, combined with advanced data analytics, will enable farmers to obtain an insight into their own farm performance metrics. Analytics will enable best in class practices to be shared with farmers across the network, thus, enabling greater education and adoption of efficient farming practices nationwide. Moreover, digitization of assets and storage of data will eliminate the need for paper, resulting in improved documentation. The capturing of data will enable performance benchmarking of farmers and make it easier for them to get approval on finance applications. 
Indian startups such as EmerTech Innovations have been using Blockchain to solve the problem of traceability in India, their developers have been working on Blockchain from even before it got famous because of 'bitcoin'. This start-up has built a mobile application that will enable farmers to connect with the consumers and vice versa. The app provides information about fruits, vegetables, grains and other farm produce like milk and milk products sold in retail stores. The app named 'AgroTrust', is aimed at bringing in transparency in pricing and eliminating exploitation of farmers by middlemen. The startup won the Animal Husbandry Grand Startup Challenge hosted by Startup India and the Department of Animal Husbandry and Dairying (DAHD).
The Indian government is making continuous efforts to join the technological revolution in the animal husbandry sector. The Information Network for Animal Productivity and Health (INAPH) program of the National Dairy Development Board (NDDB) is an ambitious program of the government to implant microchips for cattle identification to curb the stray animal menace and check insurance frauds. 
The stray animal nuisance has become a major problem in India as owners abandon their cattle after they stop yielding milk. Tracing the owners was a difficult task. Further, there is no mechanism to find out whether the stray cattle had been abandoned by the local farmers or released from borders of other states. The RFID tag would solve the identification problem. RFID tags act as the unique identification of the cattle. The tag is attached to the ear of an animal and the information about the animal is scanned and stored in a mobile device. The tag has a 12-digit identification number similar to the Aadhaar ID. Technicians affix the tag with a special tool, give the cattle's owner a card recording the UID, owner name, breeding details, deworming and vaccination status. All the information is collected in an online database. The tag can be used not just to identify the animal and curb theft cases but also to procure data on the live weight gain of each animal. This can be used to send alerts through SMS to owners and veterinary doctors as per their need and also help prevent loan frauds as with the ID, the authorities will know whether the cattle were mortgaged before or not. The RFID-tag is cheap and the cost is worked out at Rs. 8 per tag thus, making it affordable to most farmers.

There is still a long way to go to incorporate these technologies into the Indian animal husbandry and dairying sector. However, steps are being taken in the right direction. As Mr. Atul Chaturvedi, Secretary, Animal Husbandry and Dairying Department, said in a recent webinar held by ASSOCHAM on 'Innovative Trends and Technological Advancement in Dairy Processing', steps are being taken to improve the value chain through AI guns, collecting milk through automated processes, monitoring animals' health through IoT and cloud-based technologies. Moreover, steps have also been undertaken to improve transparency and keep the customers in loop and make them aware of what they are purchasing. Therefore, it would be safe to say that India is on the right path and there exists a huge market for investments in the technological advancements in the animal husbandry and dairying sector in India.
This article has been co-authored by Sanya Talwar and Amrit Chadha.