MSME COVID-19 Technology Showcase on 21 May 2021
MSMEs, being the second largest employment generating sector of India after agriculture, contribute 30% to India's GDP. They are playing a vital role in combating the COVID-19 pandemic. With increasing demand for critical equipment such as oxygen concentrators, ventilators, PPE etc. required for treating COVID patients, several MSMEs have shifted their focus towards manufacturing this critical equipment. The agility and dynamic approach of the MSME sector in adopting technological solutions is a critical component in this battle to control the devastation being caused by the COVID-19 pandemic.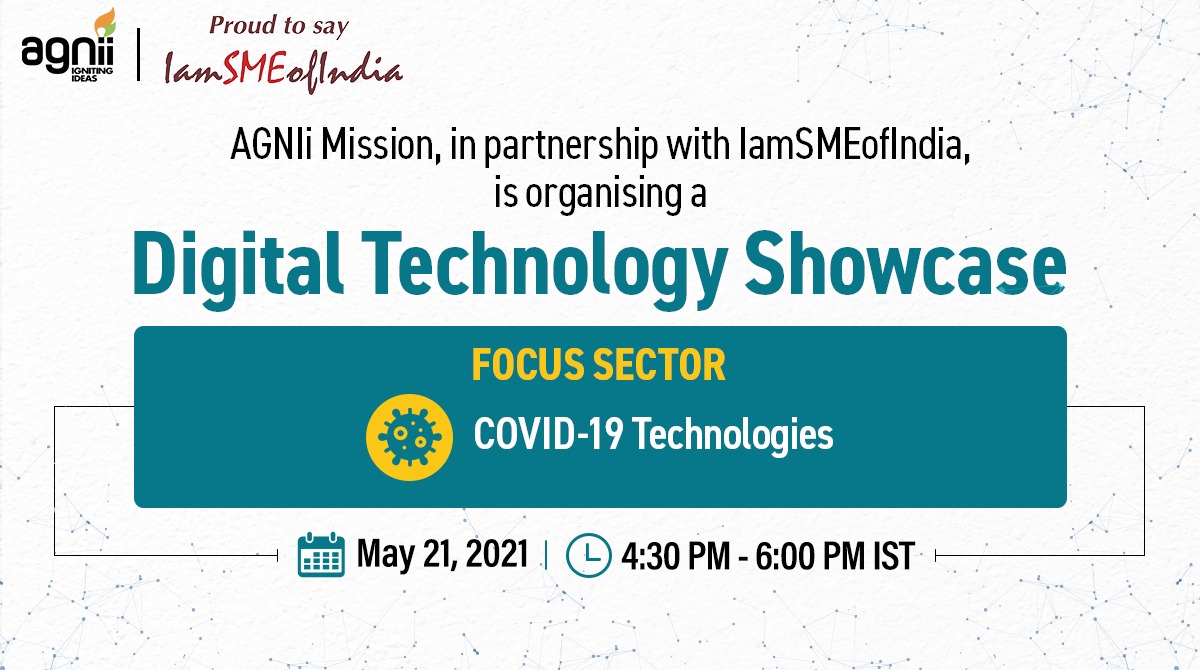 The AGNIi Mission actively engages with multiple Industry Associations and Development Institutes. It aims to sensitize and showcase innovative solutions to their wide network of MSMEs which they can manufacture and help scale up production and as a consequence, availability of these solutions. Seeing the increasing demand for COVID-19 technologies, the team organized a digital technology showcase in collaboration with IamSMEofIndia, one of our key partners.
The showcase, held on 21 May 2021, focused on critical care equipment and technologies that assist India's COVID-19 emergency response. The following startups were invited to showcase their solution to IamSMEofIndia's network of MSMEs:
Blackfrog Technologies: EMVÓLIO is a patented rapid cooling technology for safe last-mile transport of vaccines, breast milk, bloodserums, medications and specimens with minimal freeze-thaw cycles.
Briota: Briota's SpiroPRO™ is India's first CDSCO approved handheld digital spirometer powered with ML based on demographics data specially collected from Indian patients.
Vexma Technologies: Emergency Breath Assist Ventilation device for respiratory and pulmonary emergencies
Oxyheal - Oxygen concentrators that use Hyperbaric Oxygen Therapy to treat chronic wounds, which are wounds that do not heal over a long period of time.
O2Matic: Patented technology that generates instant medical grade oxygen. No power supply is required; ensures continuous oxygen flow even during replacement of cartridges.
Thirty-two MSMEs participated in the showcase, and the innovators directly engaged with them to pitch their technologies and garner feedback. AGNIi Mission will continue to focus on engaging MSMEs with emerging technologies from the Indian innovation ecosystem.