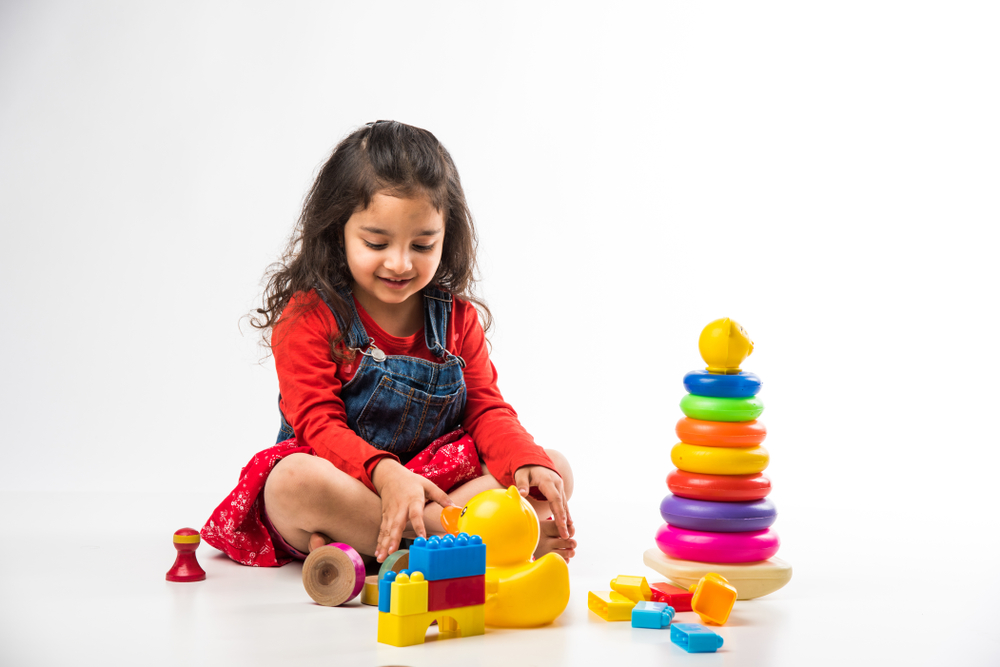 The Indian toy industry dates back to the Indus Valley Civilization which is about five thousand years old. The earliest variety of toys included whistles shaped like birds, toy monkeys which could slide down a string and small carts which were made from natural materials like sticks, clay and rocks. However, recently, the coming of advanced technology and machinery within the sector, has led to manufacturing of modern and innovative toys. The past few years have seen a lot of new developments and growth within the toy industry in India.
The Indian market offers a large variety of toys that can be broadly classified into distinct categories on the basis of toy type, gender and distribution channels:
Toy Type: Segregating toys as per toy type, plush toys are the most popular segment due to their safety and popularity across age groups. Other major toy types include electronic toys, games and puzzles, construction and building toys, dolls, ride-ons, sports and outdoor play toys, infant/pre-school toys and activity toys.
Breakup by Gender: The toys can be segregated as unisex toys, boys' toys and girls' toys based on gender with the unisex toys accounting for the majority of the overall market, thus, dominating the Indian toys market.
Breakup by Distribution Channel: The market can further be segmented on the basis of distribution channel such as specialty stores, super and hyper markets, online and others. Within this segment, specialty stores represent the largest distribution channel.
At present, the electronic toys and games as well as the battery-operated toys are not yet being manufactured in India.
The Indian toy market worth around $1 bn, includes factory produced toys by Micro, Small and Medium Enterprises (MSMEs) and large units plus imports, which have been rising at the rate of 10-15% every single year.
The evolution of the domestic toy industry can be attributed to the following key factors:
Newer and more innovative products being introduced into the Indian market
New age parenting: In order to give a boost to a child's brain, creativity and functioning, newer parents are much more careful and selective while introducing toys and games to their infants. This has led to a huge surge in demand for more educational toys and games constructed out of safe and high-quality material.
COVID-19: The recent pandemic has led to people being stuck in their homes with much more time on their hands. The new social order has led to increase in the sale of multiplayer games domestically.
Disruption of supply chains from China: The toy industry in India has been facing severe competition from Chinese manufacturers with China being the world's largest exporter of toys. However, due to the recent disruptions in the supply chains from China caused by the pandemic, a vast untapped potential has been realised within our domestic market.
Younger population demographic: The Indian toy market provides a vast opportunity to be tapped since a major part of the Indian population is below the age of 25.
Within the Indian market, Maharashtra currently represents the largest market followed by Tamil Nadu, Karnataka, Gujarat, Delhi and others. Some of the leading players operating in the market are: Funskool, Lego, Mattel, Hasbro.
The domestic toy industry has also been growing and is a top contender under the 'Atma Nirbhar Bharat' initiative. Exuding confidence in the industry, Prime Minister Narendra Modi has encouraged start-ups to work towards making India a global hub for toy production.
The toy industry plays an important role in bridging the gap between day-to-day studies and practical hands-on learning. This is also a prime focus of the New Education Policy 2020. Additionally, some innovative companies have also developed programmes like STEM toys startup Smartivity. These games offer STEM learning activity boxes for kids that expose them to real-world applications of fundamental scientific principles.
Therefore, a supportive ecosystem for such companies within the industry can help speed India's self-reliance efforts in the sector, and even push for a higher share in exports.