The ambitious vision of the Indian government towards infrastructure modernisation provides great scope for the construction industry to extend numerous foreign investment opportunities. In fact, between years 2018-23, the said industry is believed to grow at a rate of 6.4 per cent, whereas the sale of construction-related equipment rose by 35 per cent in 2018 alone. By the year 2023, the industry is estimated to acquire a value of around $ 690 billion, with residential construction continuing to hold largest market share of 30.1 per cent of the construction industry's value.
These figures project a highly promising future of investment in the industry through development of smart cities, improvement of logistics and transit routes, along with assurances of affordable residential situation for all. The presence of a flexible regulatory mechanism in the sector is another enable of inviting interest of greater number of foreign investors.
Recent Profile of the Construction Market
The construction sector in India is increasingly growing, including developments in real estate and urban development. Construction of houses, hotels, leisure parks, offices are some of the examples of real estate projects, while urban development projects include highway construction, school construction, transportation and healthcare infrastructure, treatment of waste materials, water supply, and power. The construction industry also comprises a wide range of activities and accounts for about 55 per cent of the steel industry, 15 per cent of the paint business and 30 per cent of the glass industry.
As a result of all of this, India is predicted to become the world's third largest construction market by 2025. India has simplified foreign investment regulations in this area to assist this expansion, and the real estate sector was itself estimated to attract $ 5 billion in investment by 2020. In terms of creating jobs, the Indian construction sector employs 51 million people, making it the most employed sector in the country in the year 2017.
Existing Policy for Foreign Investment in Construction
India's current foreign direct investment (FDI) policy allows for 100 per cent FDI in the following sectors:
• Residential and commercial properties, highways, bridges, hospitality, hospitals, education and recreational facilities
• Managing and operating completed townships and commercial construction
• Beginning real estate development projects in Special Economic Zones (SEZs)
• Building industrial parks.
According to government data, India's construction sector received FDI worth $ 17.22 billion for infrastructure activities and $ 25.78 billion for construction projects from 2000 to 2020. Several major construction projects have also been launched since the beginning of 2021 to enhance infrastructure and aid in the achievement of critical economic objectives, such as:
A 0.5 million square foot land piece to be incorporated into the Mindspace Business Park REIT, a well-known Real Estate Investment Trust.
Gujarat government plans to open new industrial parks in 8 districts to help micro, small, and medium-sized businesses (MSMEs) expand their manufacturing capacity, including medical equipment, car auxiliary goods, food products and engineering.
To accomplish one of the core UN Sustainable Development Goals (Clean Water and Sanitation), the Jal Jeevan Urban Mission has proposed providing water to all families in 4,378 statutory towns through operable taps.
The government had earlier stated that by 2022, it hoped to have affordable housing in all urban areas. All of this would necessitate a large infusion of foreign funds and the creation of flexible investment frameworks. The government forecasts that infrastructure development will require FDI worth $ 777 billion. Moreover, to mediate the effects of COVID-19 pandemic and improve investor facilitation, the Indian government is considering permitting limited liability partnerships (LLPs) to finance townships, hotels, hospitals and highways. Foreign investors are currently required to agree to a three-year lock-in period before departing India's building business. Encouraging LLP firms to participate could attract more FDI.
Construction-related Allocations under Union Budget 2021
In order to successfully attract potential foreign investments, the finance minister highlighted the following sectors in her Union Budget 2021 to demonstrate the government's commitment to attaining India's infrastructure goals:
• The Ministry of Housing and Urban Development would get INR 500 billion ($ 6.85 billion).
• The Pradhan Mantri Awas Yojana, which promises to provide urban homes for all by 2022, would get INR 275 billion ($ 3.76 billion).
• The Smart Cities Mission, which aims to endorse smart cities that offer their residents with fundamental infrastructure, a reasonable quality of life, and a sustainable and clean environment, has been allocated INR 137 billion ($ 1.88 billion).
• The Swachh Bharat Mission (Urban) has been given a budget of INR 23 billion ($ 315 million), with the goal of launching a campaign for a clean urban India by enhancing sanitation and public health, eliminating manual scavenging, and so on.
• A budget of INR 99 billion ($ 1.36 billion) has been set aside for the Swachh Bharat Mission (Rural), which intends to launch a campaign for a clean rural India through improving sanitation and public health, eliminating manual scavenging, and so on.
The Opportunities Ahead
There is a consistent increase in the infrastructure and real estate demand in India. The value of the industry is expected to be at $ 1 trillion come 2030, and is believed to constitute 13 per cent of the total Gross Domestic Product (GDP) by 2025. In addition, the projected growth of urban population to half of the entire population by the year 2025 is another indication of the impending expansion of scope for the sector.
At the moment, since its initial release in 2019, the National Infrastructure Pipeline (NIP) has been India's largest infrastructure project, with a five-year construction duration. The project intends to deliver world-class infrastructure to Indians, improve their quality of life, and attract foreign capital investment in capital projects. By collating all available information (provided by departments, state governments, and the corporate sector) about infrastructure sub-sectors and recording all greenfield and brownfield projects the costs of which exceed INR 1 billion ($ 13.71 million), NIP hopes to create a "harmonised master list of infrastructures". Along with this, or foreign companies, the NIP has created 'Marquee Opportunities', outlining specially designed strategic partnership openings that every investor can thoroughly investigate to resolve which project fits their needs best, available for comparison across disparate sectors as well as sub-sectors.
Most recently, on October 13, 2021, the Prime Minister also launched the 'Gati Shakti Master Plan' to curate a nurturing environment for infrastructural development by establishing ease of coordination between various government ministries and departments, fast-tracking planning while bringing down costs. The master plan includes: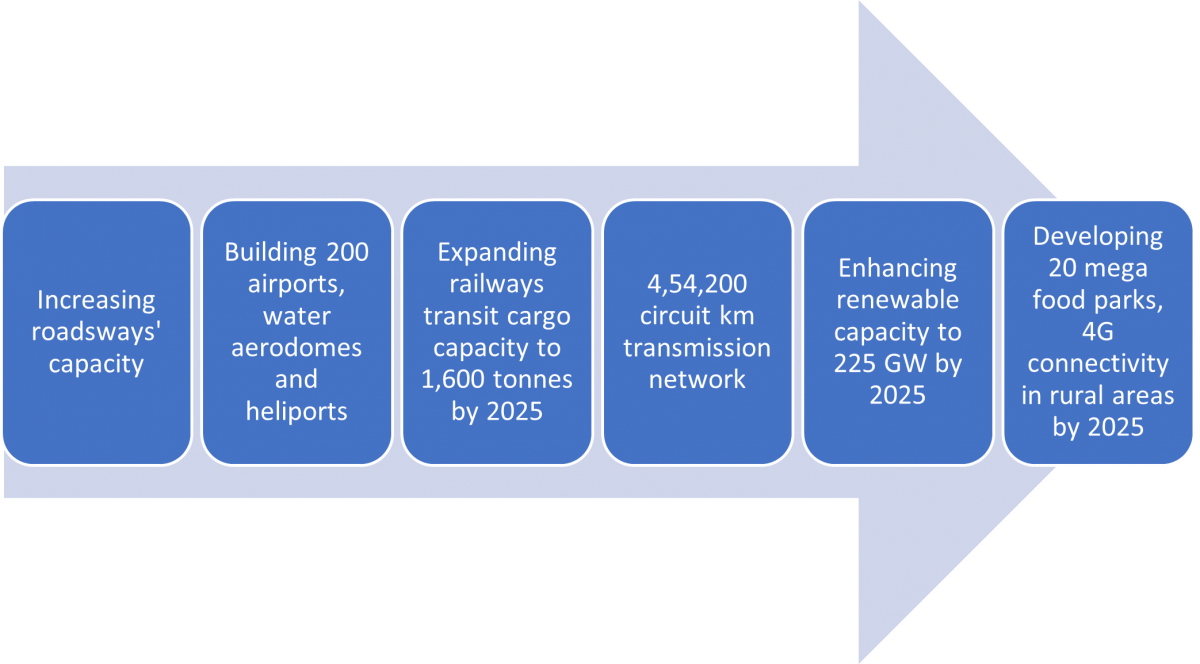 Finally, the geographic information system (GIS)-supported digital platform under the Gati Shakti initiative will enable various ministries and other stakeholders to access required information with respect to the landscape, satellite images, physical features and other existing facilities. This will benefit investors by saving time and funds on approvals, thus, facilitating a more swift implementation.

This article has been co-authored by Kanika Verma and Radhika Sharma.