Aerial Ropeways: Connectivity and Tourism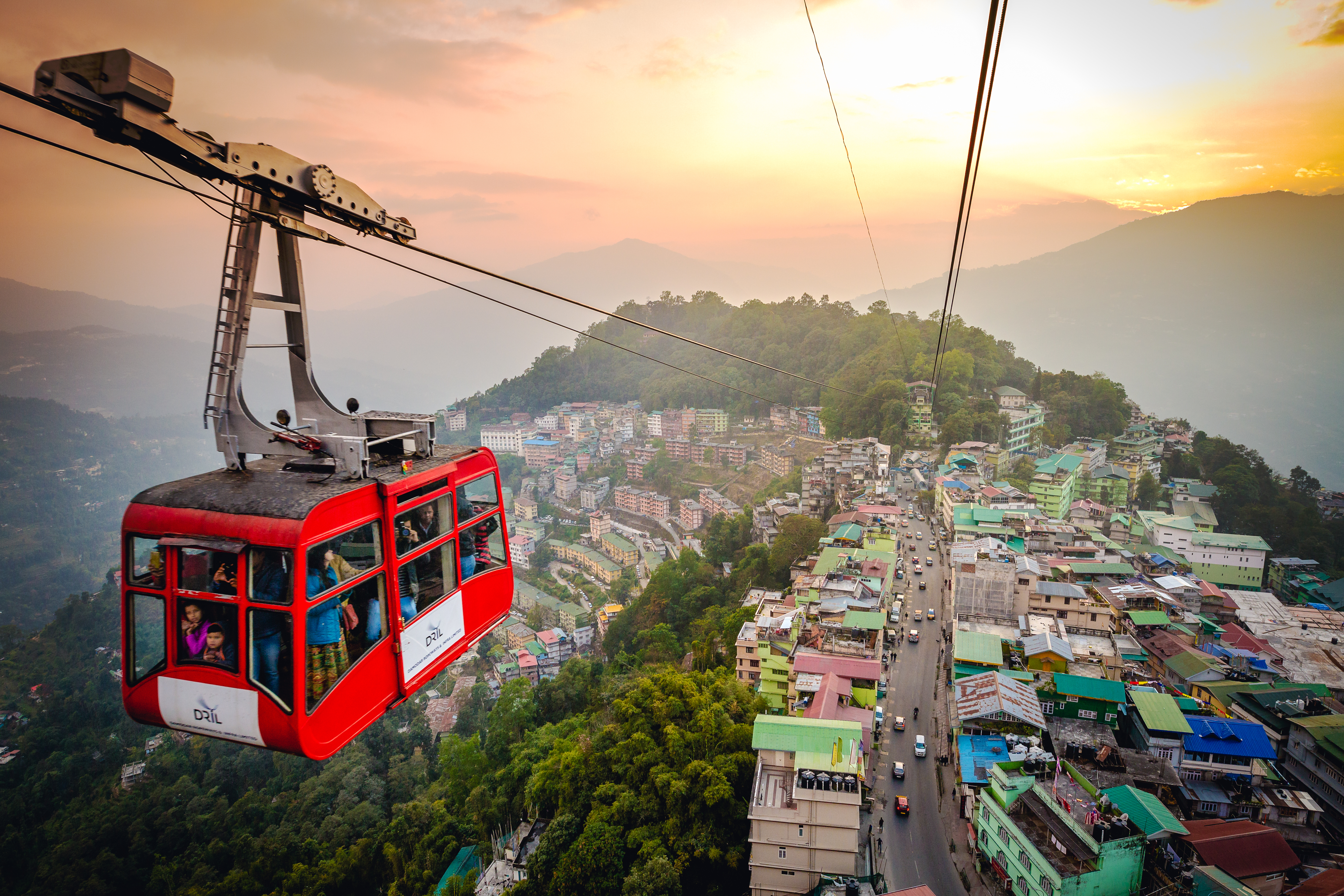 Overview
In India, aerial ropeways have a huge scope in promoting tourism and has the potential to be developed as a means of public transportation. Mass Transit systems provide settlements with significant advantages for social, economic and environmental improvement. However, geographical and topographical barriers and infrastructure costs prevent the implementation of Conventional Public Transportation (CPT) systems in regions like hilly terrains and inland waterways. In hilly terrains like Himachal Pradesh, inland waterways like Goa and even metropolitan cities like Bangalore, aerial ropeways can be seen as a viable alternative for public transportation. Aerial cable systems or urban gondolas, a type of aerial transportation mode in which passengers are transported in a cabin that is suspended and pulled by cables, is one of the solutions to such cases. 
Global Scenario
Austrian company Doppelmayr and French company POMA are the two leading companies showcasing how urban gondolas are enhancing recreational and transportation opportunities across the globe. These companies are going beyond the tourism perspective to make aerial ropeway system operate as a mass transit service and a part of the public transit systems. 
There are currently two leading technologies, MDG and 3S technology of urban gondolas. Monocable Detachable Gondolas (MDG) is the most common CPT system as their low cost has made them an attractive addition to public transit systems in the developing world. However, MDG urban gondolas suffer from a relatively low capacity and given their single cable are prone to stoppages due to winds in excess of 50 km/hr. MDGs are therefore most useful in calm wind environments with low capacity needs. On the other hand, 3S systems are relatively expensive as compared to MDG technology. They cost between $10-30 million ($) per kilometre depending on capacity and stations. However, the technology provides the ability to span huge distances without towers. 3S technology is appropriate for complex crossings in mountain settings, but not in an urban environment where more closely set, lower profile towers would be necessary. 
Tourism Potential (Hilly regions and North - Eastern States)
In India, the hilly regions and North Eastern states, road and connectivity with other regions, villages and states is a prevalent problem. Furthermore, the maintenance of existing roads is another problem due to heavy rainfall, soil erosion and even snowfall in certain regions. With the district roads being least in number, it is important to link the districts with one and another; state highways and national highways, because only after the roads are constructed is it possible to link them with the markets, which are a must for the development of agriculture and allied sectors. Between the villages of hill districts, a simple and cost-effective aerial ropeway system can be introduced because road transport fails when it rains or snows. This will also help develop the district, town and village as a tourism hub and provide employment. 
For this purpose, the aerial ropeway model in China undertaken by Doppelmayr can be replicated for states like Uttarakhand and Himachal Pradesh. With the operation of Gondola 3S technology model on Mount Lushan in Jiangxi province, visitors now have a safe and environment-friendly transportation. Before the cable car was constructed, travellers had to travel via the road which took longer travel time via the ropeways. The 2,864m ropeway was built with an initial capacity of 3,000 passengers per hour per direction (29 thirty passenger cabins) but can be expanded in the future to 4,000 passengers per hour per direction (39 thirty passenger cabins). The ability to expand will allow system operators to accommodate future visitorship growth. Hence, this model would fit perfectly in the hill region transportation system. Through the ropeways, all the important destinations of each district can be linked and by giving the responsibility of the project to a single agency (like Doppelmayr) at a decentralised level, project implementation will be more effective. 
Water Ways Potential
Goa is one of the states in India with good inland water transport prospects with the navigatable length of waterways being 90.84% of the total length of rivers/lands/lakes as reported by the state. Ferry services as a means for the development of waterways pose a variety of problems. These include storage infrastructure of ferries, inadequate water channel depth, insufficient water flow, etc. Hence, aerial ropeways as an alternative means of transportation over the inland rivers could be a viable option. In 2016, construction of aerial ropeways to connect Panaji to neighbouring Reis Magos was proposed by the state Tourism Minister. However, efforts to execute the project faster were turned down by the Investment Promotion Board (IPB). Hence adequate support to state tourism department can be provided to fasten the process of implementing the ropeway project in Panaji. The GTDC had also signed an agreement with a private firm Royal Rides Private Limited (which is in partnership with Doppelmayr) to implement the project. This can be a pilot project to test the efficiency of ropeways as a means of public transportation and can be implemented in other inland waters if proved successful. The Sentosa line in Singapore (aerial ropeways along an active harbour) can be looked upon as a reference model for Goa's aerial ropeways. Learn more about Goa for further investment opportunities in tourism.
Way Forward
French company POMA had proposed a cable car facility within Bengaluru to provide feeder services to the Metro rail. Bengaluru Metro's east-west corridor, which opened in April connecting an 18-km distance between Mysuru Road and Byappanahalli, is catering to 1.1 lakh passengers daily. The corridor, however, lacks feeder services. The aerial ropeway model of Medellin which runs along similar lines as proposed by POMA in Bengaluru can be considered a viable model to be replicated. If this model runs successfully in Bengaluru it could also be implemented in metropolitan cities like New Delhi and Mumbai which also face a huge problem of vehicular traffic and the consequent environmental pollution. Although the proposed project by POMA in Bengaluru has not been channelized, another ropeway project has been initialised in the Nandi Hills. This ropeway project would have two parallel ropeways carrying multiple cable cars, each with the capacity to carry around 20 people. The cable car project will not only add to the thrill of hundreds of visitors to Nandi Hills, situated at an altitude of 1,848 feet from the sea level but go a long way in cutting down vehicular traffic on the road going up the hillock. 
Cable cars fill a unique role in increasing tourism and developing urban transport mechanism. They provide a high-quality transport experience, contribute little to air pollution or climate change, and are particularly well suited to the challenging terrain. As being a means of public transport, they simultaneously cater to the tourism perspective as well. They don't serve quite as many passengers as mass transit systems like metro, for instance, but they typically require less time and money to implement. Perhaps the main advantage of aerial cable cars, however, is that they open the door for wider engagement with marginalized urban communities.