Modern Warehousing – The Coming of Age of the Godown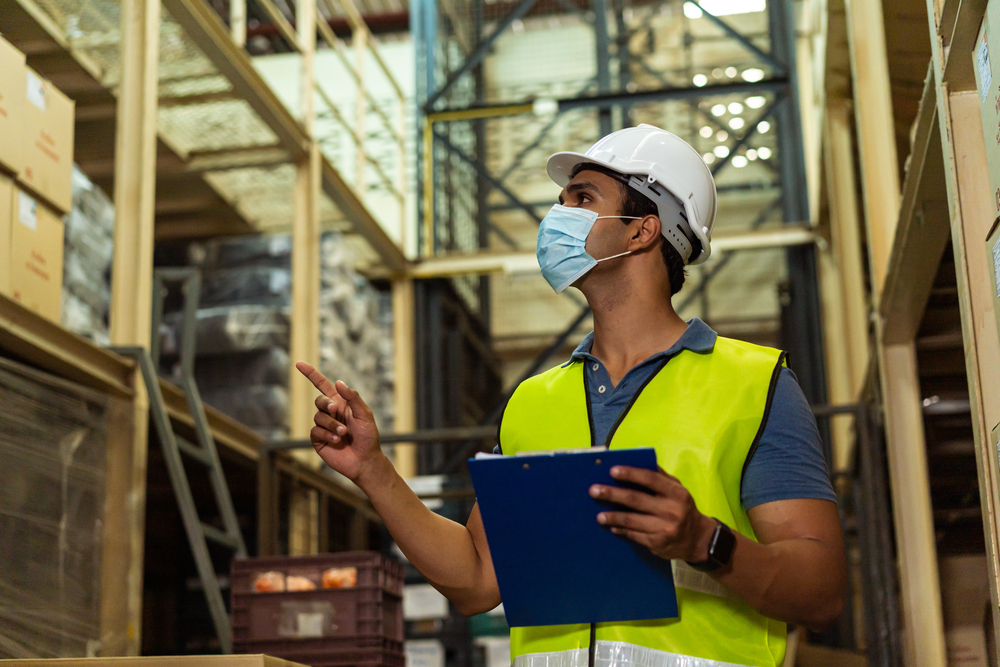 About a decade ago, the term "warehouse" would conjure images of dusty godowns – buildings of an undefined shape located in the outer limits of cities, structures with no more than 4 walls, stacked haphazardly with inventory from floor to ceiling. Fast forward to 2020, and warehousing is not only a highly sought-after sub-set of the commercial real estate asset class but is also a pivotal part of India's logistics sector.
 Over the past few years, India has made significant progress by building logistics infrastructure and carrying out various regulatory and structural reforms. Various schemes such as Pradhan Mantri Gram Sadak Yojna, Industrial & Dedicated Freight Corridors, Bharatmala and Sagarmala projects, Jal Marg Vikas, and UDAN have provided enabling infrastructure for logistics.
India's warehousing sector came into the limelight c. 3-4 years ago, triggered by the implementation of the Goods & Services Tax (GST) in 2017. Before the GST regime, most companies had multiple, small warehouses across states for the sole purpose of minimizing taxes. The introduction of GST allowed firms to start focusing on building efficient supply chain networks by establishing optimal-sized warehouses in fewer locations. 
Another landmark policy move was the 'Infrastructure' status that was granted to the entire logistics sector, and hence, by extension to warehousing.  This coupled with the 100% FDI permitted in warehousing has led to substantial institutional investor interest in the warehousing space. 
Until recently, warehousing in India was largely characterized by ageing infrastructure, limited mechanization in cargo handling, low technology adoption, and limited value-added services. The strong institutional interest in warehouse development and operations over the last few years has transformed the warehouse from being just a large storage room to a facility that adds value in packaging, inventory management, and extraction of products. 
E-Commerce – Championing warehouse growth
The sectoral end-users of warehouses can be broadly classified as 3PL (Third Party Logistics), e-Commerce, Manufacturing, FMCG, Retail, Consumer Durables.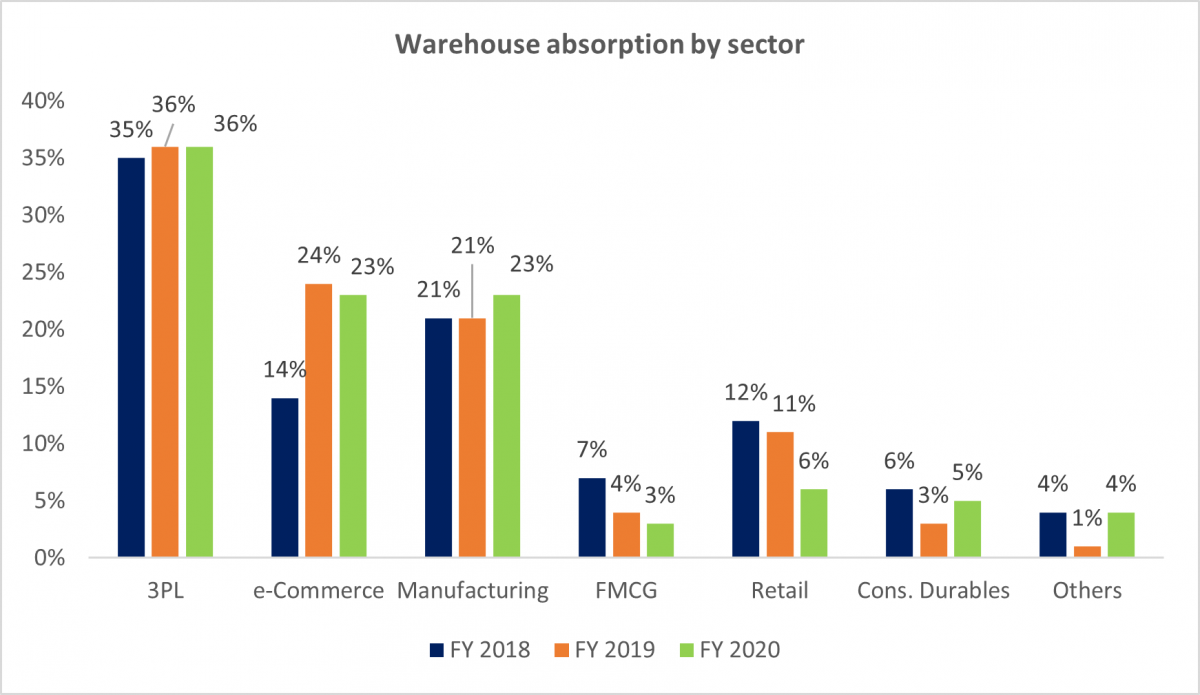 While some sectors such as automobiles and engineering have experienced a COVID-19 led prolonged slowdown thereby reducing demand for warehouses, others such as e-commerce and FMCG have seen a transformation in consumer behavioral patterns leading to accelerated acceptance, which in turn has led to an enhanced demand for warehouses from these end-use sectors. 
3PL operators have maintained their position as the leading end-users of warehouses over the previous three years. This observation is in line with the trend of most companies, including those in FMCG, Retail, and e-commerce outsourcing their logistics operations to 3PL operators. The big shift has been in the adoption by the e-commerce sector, with a ~70% increase between FY 2018 and FY 2019. 
Of all the end-use sectors for warehousing, it is e-commerce that has seen a mega jump over the last 3 years. This is in line with the growth of the sector itself in India, which was estimated at $ 70 Bn in 2019 and is expected to grow to $ 160 Bn by 2022. The warehousing absorption by e-commerce has grown at a CAGR of 55% between FY 17 and FY 20 and stands at 8.5 Mn square feet in FY 2020. Its share in warehouse demand also grew from 15% in FY 2018 to 23% in FY 2020. 
Fundamental market characteristics that are driving this growth are increased smartphone penetration, low mobile data costs, rising disposable incomes, and busy lifestyles. 
The lockdown (March 2020 – July 2020) witnessed a specific sub-segment of e-commerce take center stage in India – online grocery, including fruits & vegetables. Falling under essentials as per the government's directive, e-commerce players in this segment continued to operate during the lockdown. In the absence of functioning physical stores in their neighbourhood, almost everyone was forced to adopt the online route for their household's daily needs. This was further enforced due to the safety of digital payments. Interestingly, over the period of the pandemic, this forced adoption has led to transformative customer behaviour as far as e-commerce is concerned. More and more people, who were hitherto naysayers to the online shopping model, were forced to realize the relative advantages offered by e-commerce platforms – whether it was in delivery times, mode of payments, product variety and quality, or simply the safety and ease of transactions. 
Many e-commerce companies started opting for in-city warehousing to reduce delivery times of perishable items as well as to avoid the movement restrictions that were placed on even inter-district transportation. In-city warehousing is being seen as an important infrastructural requirement, especially in the major consumption centres, where delivery timelines are shrinking from 'next-day' to '2 hours'. Internationally, in mature markets such as Singapore and Hong Kong, in-city warehouses are built as multi-storey facilities because of the higher land cost compared to peripheral areas. While the land requirement for in-city will be 4-6 acres compare to 25-30 acres in peripheral areas, the premium land cost and the increased building development cost associated with multi-stories will need to fetch higher rents from tenants. Developers will thus look for longer lease tenures and lock-ins to ensure rental yields from such properties. In India, major metro markets – Mumbai, Bengaluru, and NCR – might be the only ones to see multi-storey warehouse development in the short term.
While in-city warehouse might be restricted to the major urban areas, overall growth of e-commerce led warehousing has extended beyond the top 8 markets to the next rung of cities such as Ludhiana, Coimbatore, Vapi, Guwahati, Patna, Siliguri, Bhubaneshwar, Dholera and Lucknow. 
Growing popularity of Grade-A warehouses
2020 saw large scale supply chain disruption during the lockdown. COVID-19 highlighted the significant dependence of the global supply chain on China. The broad-based sentiment to move this concentration out of China to other manufacturing locations could potentially benefit India. The Government's program of "Atmanirbhar Bharat" (Self-Reliant India) focuses on limiting imports and increasing domestic manufacturing capabilities. The recently introduced Production-Linked Incentives (PLIs) in various sectors such as electronics, pharmaceuticals, food products, white goods, telecom & networking products, auto components, etc. is targeted towards attracting global manufacturers and choosing India as the preferred destination. 
Global manufacturers bring with them expectations of international standards of compliance, human safety, hygiene, and automation when it comes to warehousing requirements. This is in line with the affinity being shown towards Grade-A warehouses with a conscious shift towards technological advancement, modernization, optimization, and automation.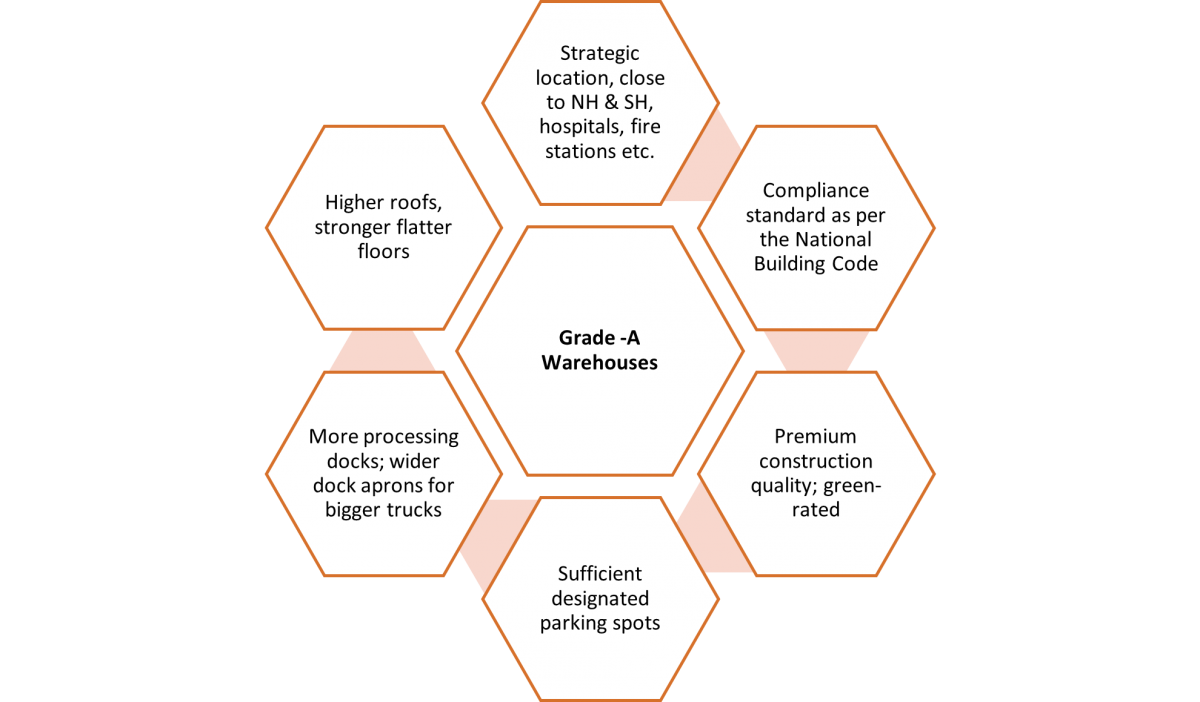 As of FY 2020, the top 8 cities (NCR, Mumbai, Ahmedabad, Pune, Bengaluru, Kolkata, Chennai, and Hyderabad), are estimated to have 307 Mn square feet of warehousing stock. The total buildable potential is estimated to be 500 Mn square feet, leaving 193 Mn square feet of potential warehousing that can be built on the existing land parcels. This is projected to be warehousing demand for the next 5 years, based on 2020 absorption rates.  
While there has been an increased momentum to develop Grade A warehouses, the existing stock is still largely Grade B. Around 64% of the total warehousing stock across these 8 cities is Grade B, with a significant chunk of it clustered in the Mumbai and NCR area because of presence of older stock. This underscores the potential for large-scale development of Grade A warehouses.
Rapid development activity
Acquiring suitable land with good trunk infrastructure proves to be a tedious process faced by many companies, which is further aggravated by the time and effort needed to deal with multiple state authorities and urban local bodies to get all the approvals in place. Built-to-suit, plug-and-play facilities developed across the country by large developers such as Indospace, Embassy Group, Mahindra Logistics, Welspun One, Logos, etc. are being presented as a solution to international companies that are facing land acquisition issues while setting up their India presence. There is rapid scale-up activity being witnessed, wherein leading players are acquiring or developing warehouses/industrial parks close to industrial clusters across the length and breadth of India. 
Indospace, launched by private equity firm Everstone, has a portfolio of ~37 Mn square feet across 36 parks, spread across the country.  
Mahindra Logistics has a footprint of 16 Mn square feet of warehousing facilities and has recently added .75 Mn square feet in Hyderabad and Chennai. 
Welspun Group acquired One Industrial Spaces to become Welspun One – an integrated industrial real estate platform focused on the warehousing sector in India. They are currently developing a 110 Acre Grade A logistics park in Bhiwandi (Mumbai Metropolitan Region)  
Logos India – a JV between Macquarie-backed Logos Property Group and India's Assetz Property Group – is backed by Ivanhoe Cambridge (CDPQ) and QuadReal Property Group, with $ 800 Mn capital to develop & own warehousing facilities in India. The JV has acquired 2.2 Mn square feet of leasable warehousing space in Chennai. 
Hiranandani Group 's JV with Blackstone - GreenBase - has plans to develop 12 Mn square feet in the next 3-5 years and recently signed an MoU with Govt. of Tamil Nadu to develop a logistics park at Oragadam for INR 750 Cr ($ 100 Mn)  
Promising investment landscape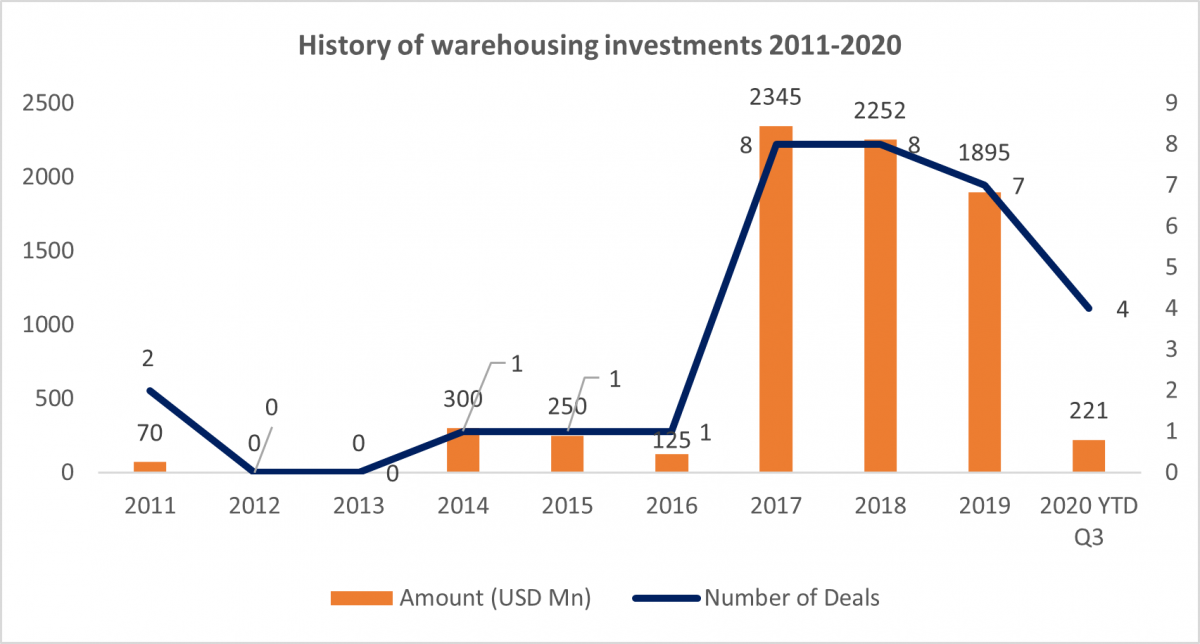 The numbers speak for themselves. Warehousing as an investable asset class was not even a blip on the radar for private equity investors for the better part of the last decade. The fortunes of the warehousing sector turned around in 2017, when the various policy initiatives coupled with the growing e-commerce segment made it a favourable sub-segment in real estate, second only to office.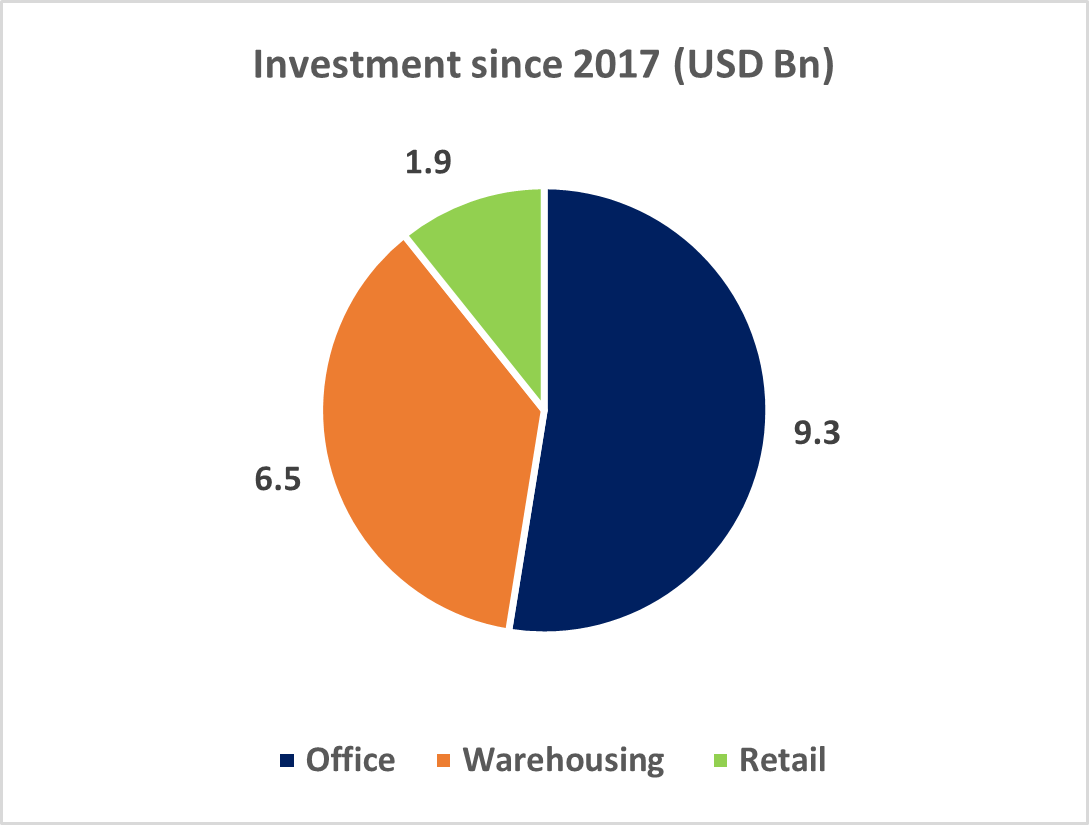 Notable deals in the warehousing space 
| | | | |
| --- | --- | --- | --- |
| Investor | Company | Amount ($ Mn) | Year |
| CPPIB | Indospace | 1,300 | 2017 |
| Ascendas | Firstspace | 600 | 2017 |
| Macquarie & Ivanhoe | Logos & Assetz | 400 | 2017 |
| GLP | Everstone | 500 | 2018 |
| Allianz | ESR | 1,000 | 2018 |
| GLP | Indospace | 700 | 2018 |
| Temasek | Ascendas Firstspace | 300 | 2019 |
| Blackstone | Hiranandani | 60 | 2020 |
| Welspun Group | One Industrial Spaces | Undisclosed | 2020 |
| GIC | ESR | 750 | 2020 |
The current landscape does not offer a wide base of mature assets for investments. However, since warehouses are a relatively quick-to-develop structure (with most being developed within 12 months), there is a big opportunity for greenfield investments.  
Most states in India are offering incentives for developers interested in investing in warehouses and logistics parks such as: 
earmarking land for warehouse/logistics parks
single window and time-bound clearances
labour law relaxations
allotment of government land
stamp duty & registration fees concessions
providing critical utilities at no cost
power at a concessional rate
Strong demand from the end-user base coupled with supportive policies both from the central government and state governments makes a compelling case for institutional investments to keep growing in the warehousing space over the next 5 years.
Trends to watch out for in warehousing
While GST has allowed companies to consolidate their warehousing presence to optimize sizes and locations, industry experts hold the opinion that given the distribution of consumption centers across urban and rural areas, length & breadth of the country and transportation time, it would be prudent to have multiple warehouses to reduce transportation timelines and costs. 
Most businesses are moving away from Just-In-Time and lean inventory models because of the large-scale supply chain disruption experienced during the lockdown. Increased stocking requirements will, in turn, enhance the demand for warehouses.
Consumption-led demand has led to the emergence of e-commerce in the Tier-II & III cities. This has led e-commerce players to set up warehouses in smaller cities beyond the top 8 cities. 
India is seeing a flurry of startups with business models centering around warehouse automation and technology. Some popular technologies being integrated into the modern warehouse include Internet of Things (IoT), Robotics for picking, sorting, and handling of SKUs, Augmented Reality (AR), Radio Frequency Identification (RFID), drones for inventory monitoring, and blockchain for data encryption.
The warehousing segment has proven itself to be one of the quickest asset classes to recover from the pandemic. Robust demand and key policy interventions have paved the way for institutional investors and large-scale developers to participate in the growth of the sector.
Conclusion
For any sector to flourish, the entire enabling ecosystem must be tuned towards large-scale adoption and rapid growth. For the warehousing sector in India, all the enabling elements have fallen in place – supportive government policies, large amounts of private capital, enabling trunk infrastructure and most importantly, end-user acceptance. With all these engines of growth firing on all cylinders, the time has come for India's humble ugly godown to transform into the integrated modern warehouse.