Ladakh: The Land of Rising Opportunities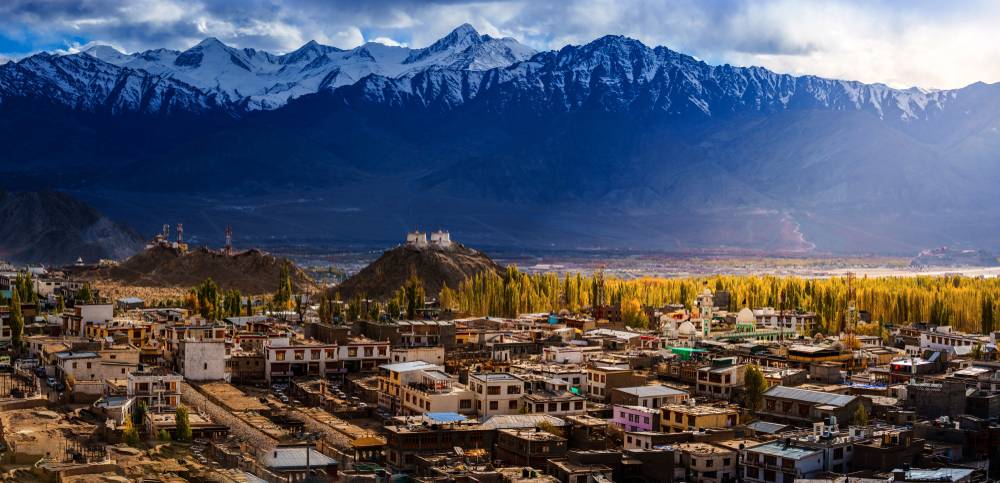 Ladakh comprises of large rugged regions but is home to some of the warmest people. It stretches for about 45,000 square miles and shares international borders with Pakistan, China and Afghanistan. Popularly known as the "land of passes" it has a chilly and dry climate with an average annual precipitation of about 3 inches (80 mm). It sees severe winters and houses some of the highest places of the world. 
A landmark event in the history of the region was its transformation into a Union Territory almost two years ago. This was also highlighted by Mr. Sharad Kumar Saraf, President Federation of Indian Export Organisations (FIEO), who said that the bold steps taken by Prime Minister Narendra Modi would bring investments to the UT into various sectors with huge potential like tourism, renewable energy, horticulture and food processing by boosting trade and commerce to enable export of these products and services outside of the region. This piece examines these sectors and highlights the great potential that this region has to offer.
Tourism: Ladakh is a one-of-a-kind combination of nature, spirituality, and adventure. The union territory is surrounded by the Karakoram and Himalayan mountain ranges to the North and South while Leh, the joint capital and the largest town is located at an altitude of 11,400 feet. It is tailor made for tourism with the tourism industry accounting for half of Ladakh's GDP and employing a large number of people in allied industries such as automotive, hotels and catering and cottage industries. The sector was expected to be roughly worth INR 600 crore ($ 84 Mn) in 2020. The diverse topology comprising of cold deserts located at high-altitudes in the Great Himalayas coupled with the picturesque locations make it a favourable spot for both domestic and international tourism. It boasts of key tourist attractions such as the Khardung La Pass which is the highest motorable pass (at 18,350 feet) in the world and the gateway to Nubra Valley; the crystal blue Pangong Tso Lake and many world renowned monasteries. It would be fair to say that a visit to Ladakh is high up on many a travellers' bucket lists.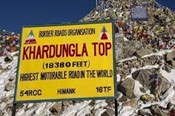 In the year 2019, the total number of tourists that arrived in the UT were 2,79,937 out of which 38,652 were foreign tourists. In 2020, the total number of tourist arrival fell to 6,079 (5,019 domestic and 1,060 foreign) owing to the COVID-19 pandemic. To bring to fore the beauty of Ladakh, the Ministry of Tourism conducted a webinar titled "Ladakh: Explore the Unexplored" under its webinar series "Dekho Apna Desh". Despite having so much to offer, only a miniscule of the tourism potential of Ladakh has been tapped as of now. The time is now ripe for tourism to take off in Ladakh.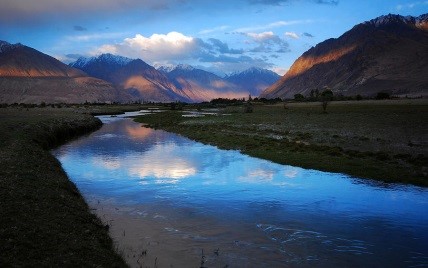 Renewable Energy
Solar Power: Ladakh receives about 320 days of clear sunshine every year and has the highest solar radiation intensity in the country, leaving even solar energy hotspots like Rajasthan behind. According to various studies, the potential of solar power in Ladakh and Rajasthan combined could give 25% more capacity utilisation figures to solar power producers. As of April 2021, Ladakh had installed a power capacity of 3,482 Megawatt (MW). In collaboration with the Solar Energy Corporation of India (SECI), Ladakh initiated a carbon neutral initiative for the implementation of 50 MW solar storage plan with the aim of making Leh self-sufficient in power. The National Institute of Solar Energy has estimated the country's solar power potential to be at 748 GW. In line with this vision, in his Independence Day speech on the 15th of August 2020, the Prime Minister announced the government's intention of establishing a 7.5 GW solar power park in Ladakh with an estimated outlay of INR 45,000 crore that aims at putting the UT on track to becoming carbon neutral region. SECI also plans to enter into Power Purchase Agreement (PPA) for a period of 35 years with successful bidders to purchase solar power.
Besides this, the government has launched a number of other initiatives aimed at attracting investments in solar energy:
Atal Jyoti Yojana (AJAY Phase-II) aimed at installing 3,04,500 Solar Street Lights (SSLs) in several states including UTs of Jammu & Kashmir and Ladakh. 
Pradhan Mantri Kisaan Urja Sursksha Evam Utthaan Mahabhiyaan (PM KUSUM) that aims at boosting the agriculture and allied sectors by generation of 25,750 MW of solar and other renewable capacity (by 2022) through a central financial outlay of INR 34,422 crore. 
Off-grid and Decentralised Solar Photo Voltaic (PV) that aims at installing solar power plants in areas where grid power has either not reached or is not reliable. 
Keeping in mind India's plan of harnessing solar energy and the adequacy of sunlight in Ladakh, it is evident that only a miniscule of Ladakh's solar potential has been realised till date. Thus, numerous and significant investment avenues for many key players remain open and as and when the same are utilised, 'sunny days' will truly dawn upon Ladakh.
Wind Energy: According to the Director General of National Institute of Wind Energy, K Balaraman, owing to its valley terrain and temporal variation with an estimated potential of 5,311 MW at a hub height of 50 meters, Ladakh has the potential to generate wind power of up to 1 lakh MW at a hub height of 120 meters (hub height here refers to the distance from the turbine platform to the rotor of an installed wind turbine). Ladakh, thus, holds the promise for setting up several commercial scale wind energy projects in the future. 
Hydro Energy: Over the past few years, hydro-power has become an increasingly popular as well as a clean source for generating electricity. Consequently, the government has ramped up its own investments in this renewable source of power as well as invited private entities to do the same. Ladakh, where Indus first enters India, offers exciting prospects for hydro-power projects due to the presence of several rivers and run-off streams. Having understood this, public and private entities have made sizeable investments in hydro-power projects in Ladakh, the most recent being by the National Hydro-Power Corporation (NHPC). Furthermore, the central government's 'Small Hydropower Programme' incentivizes state government entities and Independent Private Producers (IPPs) to set-up new 'Small Hydro' projects by providing them considerable subsidies.
Food Processing and Horticulture
Apricot: In a move aimed at boosting agriculture in the Ladakh region, the first commercial shipment of Apricots sourced from Ladakh were exported to Dubai in September 2020, this was a historic moment that marked Ladakh's potential in export and helped chalk out a way forward. The UT produces an approximate of 15,789 metric tons (MTs) of apricots out of which, four to five varieties meet the export standards.  
According to Saugat Biswas, Secretary, Industries and Commerce, this step will open the floodgates to bring in other budding exporters from the region. He further mentions that the 'Halman' apricot found in the Kargil region are 30% sweeter than the imported ones and also highlights that along with apricots, other superfoods of Ladakh including Sea buckthorn have huge potential for export and must be given the requisite attention. 
According to Ravinder Kumar, Secretary, Agriculture and Horticulture, various initiatives are being taken up by the Horticulture Department in Ladakh in the sphere of apricot production. These include setting up of a Centre of Excellence (CoE) for genetic improvements, a 'Gene Bank' for avenues to diversify production of apricot varieties, along with geo-tagging of these varieties and provision for proper cold storage facilities. The Department is also making a Farmer Producer Organisation (FPO) for the pressing of these apricots along with value addition and marketing. Apricot being a very versatile fruit gives a range of opportunities for value addition in the food processing industry in the form of products like apricot jams, dried apricots, the apricot kernel oil, which has also been successfully utilised in several other products like lip balms, facial creams, essential oils and protein isolates that have good quality attributes as well as great consumer applicability.   
Mr. Kumar also added that Ladakh's Agriculture and Horticulture Department is planning to go fully organic. He stated that use of chemical fertilisers have been decreased by 30% this year, and that Ladakh will be 100% organic in both agriculture and horticulture sectors over the next two to three years. While applauding the entrepreneurs, Mr Naveen Gahlawat of Krishak Agritech, Moses Kunzang, Director, Industries and Commerce, stated that there are many more items from Ladakh that need to be shown and delivered to other regions of India and abroad. 
Seabuckthorn: Seabuckthorn is a hardy plant that can tolerate extreme temperature variations and has immense nutritional and medicinal value. Ladakh offers favourable terrain and climatic conditions suitable for natural growth of these berries. A study instituted by the Ministry of Agriculture and Farmers Welfare points out that nearly 70% of the total land under Seabuckthorn cultivation in India is found in the Ladakh region. Despite this, though, due to manual harvesting methodology being resorted to, only 5% (500 tonnes) of this fruit is being harvested. Added to this is the fact that Ladakh undertakes only primary processing of the fruit and lacks the infrastructure for undertaking value added processing like in other parts of the country. An encouraging sign however, is that over the last two decades, the economic viability of this berry is on the rise with prices seeing a five times increase.

The most important aspect is that the demand for the berry is far in excess than what the Ladakh region can produce at present. Seeing the immense scope for growth of the Seabuckthorn industry, the government has included the development of Seabuckthorn under Mission for Integrated Development of Horticulture (MIDH) and is also looking at incorporating global best practices related to Seabuckthorn cultivation, harvesting and processing. It is well understood that the plant being a hardy one, can be grown in the vast barren regions of Ladakh with minimal requirements and interventions. Another related factor for growth of the Seabuckthorn industry would be the development of food processing and value addition industries in Ladakh as this would minimize the need to sell 90% of the fruit after primary processing only as is being done presently. This would also reduce the losses related to the perishability of the fruit. All this points to the fact that the Seabuckthorn industry in Ladakh is ripe for high growth and has the potential to provide a means for sustainable and inclusive economic development in this crucial trans-Himalayan region. 
Finally, infrastructure is the spine of all other sectors as poor/absent infrastructure invariably leads to investments turning sour. Having realised this, the government has, is and will continue to develop state-of-the-art infrastructure in Ladakh to ensure all sectors operate efficiently and effectively. To this end, the government has taken the following initiatives:
Constructed 8 new strategic bridges in Ladakh and sanctioned the construction of 45 others, to make all areas of Leh-Ladakh accessible by road.
Investments in air transport to boost tourism by earmarking funds for construction of 36 helipads and up gradation of the Leh airport.
Insuring smooth and reliable communication by announcing plan to achieve 100% telecom connectivity in Ladakh. 
The avenues highlighted above are of immense economic potential not just to Ladakh but also to the Indian economy at large. Consequently, the government plans to tap many of these sectors to bring about an all-round development in the region. Not only would this be a massive boost to Ladakh's economy, but at the same time, brings in multifaceted opportunities for both domestic and international investors alike. 
This article has been co-authored by Devika Chawla and Ishita Sirsikar.