Japan and India – Driving Innovation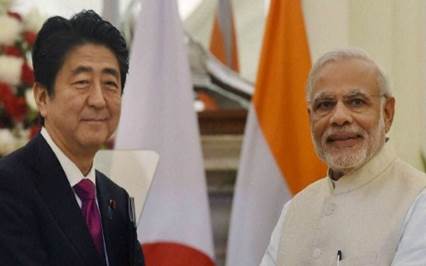 Bilateral relations between India and Japan have expanded rapidly in recent years. This is reflected in the number of high-level visits exchanged and several official dialogue mechanisms that are in place. The quality of our discourse is rich. The special strategic and global partnership between the two countries that was established during Prime Minister Modi's landmark visit to Japan in 2014, has been constantly strengthened through our mutual efforts. There is optimism on both sides about the potential of our future ties. 
India and Japan have shared values, with a long history of friendly exchanges. Our special strategic and global partnership has acquired a broader significance in the current global context. Our growing convergence on economic and strategic issues is important for peace, stability and prosperity in the Indo-Pacific region.
Today, India has emerged as the fastest-growing large economy in the world. It is a global hub for manufacturing and innovation. Under Prime Minister Modi's leadership, India is strongly committed to improving the 'ease of doing business' climate in the country. We have set into motion many far-reaching changes to build infrastructure, reform the business environment and promote education, skills and economic development.
Japan has always been a natural partner in India's transformational journey. There is vast scope to combine our relative advantages, be it capital, technology or human resources, and to work for mutual benefit. Japan's presence is visible in major infrastructure and capacity-building projects across India. Our flagship initiatives such as Smart City, Digital India, Startup India and many others welcome Japan's entrepreneurs with new opportunities. 
The Union Cabinet has recently approved the signing of a Memorandum of Cooperation (MoC) between India and Japan on the 'Technical Intern Training Program (TITP)'. TITP is an ambitious program to send 3,00,000 Indian technical interns to Japan for on the job training for a period of three to five years. 
The Japanese government, to further augment bilateral trade between India and Japan, has invited Indian companies to explore business opportunities in the manufacturing and healthcare sectors under the new 'Society 5.0' initiative. Society 5.0 aims to address various social challenges arising through the adoption of new-age technologies such as Industry 4.0, i.e., AI, IoT, Big Data, Robotics etc. Such initiatives would further create a great demand for Indian IT and engineering companies and startups, which can explore several business opportunities, especially in the field of manufacturing, mobility, healthcare and agriculture etc.
In order to promote more investments from the Indian companies, JETRO has already established a dedicated Indian Desk under its 'Invest Japan' initiative to assist and give step-wise support to Indian companies and provide the incubation facilities. JETRO has successfully facilitated the investment of approximately 35 Indian companies and is actively helping the business expansion of more than 60 Indian companies in Japan.
It is important that R&D and business leaders exchange more information concerning mutual benefit areas of cooperation, establish joint research programs and accelerate communication between younger scientists. The most promising areas of collaboration, effective ways to achieve the maximum potential from a product and prospective roles adopted by different sectors are areas that need attention.
India and Japan share a common vision of a sustainable future. Coming together of Japanese skills and Indian innovators will help bridge the communication gap between different sectors and improve proficiency. The Government of India is committed to transforming India into a knowledge-based society and such collaborations will be instrumental in achieving the same.
To learn more about India-Japan relations, Visit our Japan-Desk country page