Invest India: Winner- AIM 2020 Investment Awards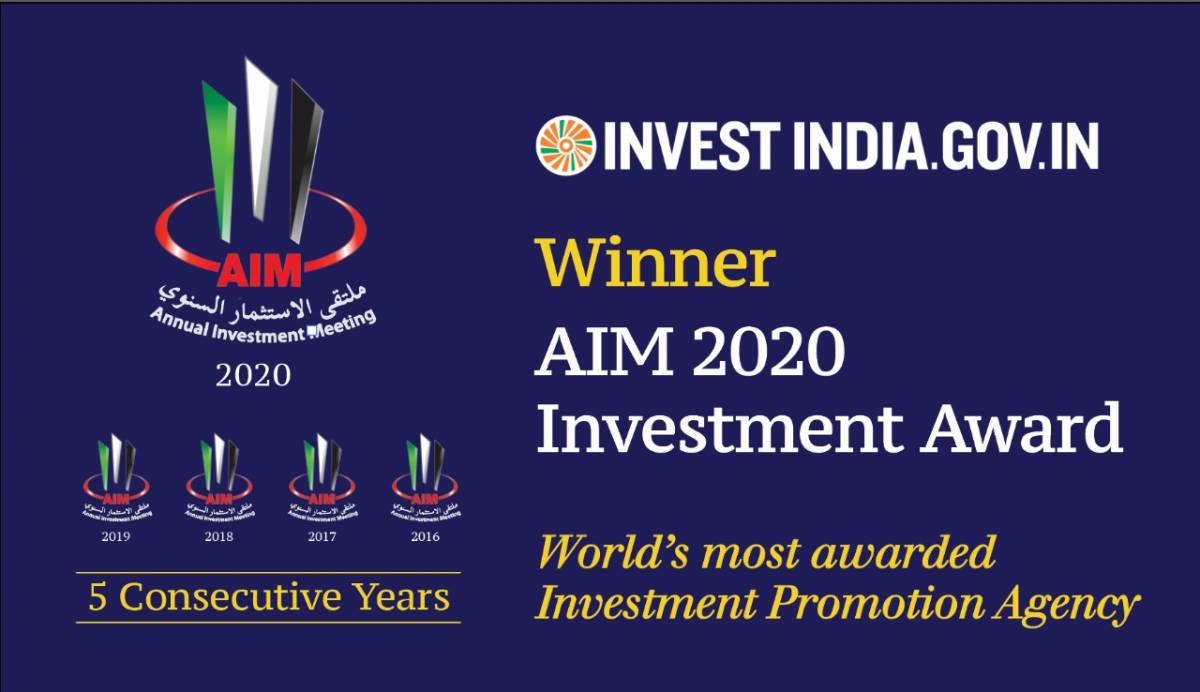 India's multiple-award winning investment promotion agency, Invest India, has once again won the AIM Investment award, an initiative of the Ministry of Economy of the United Arab Emirates. The AIM Investment Awards is an important feature of AIM. The award was launched for the first time at AIM 2013 and has become a widely appreciated recognition of the best investment promotion agencies (IPAs) attracting the best investment project in a given year. This coveted recognition, continues Invest India's record-breaking run of winning every possible honour in telling the India opportunity story. At the AIM 2020, India was recognised as the foremost Investment Promotion Agency in the South, East Asia and Oceania Region.  
This year, the event saw participation from 15,000 participants from governments, investors and corporates from across 9 global regions. A global independent jury of 9 renowned international experts undertook the evaluation for the award. This year the winner was evaluated on the following six criterion:
Investment Size (10%)
Trade Balance Effects (10%)
Knowledge Transfer (20%)
Investor Servicing Process (20%)
Sustainability and Local Linkages (20%)
Impact of Digitalization on FDI Attraction (20%)
Invest India, the investment promotion wing of the Department of Industry and Internal Trade, Ministry of Commerce and Industry, Government of India, has played a seminal role in presenting the opportunities for business in New India to global investors since 2014. Today, with over 200 employees, Invest India has been responsible for aiding hundreds of companies in their Indian operations, while also providing support to emerging startups (through Startup India), to developing science and technology (through PM-STIAC), and to breakthrough innovations through AGNIi. The contribution of our organisation to the Indian growth story has been recognised consistently by the AIM award since 2016.  
Although 2020 brought its own challenges, Team India was able to create some of the most efficient structures and channels that enabled the organisation to fulfil its goals and objectives. The Business Immunity Platform, established in the immediate weeks after the coronavirus related lockdown, enabled us to extend support to various businesses during those challenging months. Invest India was able to secure the import and manufacturing of essential items (medical and otherwise) during this period, thereby lending a hand in the fight against Covid-19. It initiated the Exclusive Investor Forum—and government to business platform for investors from across the world and representatives of central and state governments in India.