Invest India has had a long-standing partnership with the Defence Research Development Organization (DRDO) assisting them with execution support for various innovation initiatives. The AGNIi Mission has supported the implementation of both editions of the Dare to Dream initiative that seeks to empower startups and innovators in the defence and aerospace fields. The first edition of the Dare to Dream challenge was organized in partnership with AGNIi to scout for and evaluate the best of what Indian innovation had to offer. Invest India has also partnered with DRDO on end-to-end execution of the Technology Development Fund (TDF) which focuses on MSMEs and startups registered in India and provides milestone-based grant funding.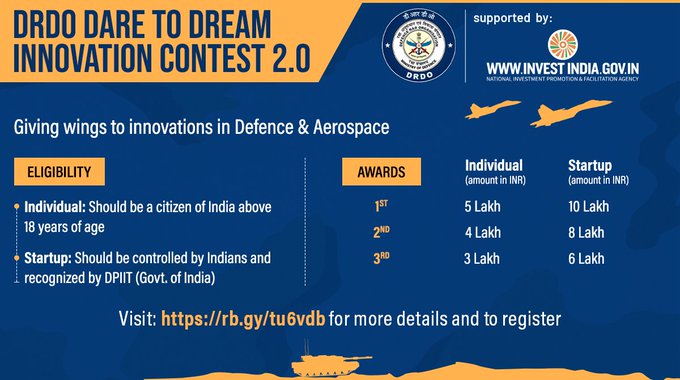 National security and defence have been among the strongest drivers of innovation and technological development throughout history, making them some of the most invaluable avenues to seek out high-quality innovations. Advances in these sectors have led to massive leaps forward in terms of UAV or drone technology, healthcare technologies that deal with effectively treating combat injuries, communications and logistics technologies that ensure proper and accurate information is relayed on the field, and so on.
AGNIi continued its partnership with DRDO by helping conduct the Dare to Dream 2.0 challenge. The AGNIi Mission reached out to innovators, undertook requisite promotion and outreach, and ensured the smooth operation of the challenge. From close to 2000 applications, the DRDO finally selected 40 winners across the individual and startup categories.
DRDO will provide support in the form of cash incentives across both categories. Entities adjudged to be 'first' will be awarded INR 5 lakhs in case of individuals and INR 10 lakhs for startups. Similarly, 'second' and 'third' placed entities will receive INR 4 lakhs & INR 3 lakhs (individual) and INR 8 lakhs & INR 6 lakhs (startup) respectively. Winners of the Dare to Dream challenge were announced on June 2021, and included technologies that innovated in AI, drones and aerospace:
Prize
Individuals
Startups
First

Mr Sudipta Sarkar
Ms Shivani Verma
Dr Jayaseelan J
Mr Poornakanta Handral
Mr Omkar Shirodkar

AiDrone Pvt Ltd (Mr. Joji John Varghese)
Greyeast Technologies Pvt Ltd (Mr Atharva Patankar)
Drshr Technologies Pvt Ltd (Mr Narender Lokwani)
Sagar Defense Engg Pvt Ltd (Mr Nikunj Parashar)
Bellatrix Aerospace Pvt Ltd (Mr Rohan M Ganapathy)

Second

Mr Venugopal Santhanam
Mr James Baskardas
Mr Rahul Singh
Dr Arunachalam N
Mr Akshay Vivek Joshi
Mr Arjun Chauhan

Light Motif Automation Sensors and Systems Pvt Ltd (Mr Krishna Kumar)
Log 9 Materials Sci Pvt Ltd (Mr Akshay Singhal)
Adpix Technologies Pvt Ltd (Mr Surya Raj Cheedella)
Vashishta Research Pvt Ltd (Mr Saurabh Chatterjee)
Cyran AI Solutions (Mr Manan Suri)
Yaakhai Healthcare Pvt Ltd (Mr Santosh AS)
Mirai-Drone Pvt Ltd (Mr Ashutosh Kumar)

Third

Ms V Sai Deepti
Mr Pravin N
Mr Himanshu Buckchash
Mr Prasenjit Ghose
Mr Akhand Rai
Mr Gurpreet Singh

Modelicon Infotech LLP (Mr Sunil Shah)
Uptime AI Tech Pvt Ltd (Mr Jagadish Gattu)
Chistats Labs Pvt Ltd (Mr Rahul Lahane)

Certificate of Merit

Dr Anirban Roy
Dr Mainak Basu
Dr Sritshta Dagubatti
Mr Pitambar Panda

Securefire Safety Industries Pvt Ltd (Mr Premendra Singh)
Aerostrovilos Energy Pvt Ltd (Mr Pradeep Thangappan)
Bioscan Research Pvt Ltd (Ms Shilpa Malik)

Certificate
Mr Himanshu Rai Sharma
DRDO will continue its engagement with the winners via the TDF scheme for nascent startups, which will potentially provide more funding and mentorship support to the winners. The scheme targets nascent startups & DPIIT registered entities that are less than 3 years old, for various project requirements with an estimated development cost of up to INR 1 Crore, including funding support of up to 20% for the incubators associated with the startup.