Indian Marine Sector — Catering the Global Platter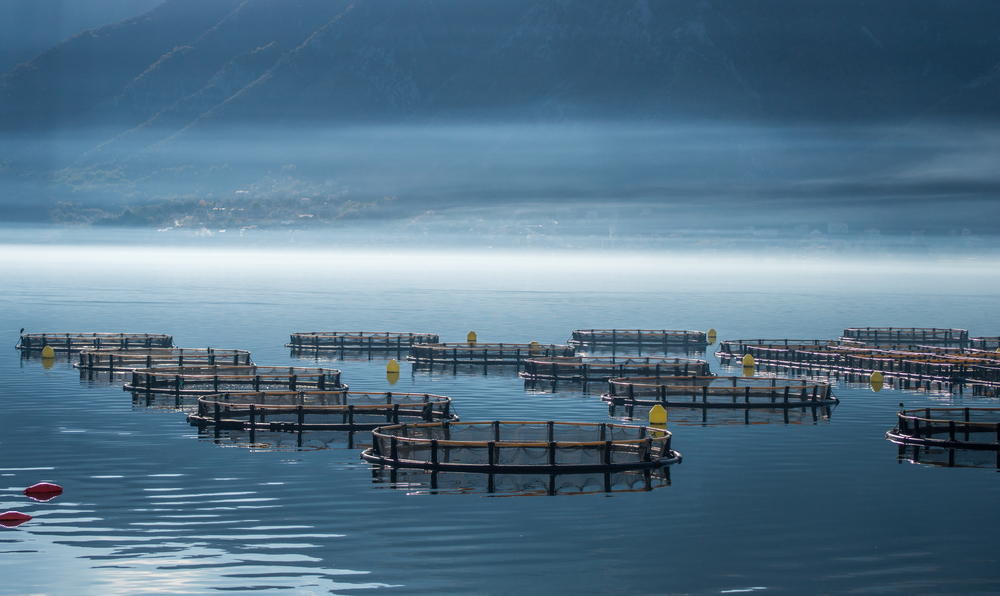 India has a long coastline spanning over 8000 sq km along with inland water resources. India has a natural advantage in the aquaculture sector. The freshwater culture resources in the country comprise 2.43 mn hectares of ponds and tank. The other resources readily available for the seafood industry players are natural lakes, reservoirs, irrigation canals and paddy fields and it boasts of 1.19 mn hectare area under brackish water.

In 2017-18, India's seafood exports have seen a growth of 13.7% in quantity and 10.1% in value. Research expects that in 2019 India's seafood exports will grow at 17-18%, clearly showing a demand for Indian products.  
This industry contributes 6.3% to the total global fish production and has 14.5 million people engaged in various fisheries-related activities. Due to the ability to generate livelihood aquaculture has now transformed into an essential commercial enterprise. India is the second-largest fish producing country in the world with an annual production of about 12.6 MMT; it is aimed to increase it to 15.00 MMT by 2020.
In 2017, India was the largest exporter of the shrimp followed by Ecuador and South America.
India's shrimp exports have been increasing to China. US is the largest market for Indian marine products, followed by South - East Asia, EU, and Japan. In terms of items, India's shrimps are demanded globally, followed by fish.  India exports 1,87,873 MT frozen shrimps to the US and 9,533 MT to China. Japan emerged as the major market for Black Tiger shrimp with a share of 49.4% in dollar followed by the US (18.1%) and South - East Asia (15.1%). India has established a strong demand and a presence in the global markets.
The below graphs reiterates the increasing demand for Indian seafood at a CAGR of 17% in seafood exports.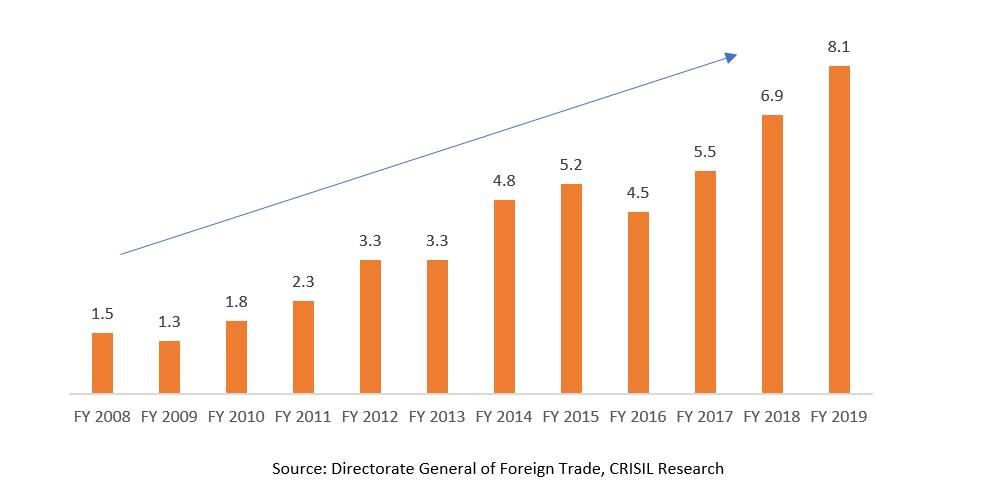 In FY 2018 the domestic market is valued at INR 95 bn. The market is highly unorganised and fragmented. There are varied opportunities across various seafood states like in Kerala, Karnataka, Maharashtra, Gujarat on the West Coast of Indian peninsula; and West Bengal, Odisha, Andhra Pradesh and Tamil Nadu on the East Coast. These markets in these states have the potential to strengthen their ecosystem and their respective earning capacities. India's key shrimp-producing states are Andhra Pradesh, West Bengal, Odisha and Gujarat. However, Maharashtra has the maximum production for marine fish. 
The government understands the importance of this sector and The Marine Products Exports Development Authority (MPEDA) Quality Control Section has identified and implemented various programs to meet the required concerns regarding food safety.
The government has set up labs in Kochi (Kerala), Bhimavaram (Andhra Pradesh), Nellore (Andhra Pradesh) and Bhubaneswar (Odisha) to test the seafood for dyes, pesticides, etc.
MPEDA also engages in inviting health authorities of importing countries to let them observe the stringent process that India follows while processing and handling of fish and fishery products. This strengthens the relationship and increases transparency.
Additionally, it generates confidence in the inspection systems being followed in India by the importing partners. 
The Government of India allows 100% foreign direct investment in aquaculture through automatic route but under controlled conditions. The government has been working towards ushering in new projects like the Blue Revolution with the objective of developing wetland fisheries, to empower communities and stakeholders through improved livelihood, and to refine region specific fisheries enhancements. 
India and China can look at collaborating and generate synergies by marrying Chinese learnings of reprocessing and India's available natural resources. Indian seafood has the potential of finding its place in the exquisite cuisines of countries across the globe. The government interventions along with the growing market and a conducive business and regulatory ecosystem, India can leverage this sector and open new avenues for investments and export.
 
Visit our sectors page to read more about the food industry in India.