Government's stimulus package to revive the Indian economy
The International Monetary Fund has announced that the global economy is now in a 'synchronized slowdown' and 90% countries will see a slower growth in 2019.
The tremors were felt across the world from developed to developing nations including the US, China, Japan, Israel, South Korea, Singapore, Malaysia, and many more.
India is no exception, during Q1 2019 the GDP growth rate of India was 5.7% which slipped further to 5% during Q2 2019. The economic slowdown seems broad-based, cutting across capital goods, consumer durables and infrastructure and construction.
Government of India has taken cognizance of the matter and has announced 3 rounds of economic booster as part of the stimulus package to revive the economic activity.
A stimulus refers to a monetary or fiscal policy offered by the government to stimulate the economy. It is generally offered in the form of a stimulus package included of tax rebates and incentives to prevent an economic slowdown. The cycle continues until the economy recovers.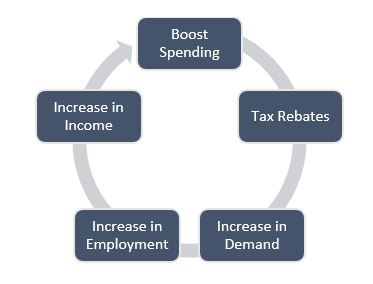 Government of India unveiled a multi- sectoral and multi- dimensional policy stimulus in August to boost stability and growth
The government proactively announced a raft of measures to respond to the economic slowdown. For instance, the government proposed an increase in the tax surcharge for foreign entities registered as non- corporates in July. However, to support the economy, it chose to pursue the rollback of enhanced super-rich tax.
Start-ups have been relieved from angel tax to claim benefits against capital raised up to INR 25 crore which was earlier set at INR 10 crores. Exemptions have been allowed for investments by non-resident Indians and alternative investment funds (AIF) as well for infusion of capital into start-up
The Auto industry received a booster shot by the FM which included various reforms appreciated by both demand side and supply side of the industry
The government's decision to reduce the corporate tax rate from 35% to 25.17% has been termed 'historic' and will significantly improve India's global competitiveness by attracting more private investment from across the globe and create jobs
To boost consumption, credit support is provided for the purchase of vehicles, houses and consumer goods. Non- banking financial companies are receiving credit from banks and they have started fresh lending to customers.
It has also been decided to infuse INR 25,000 crore to revive stalled housing projects, eligible to those with a liquidity problem. The decision should revive demand of cement, iron and steel industries and relieve stress in other major sectors of the economy
The biggest reform made by the Finance Minister is the setting up of a mechanism for paying government bills to prove the Indian government is leaving no stone unturned.
It is too soon to predict the outcome; however, the finance minister believes economic revival has started. Since then, robust FDI inflows have been recorded and fiscal deficit seems to be improving.
Allowing larger firms to flourish, enabling smaller firms to secure cheap financing and forcing the state to retreat from business would be the great news the private sector has been waiting for
Here are some of the announcements made by Finance Minister in the initial stimulus package: