Footwear Supply Chain Footprint in India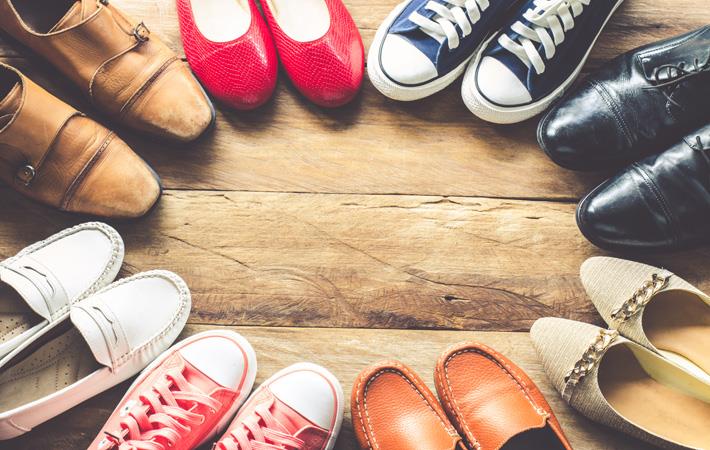 India is the 2nd largest producer and consumer of footwear in the world. The leather and footwear industry in India is a high employment generating sector, contributing significantly to the country's export earnings and economic growth. The footwear industry in India contributes about two per cent to India's overall GDP along with employing more than four Mn workers.  As per a report released by the Department for the Promotion of Industry and Internal Trade, the sector has the capacity to generate 250 jobs for every investment of INR 1 Crore. Additionally, for every 1,000 pairs of footwear produced and sold in India per day, the sector can create 425 jobs spanning manufacturing, allied industries, and retail. The sector holds an important place in the Prime Minister's drive to Make in India and thus has been chosen as a Champion Sector. 
While India is a world leader in leather products, it is steadily gaining ground in the non-leather footwear segment. Presence of major Taiwanese companies such as Apache and Feng Tay in India are further accelerating India's growth in the non-leather footwear segment.
Footprint: Clusters and Key Players
India offers many footwear clusters wherein companies both Indian and foreign have set up their manufacturing plants. Below is a snapshot of the various footwear clusters along with the key players situated in those clusters.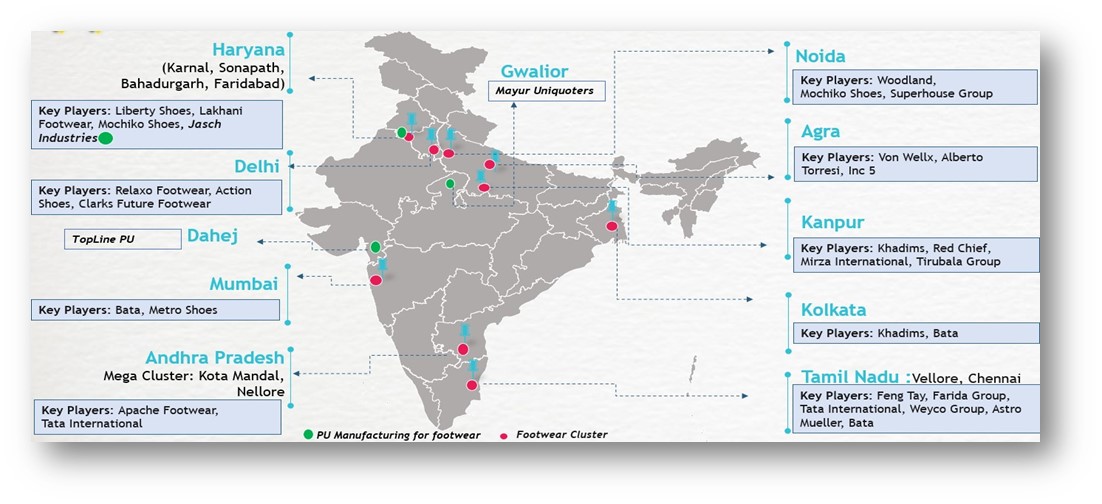 Starting from the northern part of India, the states hosting the footwear clusters include: 
Uttar Pradesh
•    Agra in the state of Uttar Pradesh has emerged as the largest footwear cluster in India. 
         - Key players such as Von Wellx, a German shoe brand which has recently shifted its manufacturing units from China is setting up a plant in Agra. The company has collaborated with an Indian company, Latric Industries Group for the same. 
          - Virola Shoes Pvt. Ltd., a leading export company in Agra manufactures footwear for Alberto Toressi, a popular European brand. The company uses a stress-free technology in their shoes so that their products are not only fashionable but also comfortable. They have a patent technology that they use in all the soles which keeps the shoe light and durable.
•    Kanpur hosts yet another major footwear cluster in India. Some of the key players situated in this cluster include:
        - Mirza International, a leading leather footwear manufacturer, marketer, and exporter. It owns brands such as Red Tape, Oaktrack and supplies leather footwear to leading international brands and has products available in 28 countries globally. 
     
  -Tirubala Group, is one of the largest manufacturers and exporters of high quality, fashionable footwear for men, women, and kids. It has international markets comprising of countries such as USA, UK etc. and manufactures footwear products for many international brands such as Mango, Tempe, Arcadia Group, Bimba and Lola, Hoogenbosch, Lloyds, Esprit, Zara, Bershka, and Topshop.
•    Noida hosts footwear giants such as Woodland. The company sources its leather from tanneries in Jalandhar, Punjab. It has collaborated with vendors in Bangladesh, Taiwan, and China, for the outsourcing of a few SKUs. The city also hosts the Superhouse Group, leading producer of finished leather, footwear, leather accessories, textile garments etc. and produces leather for brands such as Hugo Boss and Michael Kors. 
Haryana
•    Lakhani Footwear is one of the largest producers of sports shoes, beach slippers, PU (polyurethane) injected sports shoes, PVC (polyvinyl chloride) injected sports shoes with a total capacity of ~ 55.5 million pairs per year. It has been manufacturing shoes for leading brands and has established a strong alliance with Adidas for which it provides sports shoes.
•    Liberty Shoes is one of the leading Indian footwear brand manufacturers, manufacturing ~ 50,000 pairs a day. 
•    Jasch Industries offers polyurethane (PU) and vinyl (PVC) coated fabric for various parts of footwear such as shoe upper, shoe linings and insoles. 
Delhi
•    Clarks Future Footwear is a leading manufacturer and retailer of footwear. Nearly 60% of the products it sells in India are sourced from India itself from companies such as Tata International and Farida Group.
•    Relaxo Footwear, a Fortune 500 (India) company, is one of the largest footwear manufacturers in India. They manufacture products such as rubber slippers, sandals, flip flops, sports shoes.
States hosting footwear clusters in the southern part of India include:
Tamil Nadu
•    Vellore and Chennai in Tamil Nadu have emerged as the key clusters in the state.
•    Feng Tay, a leading Taiwanese footwear contract manufacturer for brands such as Nike is present in the state and is continuing expansion in India.
•    Tata International, is a pioneer in the Indian leather industry and a leading exporter of finished leather and leather products. Their facilities have received ISO accreditation and LWG Gold Rating. They export footwear to global brands and leading retailers around the world including Clarks, Deichmann, H&M, Marks & Spencer, Zara, and Massimo Dutti. 
•    Farida Group, they manufacture and market high quality men & women footwear and finished leather, and operate through three main business segments: leather, uppers and shoe manufacturing units. Their products are sold in more than 40 countries globally.
•    Weyco Group, an American footwear brand has an exclusive license agreement with Indian firm Samar Lifestyle Private Limited to produce and distribute Florsheim (sub-brand) footwear in India. They currently have a factory in Ambur in Tamil Nadu for production of the shoes under the Florsheim brand.
•    Astro Mueller, is a German company that produces footwear for brands such as Bugatti Shoes and Daniel Hechter. Most of its products are exported to Europe.
Andhra Pradesh
•    Presence of players such as Tata International and Apache Group. Apache is a leading Taiwanese footwear contract manufacturer for brands such as Adidas. It is in the process of expanding in the country.
States hosting footwear clusters and PU (polyurethane) manufacturing in the western part of India include:
Maharashtra
•    Mumbai, the capital of the state hosts a footwear cluster wherein the famous Kolhapuri chappals are manufactured. Apart from these chappals, various other footwear such as sports shoes, sandals for men, women and children are manufactured.
•    Metro Shoes is a popular manufacturer of footwear in the state. The company sources from its manufacturing facilities in Mumbai, Tamil Nadu, China, and Brazil. 
Gujarat
•    Dahej in Gujarat is home to Topline- a leading producer of PU for footwear in India. As per the company, it is compliant for export to European countries and is also Caprop 65 US compliant for US buyers.
State hosting footwear cluster in the eastern part of India: 
West Bengal
•    It is home to the largest footwear manufacturer and retailer in India- Bata. The first plant of Bata was established in Batanagar in Kolkata. This is the plant wherein maximum production of footwear takes place. 
•    Khadims, another popular footwear manufacturer and retailer is present in the state.
State hosting the major PU production in India:
Madhya Pradesh
•    Mayur Uniquoters, is one of the largest synthetic leather manufacturers in the country. It produces both PVC (Jaipur Plant) and PU leather (Gwalior Plant). Footwear is the company's largest revenue contributor. The company supplies its products to various OEMs in the auto, furnishing, apparel, bags categories. The company's major clients include VKC, Bata, Paragon, Relaxo, Maruti Suzuki, Tata Motors, Hero Motorcorp and Mahindra & Mahindra.
While the examples cited above are some of the main players in the footwear industry in India, there are numerous small and medium sized footwear manufacturers who are involved in the entire supply chain ecosystem. 

Note: (Sources of the information on the key players cited above include company websites, news articles and excerpts from management interviews).