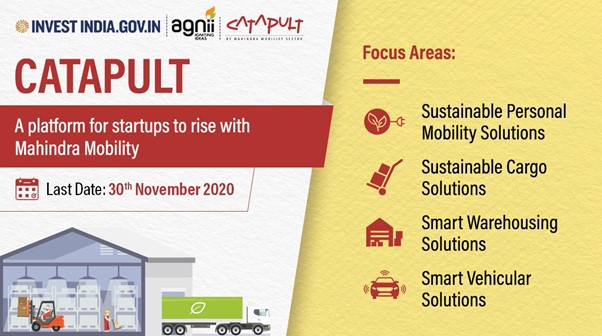 Mahindra Mobility Services partnered with the AGNIi Mission for their Incubator Programme 'Catapult'. Catapult is a 3-month programme providing various opportunities, including a chance to deploy one's solution in a Mahindra Mobility business, access Mahindra Leadership as well as the associated partner ecosystem.
AGNIi worked with the Mahindra Mobility Services team to conceptualise the first edition of the programme and facilitated the call for applications. Catapult invited solutions from the focus areas mentioned below:
Sustainable Personal Mobility Solutions
Sustainable Cargo Solutions
Smart Warehousing Solutions
Smart Vehicular Solutions
Camcom, a startup from AGNIi's portfolio of technologies, was one of the winners of Catapult. It is an AI powered visual image processing and computing platform. It enables users to capture a series of pictures of an automobile and perform multiple levels of inspection such as identifying make and model of the automobile, reading the Registration and Vehicle Identification Number (VIN), identifying all the 24 parts of the automobile, and detecting damages from major crashes to minor scratches.
Camcom, among the other winners, was provided with the following support by Mahindra Mobility Services:
Anchor Customer

Validation of the solution in a real-world business environment.
Access to Mahindra Mobility's sophisticated business and technology environment to acquire an immersive understanding of how businesses work.

Mentorship

Interaction with the Mahindra leadership.
Domain specific mentorship to refine the solution and business model.
Attending the CXO Track on product market fit, brand, investor readiness and other modules to build and evolve a scalable organization.

Network

Tapping into a wide array of benefits from the Mahindra partner ecosystem which includes academic institutes and government programs.
Collaboration with world-renowned technology companies, and benefits such as platform credits, knowledge sharing-sessions and special access.

Exposure

Targeted visibility and media coverage.
Opportunity to pitch at Premiere Day to key stakeholders including Mahindra, investors, and other enterprises.
At the conclusion of the programme, Camcom was awarded a Technology Alliance by Mahindra First Choice Wheels.
The partnership has been a fruitful engagement between AGNIi Mission and Mahindra Mobility Services. We look forward to strengthening this partnership to boost the innovation ecosystem and support Indian innovators.