Waste Management is a sector wherein innovation is in constant demand. The impact this sector has on both public health and ecological concerns cannot be overstated. Hence, the AGNIi Mission is committed to ensuring that the technologies best suited to meeting India's waste management needs get the support they need.
To that end, the AGNIi Mission partnered with Social Alpha for the Techtonic – Innovations in Waste Management challenge.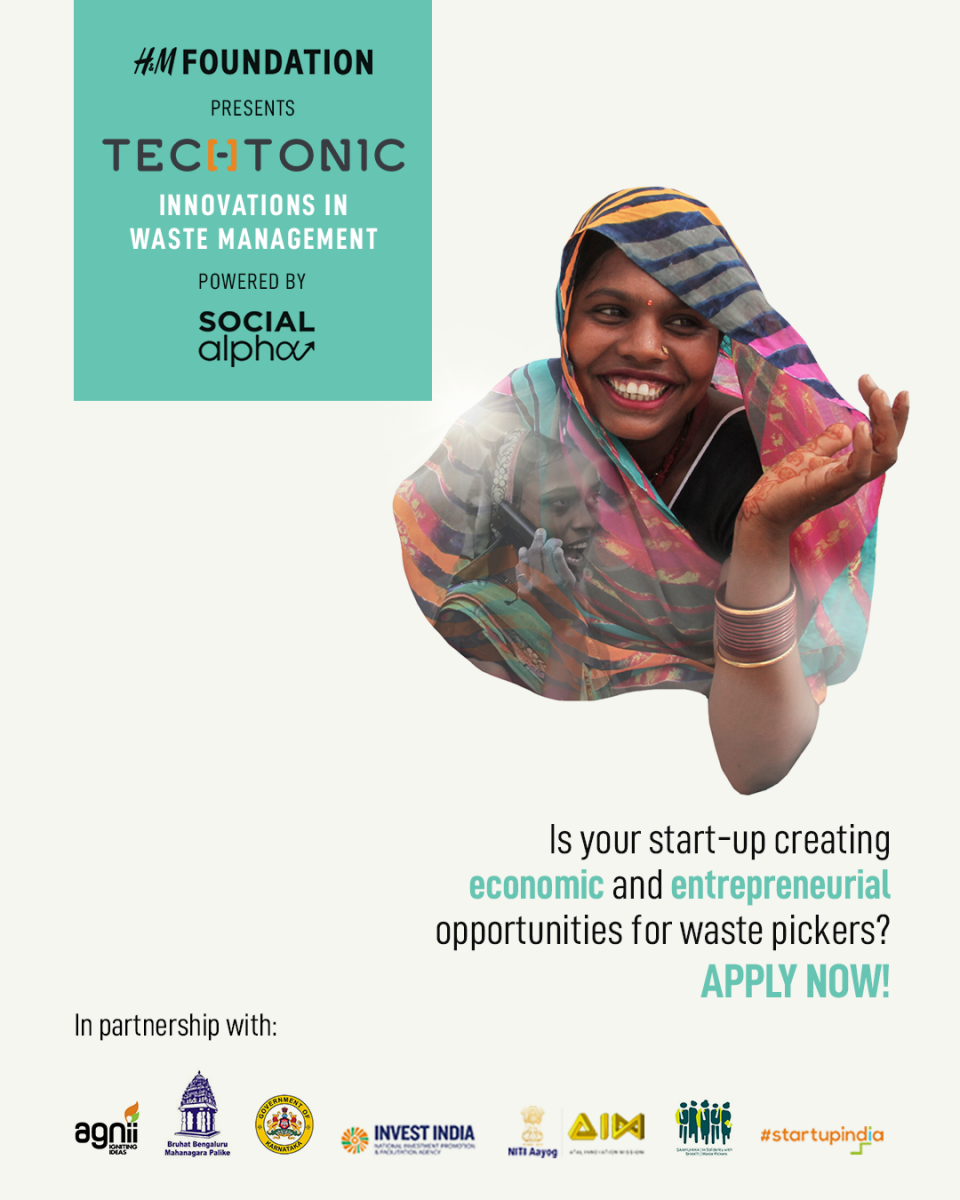 Social Alpha is an initiative to strengthen the science and technology start-up ecosystem in India with a focus on 'lab to market' enablement. The Techtonic – Innovations in Waste Management challenge focused on technological solutions in the following areas that can be deployed across various locations in Bangalore:
Network optimization
Data for waste management
Waste to value
The following startups were announced as winners of the challenge:
MuddleArt is creating a systemic approach to manage pre-consumer textile waste in India. The startup has created backward and forward linkages to streamline the flow of pre-consumer textile waste and create recyclable material and upcycled products.
Phool is driving climate action and creating a circular economy by upcycling floral waste into cruelty-free bio alternative to animal leather called 'Fleather' which will cut down several traditional downstream leather tanning processes that are highly unsustainable.
Loopworm is producing sustainable food & fodder by bringing food waste back into the circular loop. The start-up is doing this by creating an extremely protein rich diet for fisheries and poultry farms by farming insects to feed them using food waste which currently lands in landfills.
Swaccha Ecosolutions has developed an innovation that processes formulated grades of multi-layered plastic and low value film waste. This is added to to asphalt for road construction. The startup is also providing waste management consulting services and recycling waste streams across businesses, commercial complexes, municipalities and residential societies.
ZeroPlast Labs is actively working on developing sustainable materials to replace plastics. ZeroPlast collects and upcycles biomass waste into compostable bioplastics and composites, which can be used as a sustainable alternative to oil-based and non-biodegradable single use plastics.
The winners of the cohort will receive Social Alpha's support in the following ways:
An opportunity to access Social Alpha's seed support and access to the diverse investor and donor network, post due diligence.
Market validation with Urban Local Bodies (ULBs), public or private institutions, in Bangalore.
Dedicated portfolio managers that will serve as an overall business advisory and help in developing a go-to market strategy.
Wide ranging technology and business support through Social Alpha's venture acceleration model.
AGNIi looks forward to continuing its long-standing partnership with Social Alpha in order to provide further opportunities for India's best innovations.