Whirling your way to glory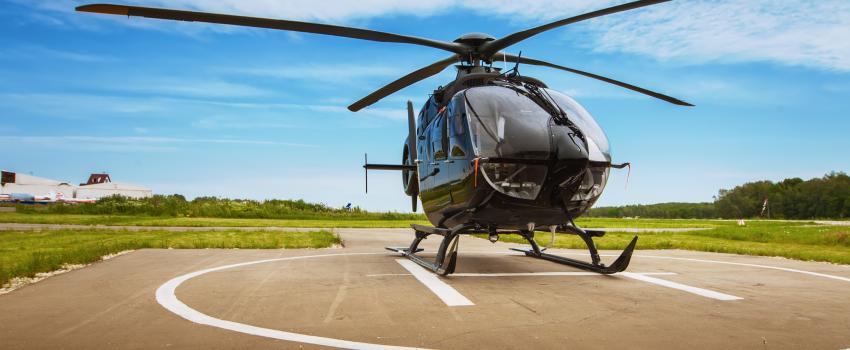 Daily as I flip through the papers, I can feel the exuberance of the Government as it launches multiple strategic initiatives to promote air travel. According to International Air Transport Association (IATA), India is the fastest growing domestic market globally, handling over 190 mn passengers. With the Regional Connectivity Scheme (UDAN) and inclusion of Heli taxis, no target is distinct for the Aviation industry. I am optimistic about the rapid growth potential of rotor wings in India vis-a vis the conventional airlines. In the next decade, Indian companies are expected to buy more than 1000 new fixed wing aircrafts. But the estimated buys for rotor machines are yet to be determined.
One of the major priority of the National Civil Aviation Policy (NCAP) is the promotion of helicopter, seaplanes and general aviation in order to improve regional connectivity, tourism, law enforcement and emergency medical evacuation. In view of such policy initiatives, Invest India- the National Investment promotion agency under the aegis of Ministry of Commerce and Industry, has been receiving queries for the manufacturing of utility and heavy lift helicopters in India. The manufacturing of these machines in India will open up the treasure chest. The viability gap funding and other similar schemes promoting Heli services in India has encouraged operators to start Heli services in India. Heli taxi services in Bengaluru is one such initiative.
The UDAN (Ude-Desh-ka-Aam-Naagrik) Scheme can be very successful if scheduled Heli services are introduced. The reasons are many, the foremost being cost effectiveness. Helicopters will make air-travel more affordable and accessible. Heli services are cheaper to operate and setup. 
Heli-pads also bring down the requirements of huge investment in airport infrastructure. So, these services can be made operational especially in far untapped tourist destinations. Tier-II and Tier-III destinations are becoming popular day by day, which can have scheduled Heli services from regular airports. Targeted marketing and bookable destination services can simplify the Heli service operability in these regions. Popular routes like Chandigarh -Shimla, Dehradun –Mussoorie, Jaipur- Mt. Abu can be extremely profitable ventures.
The utility of these machines is not limited to travel. Heavy lifts, infra projects, cargo and heavy machinery transportation in tough terrains like northeast will be useful as well as a source of immediate revenue. Helicopters are very effective during disaster management and in forest fires. The army has been using their own fleet of helicopters since two decades to the optimum level in Siachen, Karakoram Pass and the northeast. Air ambulance can reach far-flung areas at a short notice and is a crucial live saving option.
The under-utilized and under-served helipads of the state governments can become a major revenue source for the local federal governments. With an increase in Heli traffic, the effects on tourism revenue would be enormous. Airports Authority of India has finalised Capex plans to the tune of INR 65,000 cr ($ 10.08 bn) with INR 17,500 cr ($ 27.13 bn) for the next five years and around INR 22,000 cr ($ 3.41 bn) for brownfield expansion in Delhi, Mumbai, Hyderabad and Bengaluru by private operators and around INR 21,000 cr ($ 32.55 bn) for greenfield airports. Compared to these huge figures, the cost for developing small helipads will be miniscule and will fetch much higher returns.
The increase in the fleet of helicopters will boost the requirement for maintenance services. The present MRO services are not more than 10% in India and need immediate attention. As we have an aging helicopter fleet in defence sector as well, these MROs can be used for dual purposes. The OEMs or their partners can run these MROs and provide hassle-free services to the running fleet.
The Aerospace and Aviation Sector Skill Council (AASSC) has identified 70 job roles for the development and formulation of National Occupational Standards (NOS) and Qualification Packs. Other than these, there are additional sub sectors which will mushroom around the parent industry. Big data analytics and GAGAN will support direct air routes, reduce fuel consumption and improve safety. Connected cockpits, remote monitoring devices, tracking crew and luggage, location sensors and fleet management systems are essential IT support requirements. Building such an ecosystem will boost employment.
Increasing efficiency of the logistics industry is shortening the delivery time. Heli services can help the transport and agro-based logistic providers with more efficient and faster freight services. This will specially help in improving the longevity and quality of perishable products. The apples grown in far reaches of Himachal will be available in Delhi or Mumbai the same day for domestic consumption or exports.
With easier connectivity, higher accessibility and cost-efficient services, in a very short span of time, Heli services have the potential to unlock the next phase of growth in the aviation sector.